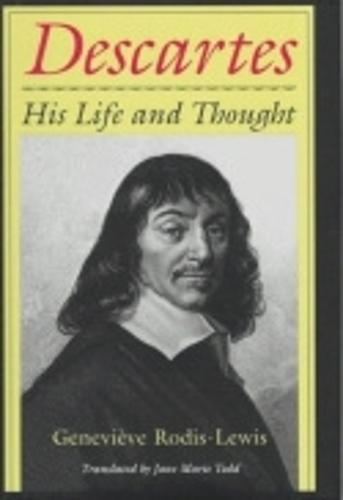 Paperback
288

Pages / Published: 21/10/1999
Genevieve Rodis-Lewis is uniquely qualified to celebrate Rene Descartes. This major intellectual biography illuminates the personal and historical events of Descartes's life, from his birth and early years in France to his death in Sweden, his burial, and the fate of his remains. Concerned not only with historical events but also with the development of Descartes's personality, Rodis-Lewis speculates on the effect childhood impressions may have had on his philosophy and scientific theories. She considers in detail his friendships, particularly with Isaac Beeckman and Marin Mersenne. Primarily on the basis of his private correspondence, Rodis-Lewis gives a thorough and balanced discussion of his personality. The Descartes she depicts is by turns generous and unforgiving, arrogant and open-minded, loyal in his friendship but eager for the isolation his work required. Rodis-Lewis clarifies Descartes's school days, his family's circumstances and social status, the location of the famous "stove" where Descartes first discovered the foundations of his science, his military life, and the birth and death of his daughter. She is careful to point out the gaps that remain in the record of Descartes's life. Drawing on Descartes's writings and his public and private correspondence, she corrects the errors of earlier biographies and clarifies many obscure episodes in the philosopher's life.
Publisher: Cornell University Press
ISBN: 9780801486272
Number of pages: 288
Weight: 425 g
Dimensions: 229 x 152 x 17 mm
---
MEDIA REVIEWS
"No biography of a thinker who plays such a giant and complex role in Western philosophy can hope to be 'definitive,' but of today's Cartesian scholars none is more knowledgeable than GenevI've Rodis-Lewis, and her latest study distils the fruits of a lifetime's research on Descartes's life and work. . . . Rodis-Lewis's reconstruction, blending the ingredients of personal psychology, religious conviction, and philosophical ambition, offers a persuasive insight into a dimension the modern reader can easily forget-just how awesome and even hubristic the way ahead must have seemed when the inaugurator of the modern age glimpsed the project that was to be his life's work. . . . This biography is indispensable for all those interested in the history of Cartesian thought and its continuing impact on our philosophical culture."-John Cottingham, Times Literary Supplement (from a review of the French edition)
"A detailed scholarly biography of one of the intellectual founders of the modern world, by a distinguished French scholar. . . . Rodis-Lewis gives the reader the broad pattern of Descartes's life . . . and uses both his correspondence and his various journals to trace the sparks for his major ideas and intellectual preoccupations. Balanced and well documented. "-Kirkus Reviews
"This relatively compact biography of the seventeenth-century French philosopher is determined to reverse the slander of scandal in vogue among Descartes's recent biographers and to modify the view of his intellectual development. Rodis-Lewis bristles at the recently advanced image of Descartes as a famous libertine, taking pains to note, for example, that his affections for a particular male companion were entirely brotherly. Drawing frequently on Descartes's correspondence, Rodis-Lewis quarrels with previous accounts of his college training, and traces his early dismay with the Jesuit scholastic method and his movement through mathematics and on to metaphysics. She then focuses on the development of Descartes's philosophical method . . . ; on his difficult intellectual (and sometimes practical) battles; and lastly on his study of passions. . . . She openly champions a newly respectable, if not altogether equable, Descartes, one driven by a search for truth."-Booklist
"This biography, written by a Frenchwoman who has been immersed in Cartesian studies for decades, gives us a portrait of Descartes that perhaps only a compatriot could. The author is so familiar with her subject that she refers to him often as Rene, and the story of his life and interests is rendered in as much intimate detail as can be derived from his extensive correspondence, which the author principally relies on to bring her subject to life. She shows him 'warts and all,' and Descartes emerges as a living presence rather than merely a historical figure. A good purchase for academic libraries."-Library Journal
"Most interesting, full of information, and a reliable guide to Descartes. . . . For those who wish to gain a view of the life and character of a great and intriguing man of the highest influence in the philosophy of his time, this is an extraordinarily good book. . . . Unhesitatingly recommended for every college library. Suitable for general readers and all levels in academic institutions."-Choice
"For Rodis-Lewis, the biographical aspect is always present and, throughout, illuminatingly interwoven with both the wider cultural context and with Descartes' own intellectual development. It is a boon to have this extended work by one of the twentieth century's great French scholars available in English. . . written in the abrupt, un-argued yet interest-arousing allusive manner which is one dimension that gives Rodis-Lewis' book charm and importance."-Peter Schouls, Journal of the History of the Behavioral Sciences. Fall, 1999.
"Mme. Rodis-Lewis is one of the twentieth-century masters of the history of philosophy. The life of Descartes has been one of her life-long passions, and this book represents the culmination of her many years of investigation. Her new biography corrects many long-held errors, and sets out a clearer picture than we have ever before had of a figure instrumental in the creation of the modern philosophical and scientific world. This is an important book by a serious historian of philosophy which very much deserves to be read."-Daniel Garber, University of Chicago
"The appearance of Rodis-Lewis's biography is the product of a long germination: Rodis-Lewis has been working on Descartes' biography at least since her two volumes L'oeuvre de Descartes (Paris: Vrin, 1971). Her biography of Descartes clearly shows great erudition and the fundamental good interpretive sense to be derived from such massive and impressive scholarship."-Roger Ariew, Virginia Polytechnic Institute and State University
You may also be interested in...
Simply reserve online and pay at the counter when you collect. Available in shop from just two hours, subject to availability.
Thank you for your reservation
Your order is now being processed and we have sent a confirmation email to you at
When will my order be ready to collect?
Following the initial email, you will be contacted by the shop to confirm that your item is available for collection.
Call us on or send us an email at
Unfortunately there has been a problem with your order
Please try again or alternatively you can contact your chosen shop on or send us an email at