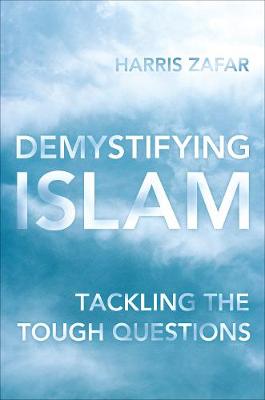 Demystifying Islam: Tackling the Tough Questions (Paperback)
Harris Zafar
(author)
Paperback
218

Pages / Published: 05/05/2017
Despite heightened interest in the study of the Muslim faith, for many people Islam remains shrouded in mystery and confusion. What really is Shariah law? How is a Muslim to understand Jihad? Does Islam oppose Western values such as free speech or freedom of religion? What place do women have according to Islam? Understanding that this confusion has as much to do with the behavior and words of Muslims as it does with allegations made by anti-Islam activists, Demystifying Islam offers refreshingly bold answers to provocative questions about Islam today. Author Harris Zafar-lecturer, writer, teacher and national spokesperson for Ahmadiyya Muslim Community USA-is forthright about issues where Muslims disagree, and he digs into history through vast research and scholarship to track the origins of differing beliefs. From the burqa to the role of Jesus in Islam, Demystifying Islam is an essential resource and concise guide to understanding the fastest growing religion in the world.
Publisher: Rowman & Littlefield
ISBN: 9781538106129
Number of pages: 218
Weight: 313 g
Dimensions: 221 x 144 x 16 mm
---
MEDIA REVIEWS
In the wake of 9/11, Zafar, a blogger, speaker, and teacher, found himself invited to explain Islam to non-Muslim audiences in a climate of fear and misinformation-at the age of twenty-two. Now a national spokesperson for Ahmadiyya Muslim Community USA, he addresses common misunderstandings about Islamic faith and culture. Following an introduction to the basics of Islam, Harris covers, chapter by chapter, the major areas of confusion for Westerners, from the realities of shariah law to the relationship between Islam and Christianity. Harris does not remain entirely neutral; he's not afraid to criticize distorted perceptions of Islam from Western pundits and politicians advocating xenophobic agendas, nor Middle Eastern and other political groups and extremist factions for using similar distortions to justify violations of human rights. This book is less of a spiritual introduction than it is a cultural one, and an excellent starting point for people navigating interfaith relationships or working to improve understanding and representation in organizations and public discussion. * Publishers Weekly *
While this is Zafar's first book-length effort, his writings about Islam have appeared in numerous places-USA Today, The Huffington Post, The Washington Post, etc. A national spokesperson for the Ahmadiyya Muslim Community USA, Zafar investigates the central tenets of Islam, the result of his 15 years of reflection. He begins by conceding that the rise of terrorism by fanatical Muslim groups has created a 'difficult landscape for the study of this rapidly growing religion.' Aiming to clarify the essential doctrines of a religion clouded by war and ideological disputes, his book acts as a helpful primer on the basics; he lucidly parses terms such as 'Islam' and 'Muslim,' the nature of fasting and alms giving, and the distinction between various sects such as Sunni and Shia. He also provides an erudite compendium of the differences and similarities between the three Abrahamic religions, demonstrating that the contemporary tensions between them belie their historically shared ground. This section includes fascinating accounts of the standings within Islam of both the Virgin Mary and Jesus. The heart of the analysis, though, is the contention that Islam, while sadly depicted by many as the bearer of antiquated ideals, is largely consistent with liberal values. The author's argument deftly covers misinterpretations regarding controversial topics such as suicide bombing, Jihad, women's rights, freedom of religion and freedom of speech. In each case, Zafar argues that Islam is fundamentally a religion of peace and tolerance, not war and oppression. . . .[T]he book is a welcome correction to the politically tortured conceptions of Islam so prevalent today, as Zafar astutely acknowledges the way even Muslims themselves have contributed to these misunderstandings. An important, original new examination of Islam for both the novice and the theologically sophisticated. * Kirkus *
An intelligent, daring, and much-needed contribution to the debate about Islam in the modern world. Harris Zafar has written a remarkable book. -- Reza Aslan, author of Zealot and No god but God, author of #1 New York Times bestseller Zealot: The Life and Times of Jesus of Nazareth, and executive producer/host of CNN's Believer
This book is an important contribution to an enlightened and public conversation about Islam in our time. Harris Zafar has written a very informative and accessible interpretation of Islam for English-speaking readers. I recommend this book to those who are interested in learning about Islam and Muslim communities today. -- Ali Mirsepassi, New York University
Harris Zafar's book, Demystifying Islam, is a clear and important statement by a recognized Muslim leader on his faith's engagement of a diversity of issues and concerns of great consequence in the twenty-first century. Orthodox Christians will certainly disagree with Mr. Zafar's perspectives on such matters as the identity and work of Jesus Christ and his mission. However, we should heartily welcome this courageous and irenic Muslim voice, as Zafar champions civic virtue that promotes the well-being of all peoples. Demystifying Islam is a significant contribution to the global conversation on peace, freedom, and justice in a world mystified and threatened by geopolitical and religious tensions. -- Paul Louis Metzger, Multnomah University
Harris Zafar is an insightful and often inspiring writer who leaves readers feeling richer for having spent time with his work. -- Omar Sacirbey, Correspondent for the Religion News Service
Harris Zafar's book is both enlightening and informative. Demystifying Islam aims to deflate misconceptions of Islam, breaking them down to their essence and offering honest reasoning and historical context behind their existence. A great resource for practicing Muslims as well as those looking to gain a better understanding of one of the world's major religions. -- Andre Carson, Congressman
For shortened version of Carson quote, we only have permission to use this: A great resource for practicing Muslims as well as those looking to gain a better understanding of one of the world's major religions. -- Andre Carson, Congressman
You may also be interested in...
Simply reserve online and pay at the counter when you collect. Available in shop from just two hours, subject to availability.
Thank you for your reservation
Your order is now being processed and we have sent a confirmation email to you at
When will my order be ready to collect?
Following the initial email, you will be contacted by the shop to confirm that your item is available for collection.
Call us on or send us an email at
Unfortunately there has been a problem with your order
Please try again or alternatively you can contact your chosen shop on or send us an email at