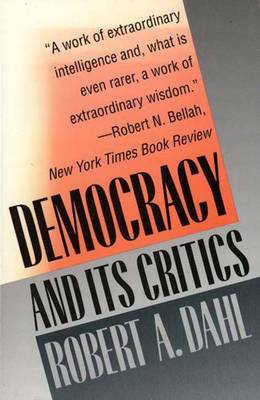 Paperback
397

Pages / Published: 01/08/1991
In this prize-winning book, one of the most prominent political theorists of our time makes a major statement about what democracy is and why it is important. Robert Dahl examines the most basic assumptions of democratic theory, tests them against the questions raised by its critics, and recasts the theory of democracy into a new and coherent whole. He concludes by discussing the directions in which democracy must move if advanced democratic states are to exist in the future. "When Robert Dahl speaks about democracy, everyone should listen. With Democracy and Its Critics Dahl has produced a work destined to become another classic."-Lucian W. Pye, American Political Science Review "In this magisterial work [Dahl]...describe[s] what democracy means...; why our own democracy is still deeply flawed; and how we could reform it...A work of extraordinary intelligence and, what is even rarer, a work of extraordinary wisdom."-Robert N. Bellah, New York Times Book Review Robert A. Dahl, Sterling Professor of Political Science Emeritus at Yale Universtiy, is also the author of Who Governs?, After the Revolution?, Polyarchy, and Dilemmas of Pluralist Democracy, all available from Yale University Press.
Publisher: Yale University Press
ISBN: 9780300049381
Number of pages: 397
Weight: 454 g
Dimensions: 235 x 156 x 30 mm
---
MEDIA REVIEWS
"Like democratic theory itself, Dahl's book is hugely inspiring. . . . this is a hugely impressive book, which traces the assumptions of democratic theory from 5th-century Athens to the present day and beyond. it is remarkable for its sustained attempt to connect theory and practice."--Susan Mendus, The Times Higher Education Supplement
"One of the foremost contemporary theorists of pluralist democracy."--Jack Lively,
Times Literary Supplement
"[This book] could not have come at a more opportune moment. . . .
Democracy and Its Critics
is a work of extraordinary intelligence and, what is even rarer, a work of extraordinary wisdom. Mr. Dahl writes clearly and effectively. . . . The discussion is fresh and illuminating, the treatment of alternative views careful and respectful, the difficulties in his own views spelled out in detail. An attentive reader of this book will receive a real education in the meaning of democracy. . . . Beneath all the moderation and devotion to intellectual clarity that are so evident in this book, there is the moving presence of a profound passion for democracy."--Robert N. Bellah,
New York Times Book Review
"America's leading expert on democratic theory delivers his magnum opus."--
Philadelphia Inquirer
"Dahl defends democracy against various criticisms, including anarchism and its tenet that even democracy is coercive. . . . A necessary purchase."--David Steiniche,
Library Journal
"A necessary purchase for graduate libraries and recommended for undergraduate and public libraries."--
Library Journal
"One of the country's premier political philosophers here shares the fruit of years of thoughtful reflection upon the promise and perils of democracy. As he uncovers the foundations of democratic theory, Dahl confronts his readers with the arguments of democracy's critics, friendly and adversarial. The questions raised prove vexing. . . . a book deserving attention from Americans serious about their citizenship."--
Booklist
"When Robert Dahl speaks about democracy, everyone should listen. With
Democracy and Its Critics
Dahl has produced a work destined to become another classic to go along with his
A Preface to Democratic Theory
. . . . Now Dahl's virtuosity takes the form of conducting a masterful dialogue of reason, of guiding a truly advanced seminar on the major ideas and arguments in the field of democratic theory broadly defined. The reader becomes a mute but engrossed participant in a brilliant but also meticulously detailed series of discussions in which few issues are skipped over or arguments left hanging, as almost every train of thought is carried to its logical termination. The atmosphere of a sustained seminar is reinforced by Dahl's ingenious use of the playwright's technique of heated dialogues and verbal crossing of swords."--Lucian W. Pye,
American Political Science Review
"It's difficult to imagine a political science seminar in which this lucid and thoughtful book would not stimulate energetic discussion. . . . Even those who have followed Dahl's writings of the past forty years will find many riches. . . . This book encouraged me to think about some old problems in new ways. I encourage others to enjoy similar benefits."--G. Bingham Powell, Jr.,
Political Science Quarterly
"
Democracy and Its Critics
is a rigorous summary of the life work of one of America's premier political scientists. It is also a timely antidote to the right's equation of democracy with the 'freedom' of an unrestrained capitalist market. In a reasoned yet passionate tone Dahl defends democracy as a system of political equality that promotes the freedom of individuals to live under laws of their own choosing. . . . Radical theorists who have recently discovered the centrality of 'plurality' and 'civil society' owe a considerable debt to Dahl's work. . . . As Dahl's work eloquently demonstrates, the moral values of liberal democracy can only be realized if our economic institutions are shaped by the values of political equality."--Joseph M. Schwartz,
Dissent
"A provocative, scholarly, and elegantly written book."--Elizabeth P. McCaughey,
National Review
"This thoughtful defense of democratic values . . . provide[s] a theoretical justification for leaving public policy decisions squarely in the domain of democratically elected representatives. . . . Time spent with
Democracy and Its Critics
will repay both the scholar and the general reader with insight into the issues of democratic theory that bear on the continual debate over the proper role of an independent judiciary in a democratic society. . . . He brilliantly defends democracy against its critics, including those who would have judges play the active role of guardians in our society. Lawyers and legal scholars will benefit from the theoretical context this book brings to the debate over judicial policymaking, and the reader will appreciate the clarity and thoroughness of Dahl's entire argument."--Cary Coglianese,
Michigan Law Review
"In this capstone volume, Dahl interweaves normative and empirical notions in an effort to develop a broadly integrative theory of democracy, on that is at once historically grounded, context sensitive, true to its philosophical origins, and sustainable under scrutiny. His effort is . . . remarkable. . . .
Democracy and Its Critics
is the product of literally decades of observation and analysis by one of the nation's premier political theorists, and in its breadth of vision and depth of insight it gives testimony to the quality of the author's mind. The book is well crafted, as Dahl's books always are, and is presented in a style that will prove accessible to the professional and the lay reader alike and to political scientists of both normative and empirical bent. . . . A benchmark in the development of democratic thought at a time when clear thinking about the ideal and practical forms of democracy is especially in demand."--Jarol B. Manheim,
Annals of the American Academy of Political and Social Science
"[Dahl] does well in introducing us to the problems and dilemmas that surround the attempts to achieve democracy. . . . It is a very useful book, especially for a course in democratic theory."--Allan R. MacLeod,
Canadian Journal of Political Science
"[A] crowning achievement . . . [and a] timely work."--Philip Green,
Social Theory and Practice
Winner of the 1991 Elaine and David Spitz Book Award given by the International Conference for the Study of Political Thought for the best book published on liberal and/or democratic theory
Winner of the 1990 Woodrow Wilson Foundation Book Award given by the American Political Science Association for the best book published in the United States during the previous year on government, politics, or international affairs
"Robert Dahl is both a subtle analyst and a staunch defender of democratic values. What impresses me most is that he sees democracy not just as something fixed or given, but as a process that needs to be extended into every area of society, the economic as well as the political. His new book continues his splendid work."--Irving Howe
"This elegantly written book presents a synthesis of over thirty years of work by America's leading post-war democratic theorist. Dahl's clear, incisive style will appeal to the general reader as well as to specialists in political theory and comparative politics."--Alan Ware, University of Warwick
You may also be interested in...
Simply reserve online and pay at the counter when you collect. Available in shop from just two hours, subject to availability.
Thank you for your reservation
Your order is now being processed and we have sent a confirmation email to you at
When will my order be ready to collect?
Following the initial email, you will be contacted by the shop to confirm that your item is available for collection.
Call us on or send us an email at
Unfortunately there has been a problem with your order
Please try again or alternatively you can contact your chosen shop on or send us an email at