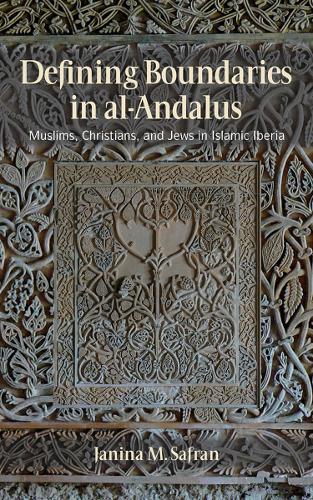 Defining Boundaries in al-Andalus: Muslims, Christians, and Jews in Islamic Iberia (Paperback)
Janina M. Safran
(author)
Paperback
264

Pages / Published: 04/12/2015
Al-Andalus, the Arabic name for the medieval Islamic state in Iberia, endured for over 750 years following the Arab and Berber conquest of Hispania in 711. While the popular perception of al-Andalus is that of a land of religious tolerance and cultural cooperation, the fact is that we know relatively little about how Muslims governed Christians and Jews in al-Andalus and about social relations among Muslims, Christians, and Jews. In Defining Boundaries in al-Andalus, Janina M. Safran takes a close look at the structure and practice of Muslim political and legal-religious authority and offers a rare look at intercommunal life in Iberia during the first three centuries of Islamic rule.Safran makes creative use of a body of evidence that until now has gone largely untapped by historians-the writings and opinions of Andalusi and Maghribi jurists during the Umayyad dynasty. These sources enable her to bring to life a society undergoing dramatic transformation. Obvious differences between conquerors and conquered and Muslims and non-Muslims became blurred over time by transculturation, intermarriage, and conversion. Safran examines ample evidence of intimate contact between individuals of different religious communities and of legal-juridical accommodation to develop an argument about how legal-religious authorities interpreted the social contract between the Muslim regime and the Christian and Jewish populations. Providing a variety of examples of boundary-testing and negotiation and bringing judges, jurists, and their legal opinions and texts into the narrative of Andalusi history, Safran deepens our understanding of the politics of Umayyad rule, makes Islamic law tangibly social, and renders intercommunal relations vividly personal.
Publisher: Cornell University Press
ISBN: 9781501700743
Number of pages: 264
Weight: 397 g
Dimensions: 235 x 156 x 15 mm
---
MEDIA REVIEWS
"[This book's] special genius is its deliberate juxtaposition of the idea of predetermined boundaries between Muslims, Christians, and Jews in al-Andalus with the reality of their perpetual negotation and renegotiation by jurists in light of changes in the historical conext.... For an older generation of Iberianists like me, who originally operated under the assumption that the Arabic sources of early medieval Spain-in marked contrast to the Latin ones-had little to offer on the subject of dhimmis and their relationship to the dominant community, the work of Safran has proved especially eye-opening."
-- Kenneth Wolf * H-Catholic *
"[Safran] is able to make such good use of al-Khushani against the background of the whole vast range of the Islamic literature relating to the legal scholarship of Islamic Spain. I must stress the immense amount of coordinated hard work that will have gone into this present study. Perhaps we may hope that Professor Safran will soon in a further volume follow the story through to its sad end in 1492?"
-- L. P. Harvey * Journal of Islamic Studies *
"Her work is insightful and readable, and it makes a significant contribution to the field of Andalusi and interfaith studies. The use of juridical literature to analyze society is a fast-growing field in Islamic studies, and Janina M. Safran's volume is an important and engaging new contribution."
-- Amira K. Bennison * The American Historical Review *
"Janina Safran has written a rich, clearly structured, and readable book. The main contribution of the book is that it consistently details the historical contingencies that formed the legal construction of religious categories and the management of interreligious relation under Umayyad rule. By thoroughly examining legal deliberation, Safran treats Islamic law as a contextual, situated, intrinsically social, and necessarily ambivalent discourse of negotiation, adaptation, and transculturation. In doing so, she spoils the monolithic picture of Islamic law as dogmatic and uniform, just as she disturbs the notion of al-Andalus as a prime example of interreligious tolerance under Muslim rule, offering instead a welcomed and well-researched analysis of the legal management of religious diversity in al-Andalus."
-- Oskar Verkaaik * Journal of the American Academy of Religion *
"Safran's analysis is illustrated with many examples and also brings in a wide range of chronicle and other material. The book puts this case law within the reach of any interested reader, in a sophisticated and well-organized discussion."
-- Ann Christys * Bulletin of Spanish Studies *
"This important book is a meticulously detailed contribution to the growing body of literature on how Muslims, Christians and Jews lived together in al-Andalus. It stands apart from the line drawn in the 1940s and 1950s by Americo Castro and Claudio Sanchez Albornoz between a happy convivencia on the one hand, and a fractious cohabitation (unavoidable following the Arab-led invasion of a supposedly fully-fledged Christian Spain) on the other."
-- Stuart Green * British Journal of Middle Eastern Studies *
"This is a clever and original book, whose importa nce should not be disguised by its compact and economical style. The implications of Safran's arguments have applications far beyond al-Andalus-not only elsewhere in the Islamic world, but also as regards subject Muslim communitie s living under Christian rule."
-- Brian A. Catlos * Comitatus *
"Defining Boundaries in al-Andalus is an unusually compelling work, marked by very astute and realistic social psychology. Janina M. Safran provides exquisite details of social interaction to illuminate the dynamics of conversion, social assimilation, and culture change in Islamic Spain. Safran focuses on boundaries and on the way such boundaries are defined, negotiated, tested, and maintained. The dhimma contract, which regulated relations between the superordinate Muslims and the subordinate Jews and Christians, was deceptively simple and allowed for a wide range of adaptations. The detailed cases Safran presents in her complete account of dhimma law permit the reader to grasp some of the fine texture."
-- Thomas F. Glick, Boston University, author of
Convivencia: Jews, Muslims, and Christians in Medieval Spain
You may also be interested in...
Simply reserve online and pay at the counter when you collect. Available in shop from just two hours, subject to availability.
Thank you for your reservation
Your order is now being processed and we have sent a confirmation email to you at
When will my order be ready to collect?
Following the initial email, you will be contacted by the shop to confirm that your item is available for collection.
Call us on or send us an email at
Unfortunately there has been a problem with your order
Please try again or alternatively you can contact your chosen shop on or send us an email at