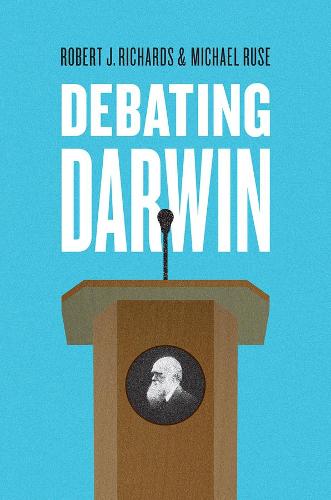 Hardback
320

Pages / Published: 04/10/2016
Charles Darwin is easily the most famous scientist of the modern age, and his theory of evolution is constantly referenced in many contexts by scientists and nonscientist alike. And yet, despite how frequently his ideas are evoked, there remains a surprising amount we don't know about the father of modern evolutionary thinking, his intellectual roots, and the science he produced. Debating Darwin seeks to change that, bringing together two leading Darwin scholars Robert J. Richards and Michael Ruse to engage in a spirited and insightful dialogue, offering their interpretations of Darwin and their critiques of each other's thinking. Examining key disagreements about Darwin that continue to confound even committed Darwinists, Richards and Ruse offer divergent views on the origins and nature of Darwin and his ideas. Ruse argues that Darwin was quintessentially British and that the roots of his thought can be traced back to the eighteenth century, particularly to the Industrial Revolution and thinkers such as Adam Smith and Thomas Robert Malthus. Ruse argues that when these influences are appreciated, we can see how Darwin's work in biology is an extension of their theories. In contrast, Richards presents Darwin as a more cosmopolitan, self-educated man, influenced as much by French and particularly German thinkers. Above all, argues Richards, it was Alexander von Humboldt who both inspired Darwin and gave him the conceptual tools that he needed to find and formulate his evolutionary hypotheses. Together, the authors show how the reverberations of the contrasting views on Darwin's influences can be felt in theories about the nature of natural selection, the role of metaphor in science, and the place of God in Darwin's thought. Revealing how much there still is to investigate and interrogate about Darwin's ideas, Debating Darwin contributes to our understanding of evolution itself. The book concludes with a jointly authored chapter that brings this debate into the present, focusing on human evolution, consciousness, religion, and morality. This will be powerful, essential reading for anyone seeking a comprehensive understanding of modern-day evolutionary science and philosophy.
Publisher: The University of Chicago Press
ISBN: 9780226384429
Number of pages: 320
Weight: 658 g
Dimensions: 229 x 152 x 36 mm
---
MEDIA REVIEWS
"Charles Darwin's ideas were controversial from the outset, so much so that Darwin's friend and supporter Thomas Henry Huxley said he sharpened up his claws and beak in order to defend them. Here in this volume the debate continues as two world-renowned historians explore what Darwin's proposals meant in his own day and to us now. The issue at stake is how best to understand Darwin as a thinker--was he influenced primarily by his personal social context, the industrializing entrepreneurial world of Britain in the Victorian era, or was he more in touch with the great intellectual currents flourishing in continental Europe? How did these questions influence his religious sensibilities and those of his readers? Back and forth, the ripostes sparkle with intellectual energy. Through Ruse's and Richards' eyes, we can see Darwin afresh, as the enthralling historical figure who not only transformed biology but also our deepest sense of who we are."
--Janet Browne, author of Charles Darwin: The Power of Place
"Debating Darwin offers readers a ringside seat at a friendly but no-holds-barred fight about Charles Darwin's place in history. Was the British Enlightenment the making of Darwin, as Ruse contends? Or was Darwin a child of the Romantic science of Goethe and his followers, as Richards suggests? Watching these two outstanding scholar-teachers argue it out is an education in history, science, and the pleasures of serious disagreement."
--Gregory Radick, author of The Simian Tongue: The Long Debate about Animal Language
"This work is devoted to an exchange between two friendly adversaries, Richards and Ruse. Both authors have previously debated Darwinian evolution, but this book allows Richards and Ruse to expand their ideas and rebut each other's contrasting views. Ruse explains that Darwin had a "mechanistic" view of the world and was the product of 18th-century Britain, including the Scottish Enlightenment. Richards indicates Darwin was more 'cosmopolitan, ' was influenced by other thinkers (particularly Alexander von Humboldt), and was deeply impacted by German romanticism. Thus, Darwin's evolutionary model was 'teleological'--Darwin accepted final cause. Ruse strongly differs with Richard's analysis--most biologists and historians would reject it as well. The book includes an epilogue summarizing the important developments in evolutionary biology that took place after Darwin. This book will have special appeal to historians and philosophers of biology. Recommended."
--Choice
"The authors' debate is learned, witty, engaging, and even passionate. Students and Darwin scholars alike will be able to read this volume with interest and enjoyment and be inspired to go back to Darwin's own writings, especially to Darwin's early notebooks, the Origin of Species, and the Descent of Man in the continued e?ort to comprehend Darwin in his historical context."
--Journal of the History of Biology
You may also be interested in...
Simply reserve online and pay at the counter when you collect. Available in shop from just two hours, subject to availability.
Thank you for your reservation
Your order is now being processed and we have sent a confirmation email to you at
When will my order be ready to collect?
Following the initial email, you will be contacted by the shop to confirm that your item is available for collection.
Call us on or send us an email at
Unfortunately there has been a problem with your order
Please try again or alternatively you can contact your chosen shop on or send us an email at