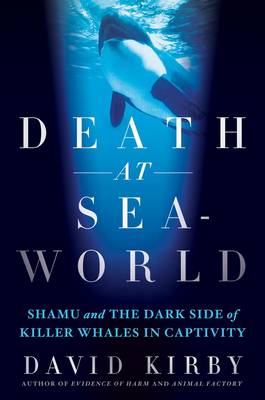 Death at Seaworld: Shamu and the Dark Side of Killer Whales in Captivity (Paperback)
David Kirby
(author)
Paperback
480

Pages / Published: 23/07/2013
Death at SeaWorld centres on the battle with the multimillion-dollar marine park industry over the controversial and even lethal ramifications of keeping killer whales in captivity. Following the story of Naomi Rose, a marine biologist and animal advocate at the Humane Society of the U.S., Kirby tells the gripping story of the two-decade fight against PR-savvy SeaWorld, which came to a head with the tragic death of trainer Dawn Brancheau in 2010. Kirby puts that horrific animal-on-human attack in context. Brancheau's death was the most publicised among several brutal attacks that have occurred at Sea World and other marine mammal theme parks.
Publisher: Griffin Publishing
ISBN: 9781250031259
Number of pages: 480
Weight: 513 g
Dimensions: 233 x 156 x 32 mm
---
MEDIA REVIEWS
"Should some of the most social, intelligent and charismatic animals on the planet be kept in captivity by human beings? That is a question asked more frequently than ever by both scientists and animal welfare advocates...Now the issue has been raised with new intensity in Death at SeaWorld by David Kirby, just released in paperback." --The New York Times
"Kirby makes a passionate case for captivity as the reason orcas become killers (and) tells the story like a thriller. His argument is, for the most part, fair and persuasive... We probably can't free the orcas in captivity today, but we could make the current group of captive killer whales the last." --Wall Street Journal
"A chilling depiction... Kirby lays out a compelling scientific argument against killer whale captivity" --New Scientist
"A gripping inspection... Hard to put down." --Booklist (***Starred Review)
"Brilliantly and intensively researched and conveyed with clarity and thoughtfulness, Kirby's work of high-quality non-fiction busts the whale debate wide open... Reads like a thriller and horrifies like Hannibal Lector." --San Francisco Book Review - FIVE STARS
"Kirby says people do not realize that whales often live with the same pod from birth and that when marine parks take them from their pods they are separated from their families... The killer whales then, in some instances, take out those emotions on other whales, which doesn't happen in the wild as much." --CBS This Morning
"Thanks to investigative journalist David Kirby, we are now equipped to consider (attacks in captivity) in context. His book is packed with facts about killer whales and the stress caused by keeping them in captivity and asking them to perform for humans. " --NPR.org
"Nature has a way of biting back. The true story told in the 2012 scientific thriller Death at SeaWorld exposes the dark side of America's most beloved marine mammal park. From the tragic death of trainer Dawn Brancheau in 2010 to other less-publicized incidents, the book chronicles the perils of attempting to subdue the species." --Al Jazeera
"David Kirby, author of 'Death at SeaWorld: Shamu and the Dark Side of Killer Whales in Captivity, ' has posted a persuasive rebuttal. SeaWorld as much as self-indicts its orca practices as indefensible." --Chicago Sun Times
"Death at SeaWorld dismantles the carefully crafted industry myth of animals who are content to live in small tanks and perform tricks for spectators" --All Animals Magazine
"David Kirby, whose recent book 'Death at SeaWorld' traces the history of killer whales in captivity, found that Tilikum was captured off Iceland in the early 1980s when just two years old. He was kept in a tiny covered pool for two years before being sold to a marine park in Canada which closed after he drowned a trainer. Kirby says Tilikum is a very disturbed and dangerous animal." --Sunday Times (UK)
"Recent publications like David Kirby's 'Death at Sea World' are increasing recognition of the great wrong being done to the mind in the waters by continuing live captures and captive breeding of orcas. Some orcas in captivity do attack and kill or injure their captors. Tilikum, once captive at the former Sealand in Oak Bay, has killed three people." --Victoria (BC) Times Colonist
"'Death at SeaWorld' by David Kirby was just released in paperback. (It) tells a story of intelligent animals that, while often friendly to humans, nevertheless carry with them what some argue is inevitable psychological damage due to captivity." --Nature World News
"Detailed and thorough...Kirby writes objectively, and with a clear vision when discussing the history of killer whales in captivity. He also shows how SeaWorld is a microcosm where smiles are required." --Metro Montreal
"Death at SeaWorld, a 2012 expos by David Kirby, is a comprehensive account starting from when the first orca was captured up until 2012, when OSHA hit SeaWorld with safety violations. It has helped change and educate the public about orcas in captivity." --The Manitoban
"Kirby shows that the reality (of orca captivity) is more akin to a circus, in which any benefits are outweighed by the cost to the whale - and sometimes to the keepers." --Financial Times
"Thorough and disturbing... One of the great books of the summer." --Columbus Dispatch
"SeaWorld got a firm slap in the form of journalist David Kirby's fascinating and deeply disturbing book." --Christian Science Monitor
"An outstanding book... very-well written, extremely well documented, and timely." --Psychology Today
"#1 Readers Poll Choice for Summer Books" --Wall Street Journal Online
"An informed narrative that strongly suggests that despite their name, only when captured do the mammals become dangerous to humans. Free Willy, indeed." --New York Daily News
"Kirby has done his homework and does an excellent job of educating the public about orcas in the wild, as well as highlighting the dangers inherent in keeping these highly evolved, intelligent animals in captivity." --Examiner.com
"A masterful work." --Seattle Post Intelligencer
"Eye-opening poolside reading... Death isn't supposed to pop up in environments carefully choreographed for family fun." --San Francisco Bay Guardian
"A real-life scientific thriller." --Barnes and Noble
"One of the summer's most anticipated new releases" --Apple I-Bookstore
"Well written, well studied so as not to come across as a misinformed or ill-informed journalism (as if we had any doubt), two sided, and done with a lot of emotion to help draw the reader in as if you were reading a murder mystery. Done like a true novelist... Definitely a five star review and a two thumbs up." --Artists On Demand
"A new book examining the dark side of keeping killer whales in captivity has slammed SeaWorld for its treatment of the enormous beasts and for massive safety failings which still haunt the world famous marine parks." --Daily Mail (UK)
"Fascinating, shocking, even infuriating, but ultimately rewarding... Discover the majesty of killer whales, the inherent cruelty of their captivity and the passion of those who fight for their freedom." --Shelf Aware, Online Book Reviews
"A page-turning book... a disturbing account that will be hard for SeaWorld to transcend... Kirby makes it horrifyingly clear how serious (captivity) can be for human safety and orca well-being." --Wayne's Blog, Wayne Pacelle, CEO of The Humane Society of the United States
"Even if you're not an animal nut like me, David Kirby's Death at Sea World is a fascinating book." --Sam Simon, Co-Creator of The Simpsons and leading animal-rights activist
"An exhilarating journalistic achievement--the reporting is singularly deep and wide, the research enormously meticulous, the storytelling as gripping as in a great novel." --Talking Animals with Duncan Strauss, WMNF-FM, Tampa
"I was sent a pre-release copy and can't put it down... Get a copy of this book. It's about time it was written." --Fayetteville Observer
"Kirby's knockout format is articulate and mind-blowing. This riveting read is not one that will easily be dismissed." --Digital Journal
"Lives are at stake here, and Kirby can be trusted to tell the story, having won a passel of awards for his investigative work." --Library Journal
" Journalist Kirby offers another passionate industry expos ... the narrative goes into high gear with its concluding confrontation." --Publishers Weekly
"Simply superb... David Kirby has left no stone unturned. He has successfully refuted the arguments put forth by the pro-captivity advocates." --Philosophy Book Review
"Get insight into this excellent story by David Kirby about the human-amusement park's treatment of these animals via his book, Death at SeaWorld." --Sacramento News Review
"Captivity disrupts (orca) behavior in practically every manner. Contrary to marine mammal exhibition industry claims, orca lifespans are significantly shortened in captivity." --Animal People Magazine
"I particularly enjoyed this book. It reads very much like a novel to the point when you are staying up later than you should to finish it." --San Juan Island Update
"The bottom line of these findings is that keeping these magnificent beings in confinement is not a good thing." --Wild Time Radio TCR-FM (UK)
You may also be interested in...
Simply reserve online and pay at the counter when you collect. Available in shop from just two hours, subject to availability.
Thank you for your reservation
Your order is now being processed and we have sent a confirmation email to you at
When will my order be ready to collect?
Following the initial email, you will be contacted by the shop to confirm that your item is available for collection.
Call us on or send us an email at
Unfortunately there has been a problem with your order
Please try again or alternatively you can contact your chosen shop on or send us an email at