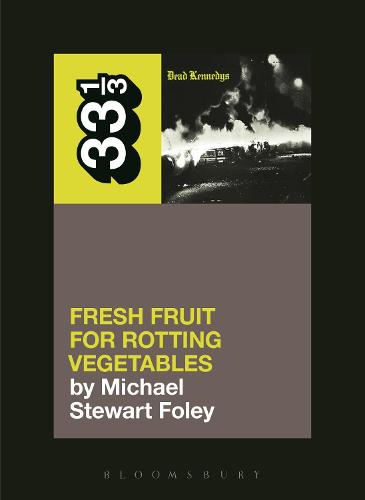 Paperback
192

Pages / Published: 16/07/2015
In 1978, San Francisco, a city that has seen more than its share of trauma, plunged from a summer of political tension into an autumn cascade of malevolence that so eluded human comprehension it seemed almost demonic. The battles over property taxes and a ballot initiative calling for a ban on homosexuals teaching in public schools gave way to the madness of the Jonestown massacre and the murders of Mayor George Moscone and city supervisor Harvey Milk at the hands of their former colleague, Dan White. In the year that followed this season of insanity, it made sense that a band called Dead Kennedys played Mabuhay Gardens in North Beach, referring to Governor Jerry Brown as a "zen fascist," calling for landlords to be lynched and yuppie gentrifiers to be sent to Cambodia to work for "a bowl of rice a day," critiquing government welfare and defense policies, and, at a time when each week seemed to bring news of a new serial killer or child abduction, commenting on dead and dying children. But it made sense only (or primarily) to those who were there, to those who experienced the heyday of "the Mab." Most histories of the 1970s and 1980s ignore youth politics and subcultures. Drawing on Bay Area zines as well as new interviews with the band and many key figures from the early San Francisco punk scene, Michael Stewart Foley corrects that failing by treating Dead Kennedys' first record, Fresh Fruit for Rotting Vegetables, as a critical historical document, one that not only qualified as political expression but, whether experienced on vinyl or from the stage of "the Mab," stimulated emotions and ideals that were, if you can believe it, utopian.
Publisher: Continuum Publishing Corporation
ISBN: 9781623567309
Number of pages: 192
Weight: 181 g
Dimensions: 165 x 121 x 15 mm
---
MEDIA REVIEWS
Author Michael Stewart Foley explores the band's genesis from two equally critical points of view in his eponymous book in the 33 1/3 series, the political and social factors alive in California at the time as well as the stew of underground creativity that fed punk's fetid blossom ... Foley's book does the album a good turn, his eye for the social inspirations behind Biafra and others, as well as the creative are essential to its understanding. * Bearded Magazine *
Michael Stewart Foley's Fresh Fruit for Rotting Vegetables is a must read not only for punks young and old, but for anyone who has ever felt even the slightest revolutionary pang in their soul ... Through interviews with Jello Biafra, East Bay Ray, and Klaus Fluoride (as well as many other important figures close to, or in the scene at the time) and a mountain of research, Foley puts together a book that is academic, personal, informative, and most importantly, convincing. For those already familiar with Fresh Fruit for Rotting Vegetables, this book further solidifies its greatness among records in any genre. For those new to the album, this book provides an extensive and comprehensive look into a body of work whose release exploded on the scene because of the pressures caused by the era, events, and people that all came together to create it. -- Matt Caltabiano * Under the Rader *
Wish all books dealing with `Punk Rock' were as well researched as this one! -- V. Vale, Editor * Search and Destroy *
In his book on Dead Kennedys' 1980 debut, Fresh Fruit for Rotting Vegetables, historian Michael Stewart Foley traces the origins of the radicalized California punk band's political views by chronicling all the turmoil in the late 1960s and into the 1970s, as the hippie ideal curdled into the Me Generation ... what truly separated the Kennedys from their peers-and what transformed their angst into something powerful and useful-was the humor with which they tackled current events, as singer Jello Biafra in particular understood that a wicked sense of irony was the only weapon against a world that had grown so insane. -- Stephen M. Deusner * Pitchfork *
Michael Stewart Foley's new book on Dead Kennedys' debut album, Fresh Fruit for Rotting Vegetables, rests a jarring assertion: `By ... the summer of 1978, San Francisco had established itself as home to the most political punk scene in the country.' His evidence - a litany of benefit efforts, topical songs, and punks' steady solidarity with other marginalized groups - is solid, so why does the statement leap off of the page? Perhaps because of how infrequently it's made ... the sort of retrospective historical works that would involve a claim such as Foley's are few and far between, all of which underscores the need for this book. * East Bay Express *
With Fresh Fruit for Rotting Vegetables, historian Michael Stewart Foley offers up a portrait of San Francisco in the late 1970s, detailing the hectic and violent events that influenced the band to create such a classic record ... Anyone interested in the band, counter culture, or American history would be advised to pick this book up. It's not just a simple play by play of the album's production (which, honestly, would have been fine), but a detailed account of a specific time in history. With this informative (if short) book, Michael Stewart Foley details a band who didn't want to 'make it' in the usual sense. They just wanted to make a loud enough noise that people turned around and paid attention to what was going on around them. * Punk News *
Well worth your time. Get the book, put the album on loud, and rejoice. * Thumped *
A very readable little nugget that DK fans, especially those who understood there was far more to the band than simple 'shock and roll', will thoroughly enjoy ... [An] enjoyable thought provoking read. * Total Music Magazine Online *
There have been a handful of punk albums covered in the series ... and they tend to be stand-outs. That remains true with this release, which may now be my favorite in the entire series ... [Foley's] tone is pitch-perfect, reflecting both his academic training and his punk rock roots, producing the equivalent of a scholarly spit-ball that complements the pissy intelligence of the DKs' masterpiece. His writing is effortless, even when he is flexing his intellectual muscles ... As I read Foley's book, I found myself constantly re-listening to the album with fresh ears, my appreciation and admiration of it growing every time. -- Kevin Dunn * RazorCake *
An accomplished historian with an appreciation for the punk ethic, Foley sketches the social and political conditions of the late 1970s and the band's take-no-prisoners response to them. He's also alert to San Francisco's distinctive punk scene and its unapologetically political stance. His essay is a welcome complement to the extensive literature on the city's utopian mood and music of the 1960s. ... Very worthwhile. -- Peter Richardson, San Francisco State University * Peter Richardson *
Give it some time and Michael Stewart Foley's book on Dead Kennedys' Fresh Fruit for Rotting Vegetables will probably rank among the best of the 33 1/3 series. It's a fine portrait of politics that gave birth to the Bay Area punk scene, all the while tracing a counterculture throughline from the Yippies of the 60s to the punks of at the beginning of the '80s. Dead Kennedys sneered in the face of both Ronald Reagan and Jerry Brown, and also at the birth of New Wave, which presented new sonic possibilities but also a crass mellowing out into palatable pop chart fodder once it was co-opted by the mainstream. -- Hubert Vigilla * Ruby Hornet *
Foley comes at this well known [sic] album from something other than the standard 'review' perspective positing the theory that it was in fact the late 70's American dream gone sour and subsequent counter culture politics that created bands like the Dead Kennedy's in the first place ... is in fact a very readable little nugget that DK fans, especially those who understood there was far more to the band than simple 'shock and roll', will thoroughly enjoy. Beyond that it should also appeal to pretty much anyone who has a passing interest in the US post punk/hardcore scene. * Total Music Magaz *
Michael Stewart Foley's Fresh Fruit For Rotting Vegetables casts Dead Kennedys as a product of the darkness and seemingly hopelessness of the late 1970s. Foley shows their forming and the release of their debut album to represent a catalyst for the frustration of a generation that was given the promise of prosperity in the 1960s and then proceeded to watch that promise be dismantled by the Vietnam War, Watergate and the rise of gentrification in San Francisco during the post-Summer of Love era ... In doing so, Foley also casts a favorable light on the political stance of punk and suggests that their dire situation as a marginalized community organizing against an oppressive system was not only necessary but almost natural ... This book is essential to your understanding of punk as a threat and why this iconic album represents that. -- Nick Kuzmack * SLUG *
...an incisive blend of urban history, socio-political witnessing, and pop culture insight. Peeling back the band's mythos, [Foley] deftly sorts through family backgrounds, the countercultural movements of the 1960s and 1970s, and the nuanced and fecund microcosm of San Francisco during punk's genesis, all at a breathless pace. The book is compact, yet exploratory, dense as well as poetic ... Foley balances the eyes-wide-open vibe of a fan's journal with his strenuous academic precision, so readers feel immersed in, but not overwhelmed by, the incendiary band's tale. -- David Ensminger * Houston Press *
Full of compelling portraits of key players, trenchant musicological and visual cultural analysis, and rich journalistic-cum-historical depictions of the state of California and San Francisco politics at the end of the 1970s, Foley's book is a success that will appeal both to scholars and to fans. In unveiling a portrait of the Dead Kennedys and punk as creators of `a soundtrack of collective resistance' (p. 9), Foley not only rescues San Francisco punk from the condescension of posterity, but provides a model of how to write historically about youth subcultures and popular music. -- Timothy Scott Brown, Northeastern University, USA * The Sixties: A Journal of History, Politics and Culture *
You may also be interested in...
Simply reserve online and pay at the counter when you collect. Available in shop from just two hours, subject to availability.
Thank you for your reservation
Your order is now being processed and we have sent a confirmation email to you at
When will my order be ready to collect?
Following the initial email, you will be contacted by the shop to confirm that your item is available for collection.
Call us on or send us an email at
Unfortunately there has been a problem with your order
Please try again or alternatively you can contact your chosen shop on or send us an email at