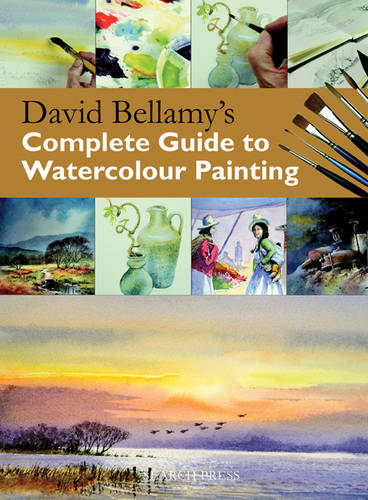 David Bellamy's Complete Guide to Watercolour Painting (Hardback)
David Bellamy
(author)
Hardback
128

Pages / Published: 04/03/2009
Renowned watercolourist, David Bellamy, shares his invaluable expertise in this complete reference book for artists, including essential advice on painting still life, flowers and plants, landscapes, buildings, people and coastal scenery.

Packed with information and advice
Seven step-by-step demonstrations
Over 250 step-by-step photographs
Dozens of inspiring paintings
Publisher: Search Press Ltd
ISBN: 9781844483389
Number of pages: 128
Weight: 904 g
Dimensions: 292 x 216 x 18 mm
---
MEDIA REVIEWS
April 09
There are some artists who get above the title billing and it's traditional by now that David Bellamy's books are not just by him, they are his own, no-one else's. I'm being unfairly flippant, because David is one of the most popular writers and teachers of painting around, a status he has deservedly held for many years. In the past, a lot of David's work has been on the athletic side and he's painted hanging off ropes from mountains and in the teeth of snow, ice and gales. This, of course, was all good knockabout stuff, but there was some excellent work underpinning it and a lot of the entertainment disguised solid and sound instruction; a lot of teachers forget that an entertained audience learns more readily. In recent times, however, a greater sense of tranquillity has entered David's work and he's as likely to paint the valley floors as he is the tops of the hills. It also means that there are more buildings and people and even, let if be said: flowers. So, what does this offer that we haven't already seen in David's previous books? Well, a change of publisher often brings a change of pace and the move from a landscape to an upright format give a more logical flow to the step-by-steps. There's also, as I hinted before, a much wider variety of subject matter and overall a slightly greater emphasis on the how-to-do-it than the how-I-did-it: more step-by-step and less analysis. Just flicking through the pages gives a sense of a cornucopia and makes you want to get down to the contents in more detail. This may sound like a superficial way of judging a book, but it's remarkably effective. If it doesn't grab your attention as the pages flick past, the chances are it doesn't have much to say. This one grabs hard and holds on. Overall, I come down to the view that this is a great deal more than just another one for the fans. David's many followers will buy it, of course, but this could (should) bring new converts, or maybe just provide a really rather quietly excellent introduction to watercolour for readers are aren't bothered by personality.
* Artbookreview.net *
April 09
I've long been a fan of David Bellamy's landscapes and in his latest book he goes beyond this and delves into the world of still life, flowers and figure painting. The book is a superb reference book to help with practising many of the different skills and techniques used in watercolour painting. David begins by an overview of the many different materials available, recommending a basic palette of colours to begin. He shows us lots of simple basic techniques used for watercolours. I've been using watercolours for several years and yet found tips that I didn't know within this book. It can be very disappointing trying to complete a satisfactory painting without knowing some simple skills to do such things as laying a variegated wash. David covers just that, showing us how a simple wet wash of two colours can lead to a stunning sky, and then he adds a couple of houses and we can see just how by knowing the medium and techniques we can create beautiful paintings. There are demonstrations or simple illustrations to accompany each section so we can clearly see how things work. His Still Life section carries the excellent advice to paint or draw that which excites you, and he says that much of the studies in this area he does are preparatory works for inclusion into larger compositions. He uses the exercise of drawing and painting a simple box to also practice techniques covered earlier in the book. This is useful for seeing just how and which method to use in a painting. There are some clear illustrations showing such tips as how light affects shadows and whether to use a loose or tighter approach when painting. Each has its place and can result in very different paintings. This section ends with a pottery still life that uses some of the lessons covered earlier. In the flowers and plants section particular attention is applied to the importance of observation, of the plant shapes and colours, of such things as just how the leaf is attached to the stalk, and how when using them in a still life we need to lose unimportant detail in order to result with a fresh uncluttered painting. Of course a David Bellamy book would be incomplete without a section on the landscapes with which he is so well associated and this section ends with a lovely river landscape demonstration. He continues this theme with some tuition on buildings and perspective. I found the final section very interesting - he covers painting people from close up portraits to distant figures in a landscape. He gives advice on basic anatomical shapes and the importance of correct proportion. He covers hands and feet and how not to make these look fussy and artificial, and how to check the way garments hang from the clothed figure according to their position. He gives excellent advice about capturing sketches of people in action, carrying a small sketch pad so as to be able to render quick portraits as the opportunity arises. He also advocates carrying a camera to build up a reference of useful photos to accompany your sketches. This book is so full of useful information and tips useful to everyone from the beginner to the more accomplished artist. I love the little anecdotes that David accompanies his advice with, such as the lady in Ladakh who hated the sketch he had done of her so much she demanded double payment. It's incidents like this that bring to life this book and keep the reader hooked from start to finish. One will want to dip into it again and again not just for the excellent advice but to read these little sections that pepper the text and bring the book to life.
* JeannieZelos.com *
Nov 09
David Bellamy's Complete Guide to Watercolour Painting goes beyond the usual singular approach of watercolor guides that narrow the focus to one subject (landscape, still life or animals for example), offering a wider range of material to offer instruction in all these areas. From painting from sketches and photos and handling still lifes from a different perspective to developing linear perspective, this is a 'must' for any library catering to newcomers to watercolor painting.
* Midwestbookreview.com *
April 09
Many art books cover just one subject such as landscapes, or specialise further by showing you how to paint trees, or skies or buildings. This book concentrates on how to paint in watercolors - in a wide range of subjects.
This approach is certainly more what I was after as a beginner, and also as an improver. I have never been into specialising too much, so Mr Bellamy is surely a man after my own heart! To start with, this is not a book that advocates buying a lot of superfluous items instead the author mentions that it is too easy these days to do just that. After this brief introduction and shopping list he then jumps in with both feet, showing how to lay a wash, mix paints, compose a good picture and even paint a simple scene. I like the way this gets you moving and actually painting without bogging the reader down with too much theory; painting is a practical subject. Thereafter the book splits into chapters, each dealing with a different area of painting. These include still life, florals, figure studies, landscapes and more are dealt with, not in great depth but with some sensible advice that is likely to be of use when deciding whether or not you fancy having a go. Each picture or sketch featured is described in some detail, and of course here too are some staged paintings to paint yourself. Add in to this advice about painting outside and on vacation as well as what not to do and you have a good, user-friendly primer on watercolor painting. This would make a grand present for anybody you know who wants to take it up or has done some and wants to branch out.
* Myshelf.com *
You may also be interested in...
Simply reserve online and pay at the counter when you collect. Available in shop from just two hours, subject to availability.
Thank you for your reservation
Your order is now being processed and we have sent a confirmation email to you at
When will my order be ready to collect?
Following the initial email, you will be contacted by the shop to confirm that your item is available for collection.
Call us on or send us an email at
Unfortunately there has been a problem with your order
Please try again or alternatively you can contact your chosen shop on or send us an email at