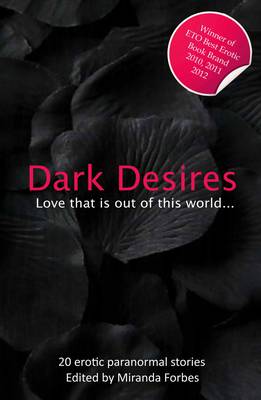 Paperback
224

Pages / Published: 04/07/2011
Email me when available
Stay one step ahead and let us notify you when this item is next available to order
×
Email me when available
Enter your email below and we will notify you when this item is next available to order.

Dark Desires: Love That's Out of This World - Xcite Best-Selling Collections 1 (Paperback)
Thank you
We will contact you when this item is next available to order.
"Cute, funny and definitely sexy... paranormal fans will enjoy." - Bitten By Paranormal Romance Reviews
Twenty stories of love and lust that are out of this world.
Animal Attraction by Lucy Felthouse
When Rayne went out for her daily run, the last thing she expected was to find a naked guy in the woods, with no idea how he got there. Taking the guy home to get fed, watered and clothed, Rayne discovers that there's much more to Claude than meets the eye. After a little digging, Rayne realises she can help solve his mystery - but she'll have to divulge her darkest secrets in the process. Luckily, Claude takes it well and an emotionally charged moment turns erotic. Soon, Rayne is thanking her lucky stars that she ran through the woods that day.

Familiar by Sommer Marsden
Sarah's set to come into her witch powers at 25. Because as her mother once told her `... it's 25 because you're too stupid to have power before that. And 25 is still iffy.' Since her parents are gone, Sarah's inherited enough money to comfortably live on and her mother's familiar, Cyrus, a red cat who's been in her life for damn near ever. So when Sarah awakes to a handsome aroused man in her bed the night of her birthday - a birthday she sadly spends alone - she finds out why some witches resort to their familiars for damn near ... everything.

Seance by Mary Borselino
In their downtime between tours, a pair of musicians rent an old country house to get away from it all. It's a chance for them to do nothing but eat toasted cheese sandwiches, have lazy afternoon sex, and explore the grounds of the house they're staying in. The chance discovery of the planchette from an Ouija board makes them realise they're not quite as alone as they thought.

Come With Us by Landon Dixon
`Where have all the young men gone?' That's the troubling question facing Colonel K, who desperately needs new recruits for the war effort. Captain Yannsen provides the shocking answer, when he staggers into the Colonel's office and gasps a bizarre tale of "vampeters" - women who crave the seminal bodily fluids of men, for all of eternity.

Circle in the Sand by Elizabeth Coldwell
Spending a week cruising the Hebrides is Amy's idea of holiday hell, throwing into disarray all her dreams of lazy days sunbathing and hot nights making love. But her faltering relationship with Aidan is changed forever by the discovery of a bottle buried in the sand on a remote island and the powerful love spell it contains within it...
Ghost With The Most by Lynn Lake:
The ghosts were gathering, for a spooky, bring-your-own-sheet Halloween party. And Barbara's husband has just the costume for her: Cassandra the Slutty Ghost - a white sheet tight across the chest and tapered at the waist, short across the thighs, holes for her heavily-shadowed eyes and red-painted lips and silver hoop earrings, shiny, white, knee-high leather boots for her feet. It's a costume sexy enough to arouse the dead, at the old red brick mansion built way back in the early 1900s for the skanky mistress of Lord Edmund Beaverton.

Flaws by K D Grace:
Love spells are the most dangerous kind of magic. Mick Denver learns the hard way when he enlists Sally Haddon, a witch who specialises in sex magic, to help him win the affections of his new co-worker, the exquisite and dangerous, Darlene.

Nymph by Kyoko Church:
Think vampires are sexy? Maybe if you're in high school. Vampires feed off human blood. But then there are Nymphs. Nymphs feed off another kind of bodily fluid.
When Charlotte meets Ben the chemistry is instant and she knows there's something different about him. More intense, erotic and alive. But when she finds there's a certain oral act he seems reluctant to perform she wonders if she's made a mistake. Maybe he isn't for her. Then she finds out the reason why.
What Charlotte learns leads her into the most fiercely passionate and challenging sexual conundrum she's ever experienced.

Skin Deep by Kat Black:
An expert in moving among humankind without revealing his true identity, our hunter is surprised to find his trap sprung by a feisty nightclub owner, who not only claims to know what he is, but dares to come between him and his chosen prey. With an insatiable Hunger to feed, he is left to appease his appetite on the interfering female at the same time as teaching her a deadly lesson, but for once, finds he has bitten off more than he can chew.

Airfield by James Hornby:
From a time of heros and loss; a time of desperate hope and seized moments to a time of silent fields that bath in the moonlight. On this night she awakes with the thunder of phantom engines in her ears and the memory of her lover in her mind. To the airfield she will go and there she finds more than lost memories. She becomes an intruder of both time and innate pleasure.
Making Lewis Hard by Esmeralda Greene
Juliet is being haunted by a ghost. And to judge by the "evidence" this spectre is leaving behind, he's a young, virile, and distinctly male denizen of the spirit world. Then Juliet wakes up one evening and catches her nightly visitor red-handed, pleasuring himself over her sleeping form. She's naturally outraged, but soon her mood softens. `We all need to get our jollies somewhere,' she muses. Juliet finds herself drawn to the handsome and gentlemanly ghost. Can a young woman of the 21st century find love and happiness with an incorporeal suitor from 200 years in the past?
Demon by Kathryn O'Halloran
Clem Starr is a street-smart, wise-talking demon fighter who thinks she can handle any situation but her new case has her struggling. In order to defeat a cuckold demon, she has to remain celibate until battle day. So, of course, her world is ramped up with sexual possibility. Sure she wants the money, but she also wants a piece of her hot boyfriend and the near naked client and ... well just about anything that moves is looking good to Clem. Will she make it to battle day with her virtue intact?
On The Other Side by Peter Baltensperger
On the Other Side tells the story of a young man, Galen, who has bought himself the house of his dreams only to realise that some strange things are going on. One evening, he is suddenly pulled through the wall of his house into a dwelling containing a very strange world. He finds himself in the company of a beautiful young woman who introduces him not only to her world but also to her sensuous body and alluring sexuality.
Something About Mary by J S Black
Casey, sculptress extraordinaire, thinks she's constructed the perfect playmate for herself and jealous partner, Larry. Surely now their sex life will be complete. But the unveiling of her creation, Mary, is only the beginning of something far darker than Casey could have anticipated. Has Casey resurrected the lover she's always desired, a lover whose history is steeped in mystery ... and blood?
There is no such thing as the perfect lover ... or is there?
Dancer in the Dark by Scarlett Blue
Our heroine is used to having her way with men, with a body eternally in its prime and the wisdom of centuries, and what better job for her than a sensual private dancer, where men are her playthings as well as her food. She sleeps all day and makes a fortune by night, feasting on whoever she pleases, with her sexy female submissive at her heels, until a strange man enters her world. He's as strong as a vampire, but warm and pulsing like a human, and in their raw sexual encounters she comes dangerously close to feeling human herself.
The Call of the Night by Tabitha Rayne
The Call of The Night is a lesbian vampire romp in the woods. Leah finds herself on an evening walk on the outskirts of town being confronted by a mysterious cloaked woman who commands her to follow her into the forest...

House of Seven Inches by Michael Bracken
Located just south of the middle of nowhere, the two-storey house has stood empty ever since the previous owner disappeared several years earlier. The new owner - a gay, would-be writer who left a bad relationship in the city - moves in and begins an extensive renovation project. He soon learns to appreciate the solitude ... until he suspects he isn't alone.

Incubus At Your Service by Maggie Morton
When Nell gets up one morning, she's shocked to see the almost completely naked (but completely gorgeous) stranger in her kitchen, doing her dishes. When he turns around, though, he's identical to the man who was in her dreams last night, doing very naughty things to her. And if that wasn't weird enough, he tells her he's an early birthday present, from I & S Cleaning Services. His sudden appearance in her kitchen isn't the only surprise, though - it turns out that I & S stands for Incubus and Succubus, and that means she's just about to experience more pleasure than she ever has before.

Skyggen by Giselle Renarde
There's nothing like a holiday to forget one's urban anxieties. Little does Mirjam know she lost something essential during her stay at a rustic vacation villa - she lost her shadow! When she returns home without her darker self, Mirjam can no longer cope with everyday pressures. Before long, she quits her job and takes ill. Life becomes very shabby until one day a flamboyant young woman crashes through her door. It's Skyggen, her lost shadow, now engaged to marry a very wealthy man. In Skyggen's presence, Mirjam's capacity for jealousy and duplicity resurface. Perhaps Mirjam can even win back all that is rightfully hers ...

Lord Nano's Nemesis by Slave Nano
A mysterious highwaywoman emerges out of the evening mist to inflict her special brand of retribution on Lord Nano for his debauched behaviour in the brothels of 18th century Leeds. A flesh and blood female avenger or a ghostly phantom? Whoever she is, by the end of the evening, he will be stripped, cruelly tormented and wickedly humiliated. Has Lord Nano finally met his Nemesis?
Publisher: Headline Publishing Group
ISBN: 9781907761706
Number of pages: 224
Weight: 163 g
Dimensions: 198 x 129 x 14 mm
---
MEDIA REVIEWS
... a scintillating, titillating smorgasbord of truly entertaining tales. Embued with an incredible variety of paranormal manifestations and incarnations, these stories take us on an erotic maelstrom of weird and wonderful experiences that, usually - but not always - end up in significant sexual satisfaction. Whether you're looking for a quick thrill to fill some free time at the office, or a little warmer before bed, this collection will keep you warm and wondering. * Simply Erotic Reviews *
Cute, funny and definitely sexy... paranormal fans will enjoy. * Bitten by Paranormal Romance Reviews *
You may also be interested in...
×
Download the Waterstones App
Would you like to proceed to the App store to download the Waterstones App?
Reserve online, pay on collection.
Or,
add to basket
, pay online, collect in as little as 2 hours, subject to availability.
Thank you for your reservation
Your order is now being processed and we have sent a confirmation email to you at
When will my order be ready to collect?
Following the initial email, you will be contacted by the shop to confirm that your item is available for collection.
Call us on or send us an email at
Unfortunately there has been a problem with your order
Please try again or alternatively you can contact your chosen shop on or send us an email at