We regret that due to the technical limitations of our site, we are unable to offer eBooks or Audio Downloads to customers outside of the UK.
For further details please read our eBooks help.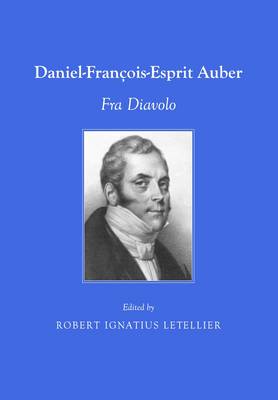 Paperback
Published: 29/03/2011
Daniel-Francois-Esprit Auber (1782-1871), the most amiable French composer of the 19th century, came to his abilities late in life. After a stalled commercial career, he studied with Cherubini. His first works were not a success, but La Bergere Chateleine (1820), written at the age of 38, established him as an operatic composer. He then met the librettist Eugene Scribe (1791-1861), with whom he developed a working partnership, one of the most successful in musical history, that lasted until Scribe's death. After Le Macon (1825) and La Muette de Portici (1828), Auber's life was filled with success. In 1829 he was appointed a member of the Institut, in 1839 Director of Concerts at Court, in 1842 Director of the Conservatoire, in 1852 Musical Director of the Imperial Chapel, and in 1861 Grand Officer of the Legion d'Honneur. Auber's famous historical grand opera La Muette de Portici (also known by its hero's name as Masaniello) is a key work in operatic history, and helped to inspire the 1830 revolution in Brussels that led to the separation of Belgium from Holland. Auber himself experienced four French Revolutions (1789, 1830, 1848, 1870). The latter (The Commune) hastened the end of his life. He died on 12 May 1871, at the advanced old age of 89, and in the pitiful conditions of civil strife, after a long and painful illness which worsened during the Siege of Paris. He had refused to leave the city he had always loved despite the dangers and privation, even after his house had been set on fire by the petroleurs et petroleuses. By some irony a mark had been placed against the house of the composer of Masaniello, the very voice of Romantic liberty! Auber's overtures were once known everywhere, a staple of the light Classical repertoire. The influence of his gracious melodies and dance rhythms on piano and instrumental music, and on the genre of Romantic comic opera, especially in Germany, was overwhelming. The operas themselves, apart from Fra Diavolo (1830), have virtually passed out of the repertoire, since Auber's elegant and restrained art now has little appeal for the world of music, attuned as it is to the meatier substance of verismo, Wagnerian transcendentalism, and twentieth-century experimentalism. Fra Diavolo, an opera-comique in three acts with libretto by Eugene Scribe, was premiered at the Opera-Comique (Salle Ventadour), on 28 January 1830. It was hugely successful, and remained in the theatre's repertoire until 1907. The opera is set in Terracina, in Italy, around 1830. The figure of the robber chief Fra Diavolo is based on a real Italian bandit, Michele Pezza, whose exploits during the Napoleonic occupation had become so well-known that folk memory ascribed supernatural powers to him. The action of Scribe's libretto is not drawn from historical events, but makes use of a name that was rich in association. The plot of Fra Diavolo represents Scribe's most brilliant handling of the techniques of the theatre, which he disposes with effective fluency and seamless control of dramaturgy. The libretto is one of the writer's most entertaining, and the score one of the composer's best. Scribe's dramatic instinct for a thrilling plot is shown through the numerous devices by which he causes changes in the fortunes of both hero and anti-hero. These ploys range from the melodramatic (where Zerline's murder is narrowly averted), to the comic (where the Marquis extricates himself from the tight predicament in the Act 2 finale). The travelling English couple Lord Cockburn and Lady Pamela are delightful comic creations. The composition of Fra Diavolo showed Auber reaching a height which he seldom achieved again. It is pointed, concise, and develops organically out of the action in all the big scenes. In the main it is characterized by simple small forms with piquant rhythms and harmonic effects, and a direct but refined background. Many comic effects are derived from Rossini, but the tonality, melody and rhythm are entirely French. Ensembles dominate, with solos sparsely employed, but the shift between solo numbers and small and large ensembles is scenically motivated, and musically balanced with great care. Even after 180 years the melodies conserve a freshness that testifies to Auber's originality: in Act 1 Zerline's ballad about Fra Diavolo "Voyez sur cette roche" establishes the central motif. The Act 2 finale is brilliant in its complex musical realization of Fra Diavolo's twisting intrigue. Fra Diavolo was created by the gifted singing actor Jean-Baptist Chollet (Fra Diavolo), Genevieve-Aimee-Zoe Prevost (Zerline), Marie-Julienne Boulanger (Lady Pamela), Louis-Auguste Fereol (Lord Cockburn), Theodore-Etienne Moreau-Sainti (Lorenzo), Henri (Matteo), Fargueil and Belnie (Giacomo and Beppo). Between 1830 and 1907 it was performed over 900 times at the Opera-Comique. There were productions in Berlin as early as 1830, and the opera soon spread all over Europe and to New York. By 1852 it had appeared in Calcutta, Sydney and Buenos Aires. Fra Diavolo was revived at the Opera-Comique on 29 January 2009, and is the only one of Auber's operas still in the international repertoire. This edition reproduces the vocal score published in Paris by E. Troupenas (c. 1845).
Publisher: Cambridge Scholars Publishing
ISBN: 9781443828529
You may also be interested in...
We would love to hear what you think of Waterstones. Why not review Waterstones on Trustpilot?