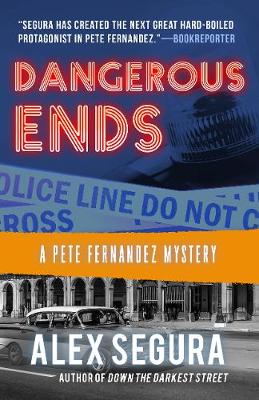 Dangerous Ends: (Pete Fernandez Book 3) (Hardback)
Alex Segura
(author)
Hardback
320

Pages / Published: 27/04/2017
Pete Fernandez has settled into an easy, if somewhat boring life as a P.I.. He takes pictures of cheating husbands. He tracks criminals who've skipped bail and he attends weekly AA meetings The days of chasing murderous killers are behind him. Or are they? When his sometimes partner Kathy Bentley approaches him with a potential new client, Pete balks. Not because he doesn't need the money, but because the case involves Gaspar Varela, a former Miami police officer serving a life sentence for the murder of his wife - one of the most infamous crimes in Miami history. The client? None other than Varela's daughter, Maya, who's doggedly supported her father's claims of innocence. As Pete and Kathy wade into a case that no one wants, they also find themselves in the crosshairs of Los Enfermos, a bloodthirsty gang of pro-Castro killers and drug dealers looking to wipe Pete off the Miami map. As if trying to exonerate Varela wasn't enough, they find themselves entangled in something even older and more surprising--a bloody, political hit ordered by Fidel Castro himself, that left a still-healing scar on Pete--and his dead father's--past. Fast-paced, hardboiled and surprising, Dangerous Ends pushes Pete Fernandez into a battle with a deadlier, more complex threat, as he tries to shake off the demons haunting Miami's own, sordid past.
Publisher: Polis Books
ISBN: 9781943818259
Number of pages: 320
Weight: 522 g
Dimensions: 216 x 140 x 28 mm
---
MEDIA REVIEWS
Praise for DANGEROUS ENDS "A real throwback to the kind of books I love. Segura captures the spirit of modern Miami with its complicated past and conflicted present. Pete Fernandez is the perfect hero to walk the mean streets of both worlds." -Ace Atkins, New York Times bestselling author of Robert B. Parker's Slow Burn and The Innocents "Alex Segura honors the private detective tradition, but also expands it. With a rich setting and an engagingly complex main character, DANGEROUS ENDS is a tense, gripping exploration of what happens when a bloody past collides with a dangerous present." -Lou Berney, Edgar Award-winning author of The Long and Faraway Gone "Segura guides DANGEROUS ENDS with surprising, and believable, twists, putting his work firmly among the best of South Florida crime fiction." -Oline Cogdill, Sun Sentinel "A rich seam of noir-dark mystery that intertwines intriguingly with Fernandez's own family story." -Seattle Review of Books "A confirmation that noir hasn't run out of tricks and just might be the ideal vehicle to explore our current moment." -Los Angeles Review of Books "Segura knows his territory, and the combination of the knowing and troubled detective with the seething backdrop of contemporary Miami makes this a hard series to resist and DANGEROUS ENDS a book you'll want to read immediately." -Bookreporter.com "Dangerous Ends does not disappoint...an enjoyable read." -Criminal Element "Alex Segura's take on the P.I. series perfectly straddles the line between modern and old-school. With each new entry, Pete Fernandez further assures himself a place on the list of reader's favorite private investigators. A love letter to Miami, Dangerous Ends makes excellent use of the diversity found in this hot and unique American city." -BOLO Books "A case with dark, unexpected twists." -Publishers Weekly "Alex Segura is one of the most exciting and vital voices in crime fiction today, and his Pete Fernandez series is keeping private eye fiction alive and kicking (serious ass) in the new millennium. His work does what the best crime fiction should do: take us down city streets we wouldn't dare visit alone." -Duane Swierczynski, Edgar Award-nominated author of Canary "Like Elmore Leonard before him, Segura drags the darkness out into the hot sunlight. There's a lot of heart in these broken souls." -Brian Azzarello, author of 100 Bullets, Moonshine and Batman "Lively characters, clear prose, a good mystery and a satisfying amount of action make this one another winner and the last chapter made me very eager to read the next one in the series." -Sons of Spade Praise for Alex Segura's Pete Fernandez series "So many writers have tried to reinvent the PI novel in recent years that it's refreshing to be reminded it was never broken. DOWN THE DARKEST STREET is classic PI fiction in the best sense, with a vibrant setting and a character who's so much more than the sum of his flaws. Larger-than-life has its charms, but Alex Segura shows us how riveting a human-scale story can be." Laura Lippman, New York Times bestselling author of WILDE LAKE "With a damaged-yet-resilient hero, the meanest of streets and the twistiest of crimes, Down the Darkest Street is tense and taut. A series not to be missed." Megan Abbott, bestselling author of THE FEVER "Segura (has) an edgy storytelling style, snappy dialogue, and a cast of salty characters. A really fine crime story." Booklist "(Segura) has created the next great hard-boiled protagonist in Pete Fernandez...DOWN THE DARKEST STREET marks the emergence not just of the next great crime fiction series, but of a writer on the rise." Bookreporter "This compelling sequel to SILENT CITY is a brooding, melancholy tale with a somber ending, Pete's sadness echoes the darkest corners of Miami's roughest streets." Library Journal "DOWN THE DARKEST STREET is strongest when it focuses on Pete trying to rebuild his life, and sometimes failing...Segura makes us care about Pete, whose struggles with alcohol are realistic...Pete and his journey through Miami are appealing." Sun-Sentinel "(Pete Fernandez's) flaws are refreshing after the growing popularity of coming book-type heroes who, whatever happens, emerge from their brawls with nary a scratch. In contrast, the flawed Fernandez comes across as very, very human." Mystery Scene "At once a harrowing crime novel and a deeply human tale of struggle and redemption, DOWN THE DARKEST STREET latest will keep you guessing and gasping until you've turned the final page." Chris Holm, bestselling author of THE KILLING KIND "Segura's DOWN THE DARKEST STREET is pitch perfect in the key of hard-boiled. A sublime blend of flawed protagonist, hot house setting, and gritty narrative." Reed Farrel Coleman, New York Times Bestselling author of WHERE IT HURTS and ROBERT B. PARKER'S BLIND SPOT "Cool, compelling, and completely believable--Alex Segura nails Miami noir. His Pete Fernandez is terrific, and readers will fly through the pages as this reluctant PI faces broken promises, terrifying loyalties and inevitable heartbreak. Loved this book!" Hank Phillippi Ryan, Anthony, Agatha and Mary Higgins Clark award winning author "Down the Darkest Street is a compelling page turner. It's a smartly written book that offers an insider's view of Miami and weaves a fascinating mystery that we only hope Pete can get to the bottom of." The Huffington Post "Alex Segura has crafted a protagonist you want to cheer for...shows the reader a side of the city that most tourists would miss. He takes the reader from the bars and restaurants near the University of Miami to the Cuban neighborhoods to the strip-mall and chain restaurant filled suburbs. There's more to Miami than the pastel-colored beachfront hotels. There's a seedier, darker side to the city." CrimeSpree Magazine "Anyone who enjoys solid PI novels will find a lot to love here and will be happy they grabbed this book." Out of the Gutter Outstanding praise for SILENT CITY, the first Pete Fernandez novel by Alex Segura "Murder, mayhem, Miami...and every character has their own great taste in music. Silent City knows that every city has its own dark and twisted personality. And so do its inhabitants. Take a chance and step inside." Brad Meltzer, #1 New York Times bestselling author of THE INNER CIRCLE, as well as the bestsellers THE TENTH JUSTICE, DEAD EVEN, THE FIRST COUNSEL, THE MILLIONAIRES, THE ZERO GAME, THE BOOK OF FATE and THE BOOK OF LIES "Segura's command of tight plotting and realistic characters keeps this energetic debut on track." The Miami Herald "In Silent City, Segura shines a light on a Miami not often seen, one in which neon and glitz are supplanted by the hardscrabble grit of folks just trying to get by. Silent City is a coiled snake, twist after twist bringing you ever closer to its final, stinging bite." Chris F. Holm, bestselling author of DEAD HARVEST, THE WRONG GOODBYE and THE BIG REAP "Miami glows hot in this debut - Alex Segura is a name to watch." Jeff Abbott, New York Times bestselling author of DOWNFALL "Silent City screams off the page! Someone lock Alex Segura in a room until he churns out more tales of Pete Fernandez's Miami! As someone once wrote, 'Please sir, I want more.'" Kevin Flynn, author of NOTES ON A KILLING, LEGALLY DEAD and OUR LITTLE SECRET "Silent City is a top-notch thriller. The action is non-stop, the tension is relentless, and in Pete Fernandez, Alex Segura has created the most compelling, original, and complex multi-layered hero I've encountered in years." Andrew Grant, bestselling author of EVEN, DIE TWICE and RUN "Silent City is a noir page-turner I couldn't put down, a race through the Miami tourists don't see. I loved the book, and can't wait for the next one. Alex Segura is a writer to watch." Sara Gran, bestselling author of DOPE and CLAIRE DEWITT AND THE CITY OF THE DEAD "Silent City is a page-turner right from the get-go, fast and furious and with plenty of bite." Adam Christopher, bestselling author of EMPIRE STATE and THE BURNING DARK "A thrilling read that picks up speed with each page. This book was a fantastic debut in the mystery genre, and I m ecstatic that Pete Fernandez has his own series. Looking forward to more from Segura." Steve Weddle, acclaimed author of COUNTRY HARDBALL "A gritty murder mystery/detective story set in Miami among the ruins of the old guard media." The Huffington Post "Segura is off to a good start with Silent City." The Sun-Sentinel One of Crimespree Magazine s Favorite Reads of 2013 "Alex Segura nails the mood his first time out with his debut novel, SILENT CITY. He takes the reader on a rough and tumble tour of his hometown of Miami, Florida. But hold on. this isn't the Miami of USA Network's Burn Notice. No one is cracking wise with a drink by the ocean; Segura's Miami is haunted by a silent killer while our hero is haunted by his failures." Crimespree Magazine "Both a classic and unique detective novel...a pretty powerful and exciting tale." CriminalElement.com "Segura pulls off an evolution of character I can t recall having seen in recent crime fiction. He also uses the dark corners and alleyways of Miami, untouched by the neon of South Beach, to create a criminal's playground that leaves in the reader's mouth a cheap beer aftertaste that blends well with the scent of stale smoke permeating the room. If trench-coat-and-Stetson-hat fiction were a genre, Silent City would be right at home in it." The Florida Book Review "Instead of a down-on-his-luck PI who somehow manages to be a step ahead of everything, Pete stumbles to try and keep up. Surprisingly charming and doggedly determined, he's a little bit Harry Dresden and a lot Clint Barton from Matt Fraction s Hawkeye. Segura writes some fantastic action sequences and keeps the suspense humming throughout the story. It's book you find yourself needing to finish, just so you can see if Pete manages to survive the mess he s pulled himself into." BookRiot.com "Forget the neon lights. Forget the glitz. Forget the bikinis and mojitos. And get ready for the other side of Miami." --CrimeFictionLover.com "The new George Pelecanos is here...I was really impressed with this debut." --Son of Spade
You may also be interested in...
Simply reserve online and pay at the counter when you collect. Available in shop from just two hours, subject to availability.
Thank you for your reservation
Your order is now being processed and we have sent a confirmation email to you at
When will my order be ready to collect?
Following the initial email, you will be contacted by the shop to confirm that your item is available for collection.
Call us on or send us an email at
Unfortunately there has been a problem with your order
Please try again or alternatively you can contact your chosen shop on or send us an email at