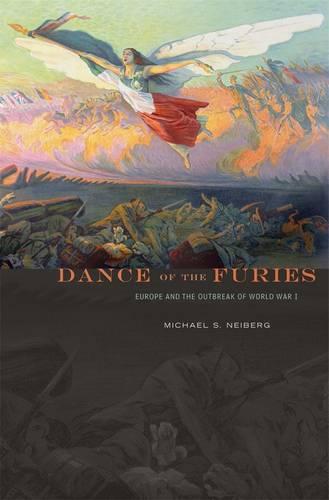 Dance of the Furies: Europe and the Outbreak of World War I (Paperback)
Michael S. Neiberg
(author)
Paperback
336

Pages / Published: 14/10/2013
We can order this from the publisher
The common explanation for the outbreak of World War I depicts Europe as a minefield of nationalism, needing only the slightest pressure to set off an explosion of passion that would rip the continent apart. But in a crucial reexamination of the outbreak of violence, Michael Neiberg shows that ordinary Europeans, unlike their political and military leaders, neither wanted nor expected war during the fateful summer of 1914. By training his eye on the ways that people outside the halls of power reacted to the rapid onset and escalation of the fighting, Neiberg dispels the notion that Europeans were rabid nationalists intent on mass slaughter. He reveals instead a complex set of allegiances that cut across national boundaries.

Neiberg marshals letters, diaries, and memoirs of ordinary citizens across Europe to show that the onset of war was experienced as a sudden, unexpected event. As they watched a minor diplomatic crisis erupt into a continental bloodbath, they expressed shock, revulsion, and fear. But when bargains between belligerent governments began to crumble under the weight of conflict, public disillusionment soon followed. Yet it was only after the fighting acquired its own horrible momentum that national hatreds emerged under the pressure of mutually escalating threats, wartime atrocities, and intense government propaganda.

Dance of the Furies gives voice to a generation who found themselves compelled to participate in a ghastly, protracted orgy of violence they never imagined would come to pass.
Publisher: Harvard University Press
ISBN: 9780674725935
Number of pages: 336
Weight: 517 g
Dimensions: 235 x 156 x 21 mm
---
MEDIA REVIEWS
Neiberg tells a lively story. His smooth prose, keen grasp of revealing anecdotes, and transnational focus will find a large and attentive readership. -- Leonard V. Smith, Oberlin College
Dance of the Furies is a major contribution to our understanding of the Great War's origins and nature. Well researched and well written, this book has a simple central thesis: the peoples of Europe neither expected nor desired war in 1914. But they did believe their nations' causes were just, and their nations' sacrifices must be avenged. Within weeks what began as a cabinet war, initiated by a small group of men, became a total war whose passions defied compromise and whose hatreds left a legacy of militarism, racism, and totalitarianism. -- Dennis Showalter, author of Tannenberg: Clash of Empires
In this important book, Neiberg adds greatly to our understanding of the popular mood and political climate of the fateful year in which the twentieth century really started. Drawing on an impressive range of contemporary accounts, he explains convincingly how Europeans metamorphosed into committed belligerents only after their armies had crossed international borders and the reality of modern war-invasion, atrocities, mass casualties-reached civilians on the home front. -- William J. Philpott, author of Three Armies on the Somme
[A] fascinating book. -- A. W. Purdue * Times Higher Education Supplement *
Neiberg expertly mines letters and diaries of European and American diplomats, authors, journalists, and expatriates to show that among "ordinary people," no one wanted WWI...Neiberg illustrates how a select group of men in Austria-Hungary, and in Germany, used the assassination to advance their expansionist programs. * Publishers Weekly *
This book stunned me, in a positive way...For those versed in public choice economics, and behavioral public choice, Neiberg's account is much more intuitive than the popular analyses one often hears. Definitely recommended. -- Tyler Cowen * marginalrevolution.com *
Dance of the Furies, becomes at once the new pinnacle in brief studies of the coming of the First World War...Dance of the Furies is far-ranging, adroitly written, and consistently fascinating...[Neiberg] uses an incredibly wide array of contemporary sources to shore up his point that when the Austro-Hungarian Archduke Franz Ferdinand was assassinated by Serbian teenager Gavrilo Princip in Sarajevo on June 28, 1914, virtually nobody thought the event would lead to general war...Dance of the Furies brings its readers right to the edge of that Armageddon but does not plunge. We hear tales of bank collapses and hate-propaganda, and we see the idealism of all combatants quickly shredded, but the epic carnage and attrition, the big-scale generalship and diplomacy, all lies ahead when this superb volume concludes. Instead what Michael Neiberg has given us is a vast chorus of disbelieving voices, the shopkeepers, professors, poets, and farmers of half a dozen countries voicing their increasing alarm as their nations slipped toward the unthinkable. Assembling and synthesizing such a vast amount of material would be impressive enough; that Neiberg makes it all so darkly compelling is testament to a writing talent the discipline of history badly needs. Future studies of the First World War by this author will be eagerly devoured. -- Steve Donoghue * Open Letters Monthly *
Powerful and original...Michael Neiberg's Dance of the Furies examines what has been a bitterly contentious subject ever since: how the war began. -- Geoffrey Wheatcroft * New York Review of Books *
This is an important book that contradicts one of the great calumnies of 20th century history, that ordinary people all over Europe in 1914 were such idiots they welcomed war. Neiberg argues the reverse, that there was no stomach for a fight, which no one much expected. Certainly he suggests people were patriots but they were not all itching to take revenge for territory lost or ancient insults. This doesn't mean they didn't accept the need to keep fighting when the war became a mincing machine, but Michael Neiberg distinguishes between endurance and enthusiasm. For anybody brought up on the idea the generation that died on the wire in Poland, Passchendaele and Palestine and in the trenches of the Western Front welcomed the opportunity, this is a challenging book. -- Stephen Matchett * Weekend Australian *
Neiberg takes issue with the notion that pre-1914 Europe was a ratpack of competing nationalisms just itching to get at each others' throats. Using a wide range of sources--newspapers, politicians' speeches and private diaries--Neiberg shows convincingly that most Europeans just wanted to get on with their increasingly prosperous lives in peace. It was only when the prearranged plans of the small group of warmongers--principally German--kick-started the war that a horrified public was galvanized into patriotic belligerency, with results that, a century on, are with us still. -- Nigel Jones * Literary Review *
Neiberg's story is a sober and chastening one, since it shows how wars take on a life of their own, in that the moral pollution they trigger lingers long after the diplomats have finished with the peace treaties supposedly ending hostilities...When Georges Duhamel, the surgeon and flautist, won the Prix Goncourt in 1919, it was for a book sardonically entitled Civilization. Now we know, Paul Valery said, that our civilization is mortal; and savage too, he might have added. The outbreak of war in 1914 helped make it so, and Michael Neiberg's fine book shows what a disaster that moment was, a moment when the population of Europe was frogmarched into an unnecessary war, and learned that the only way to win it was with hatred and violence of a depth and intensity the world had never seen before. -- Jay Winter * Times Literary Supplement *
You may also be interested in...
×
Download the Waterstones App
Would you like to proceed to the App store to download the Waterstones App?
Reserve online, pay on collection


Thank you for your reservation
Your order is now being processed and we have sent a confirmation email to you at
When will my order be ready to collect?
Following the initial email, you will be contacted by the shop to confirm that your item is available for collection.
Call us on or send us an email at
Unfortunately there has been a problem with your order
Please try again or alternatively you can contact your chosen shop on or send us an email at