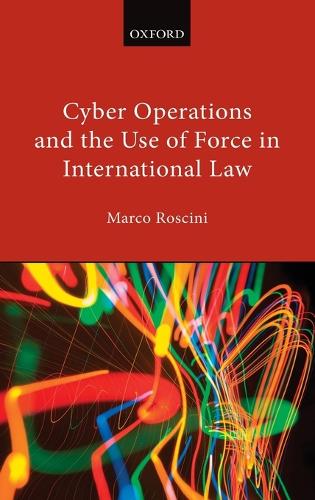 Cyber Operations and the Use of Force in International Law (Hardback)
Marco Roscini
(author)
Hardback
336

Pages / Published: 13/03/2014
The internet has changed the rules of many industries, and war is no exception. But can a computer virus be classed as an act of war? Does a Denial of Service attack count as an armed attack? And does a state have a right to self-defence when cyber attacked? With the range and sophistication of cyber attacks against states showing a dramatic increase in recent times, this book investigates the traditional concepts of 'use of force', 'armed attack', and 'armed conflict' and asks whether existing laws created for analogue technologies can be applied to new digital developments. The book provides a comprehensive analysis of primary documents and surrounding literature, to investigate whether and how existing rules on the use of force in international law apply to a relatively new phenomenon such as cyberspace operations. It assesses the rules of jus ad bellum and jus in bello, whether based on treaty or custom, and analyses why each rule applies or does not apply to cyber operations. Those rules which can be seen to apply are then discussed in the context of each specific type of cyber operation. The book addresses the key questions of whether a cyber operation amounts to the use of force and, if so, whether the victim state can exercise its right of self-defence; whether cyber operations trigger the application of international humanitarian law when they are not accompanied by traditional hostilities; what rules must be followed in the conduct of cyber hostilities; how neutrality is affected by cyber operations; whether those conducting cyber operations are combatants, civilians, or civilians taking direct part in hostilities. The book is essential reading for everyone wanting a better understanding of how international law regulates cyber combat.
Publisher: Oxford University Press
ISBN: 9780199655014
Number of pages: 336
Weight: 646 g
Dimensions: 240 x 162 x 26 mm
---
MEDIA REVIEWS
[Cyber Operations and the Use of Force in International Law] offers a precise, detailed and up-to-date analysis of cyber operations and the use of force in international law... [Roscini's] book is an extremely valuable and recommended tool in the quest of understanding the current legal regulation of cyberspace and cyberwarfare. * Karine Bannelier-Christakis, Journal of Conflict & Security Law *
Cyber Operations provides an excellent overview of the international laws applicable to cyber attacks (a term of art) and will make its readers think twice about how they use cyber terminology. It is meticulously researched with a whopping 1,807 footnotes and cites leading authorities on the law of armed conflict, as well as on international law. In todays interconnected world, completely dependent on computers and the internet (where economic security is national security), it will stimulate both lawyers (military, government, private sector, etc.) and laypersons to think about how much more we should all be doing to protect our networks, data, intellectual property and critical infrastructure. * Christina Ayiotis, Georgetown Cybersecurity Law Institute, The Cybersecurity Canon *
Mr. Roscini should be praised for writing a book that goes beyond existing analysis of the law of armed conflict applied to cyber. Earlier legal monographs on cyber warfare restated the principles of laws and attempted to awkwardly apply them to cyber, with varying degrees of success. Many lacked an understanding of the technical aspects of cyber. Mr. Roscini, on the other hand, has clearly spent time studying the legal but also the technical aspects of cyber. The result is a monograph that does not merely repeat legal principles in an abstract manner but rather presents the legal rules with a technical hindsight, highlighting their potential flaws and gaps in the cyber area. * Vincent Roobaert, NATO Legal Gazette *
The sections of Roscinis book on the jus ad bellum cyber aspects are well-written, engaging, and thoroughly researched. They will also be accessible to non-lawyers, which makes this book particularly appealing. It is not easy to pick apart rules that were designed and adopted in a different era before the prospect of cyber attacks were even conceivable, and accurately apply them at a time before cyber uses of force have become a concrete reality, and overall Roscini has done a commendable job. * Christian Henderson, Questions of International Law *
Roscinis volume is a welcome addition to existing literature in the field. The way in which the author uses concrete cases of cyber operations as practical, real-world examples of the types of attacks which have taken place and his subsequent legal assessment make this volume a much valued navigation tool, useful to appraise the current state of legal development in the area. The detail and breadth of information found in all of the chapters is remarkable, and the book will quickly become a required reading for anyone who wishes to contribute in a qualified manner to the debate on cyber warfare. * Emanuele Sommario, Questions of International Law *
[Roscini's] book is an extremely valuable and recommended tool in the quest of understanding the current legal regulation of cyberspace and cyberwarfare. * Karine Bannelier-Christakis, Journal of Conflict & Security Law *
It will come as no surprise to anyone who has read any of Roscinis previous work to hear that Cyber Operations and the Use of Force in International Law is a very well written book. It is engaging to read, focused and clear throughout. There are helpful touches, like the bullet point summaries at the end of each chapter listing the key points made therein, or the handy tables setting out the analysis in a different form for quick reference... the book is extremely well researched and provides detailed analysis on virtually any question that one might raise on the application of the jus ad bellum or jus in bello to cyber warfare. Roscini is now one of the leading legal experts in the world on cyber operations and Cyber Operations and [this book] forms one-third of a recent holy trinity of major works on the topic. It is essential reading for anyone interested in cyber war and international law. * Prof. James A. Green, Journal on the Use of Force in International Law *
Marco Roscini's book engages in a detailed, rigorous and well informed doctrinal analysis of the application of this legal framework to cyber operations, which singles it out as a highly significant resource in the field... [T]his book is an exhibition of excellent legal scholarship. In chapter 1 Roscini explains that the book's 'overall goal is to provide a systematic and coherent analysis of the international law applicable to military cyber operations that will be of use to anyone who wants or needs to understand the basic issues of the rules of international law on the use of force and the law of armed conflict'. Incontrovertibly, this book successfully and impressively achieves this objective. * Russell Buchan, British Yearbook of International Law *
The increasing amount of cyber attacks and cyber exploitation operations by States and non-State actors calls for a comprehensive review of the current legal framework and its loopholes. Marco Roscini's admirable study of pertinent rules of international law, whether based on treaty or custom, underlines the applicability of existing law to new technological developments. His convincing examination of relevant rules of the jus ad bellum, the jus in bello and the law of neutrality will facilitate implementation of the law in a particularly complex environment and may also help to inform peacetime cooperation on cyber security for which sustainable efforts and effective new regulation are urgently required. * Dieter Fleck, Former Director International Agreements & Policy, German Ministry of Defence, Member of the Advisory Board, Amsterdam Center of International Law *
The present volume by Dr. Marco Roscini ... is a systematic, up-to-date and well-informed analysis of the legal discourse that has taken place thus far. The author identifies the issues that have given rise to much discussion, marshals the evidence and provides a clear picture of where cyber operations stand in the overall scheme of the international law of armed conflict. This gives him an opportunity to delve into many controversial aspects of that law, irrespective of their kinetic/cyber application. ... The book surely sets the stage for the future encounter between law and reality. * Yoram Dinstein, from the Foreword *
Land, sea and air are no more the only domains where hostilities are conducted. Cyberspace has now become the fourth dimension. Marco Roscini's book on Cyber Operations and the Use of Force in International Law explores this new and challenging subject. Taking into account recent State practice, the author relies on traditional customary and treaty law to construe rules applicable to cyber operations. He examines all the main chapters of the law of armed conflict: jus ad bellum, jus in bello and the law of neutrality. A sound knowledge of the law of armed conflict allows the author to formulate a complete set of rules for cyber operations in a clear and realistic mode. Dr. Roscini's book is to be recommended to the attention of scholars, legal advisors and to all concerned with planning defence operations. * Natalino Ronzitti, Emeritus Professor of International Law, Luiss University, Rome *
You may also be interested in...
Simply reserve online and pay at the counter when you collect. Available in shop from just two hours, subject to availability.
Thank you for your reservation
Your order is now being processed and we have sent a confirmation email to you at
When will my order be ready to collect?
Following the initial email, you will be contacted by the shop to confirm that your item is available for collection.
Call us on or send us an email at
Unfortunately there has been a problem with your order
Please try again or alternatively you can contact your chosen shop on or send us an email at