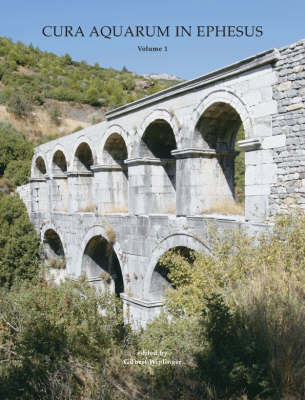 Paperback
Published: 19/10/2006
Ephesus, the metropolis of the Roman province Asia, has been the main feature-project of Austrian archaeological research since 1895. The first investigations on the aqueducts leading into the city were undertaken in 1898. However, despite of excavating the great baths and nymphaea at the beginning of Austrian archaeological research, between the wars and after World War 2, the Ephesian aqueducts were not studied in any further depth. Since 2001, the editor of this book has been striving towards an attempt to study the aqueducts leading to Ephesus within a comprehensive interdisciplinary project. The 12th International Symposium on the History of Water Engineering in the Mediterranean which was held by the Osterreichisches Archaologisches Institut in Ephesus in October 2004, provided the opportunity to present the entire range of research results to an international forum of experts. The discussions are to initiate a further impulse and subsequently new important insights. The articles in this publication are the reports of the lectures and presentations of posters given during the symposium. They are split into ten sections. At the beginning of altogether 67 contributions, there was an opening lecture on the river-gods and their attributes on ancient coins. The first section focussed on the city of Ephesus thereby not only introducing the latest results in the research on aqueducts, but also on other current projects which stand in a particular relationship to water engineering. Sections two to five are structured geographically according to the topics and focus on current projects concerned with water-engineering in Anatolia, the remaining Mediterranean regions, the Near East and Mesopotamia as well as Gaul and Germania. The articles concentrate on dams, aqueducts, water reservoirs, wells, urban water distribution systems, ritual pools and basins, and other systems of water-supply. The sixth section includes special hydraulic engineering structures such as castella, pressurised water-supply lines and technical details such as the colliviaria. The seventh and eighth sections introduce studies which are currently being undertaken on nymphaea and baths as well as thermal baths and latrines. The ninth section includes two contributions on the element 'water' itself as depicted in mosaics while the tenth section is devoted to complementary areas of research. The two volumes of this lavishly illustrated publication mirror the manifold nature of the articles as well as the comprehensive spectrum of the 12th International Symposium 'Cura Aquarum in Ephesus', thereby encouraging new directions in research on ancient water engineering, new projects and further cooperation.
Publisher: Peeters Publishers
ISBN: 9789042918290
You may also be interested in...
We would love to hear what you think of Waterstones. Why not review Waterstones on Trustpilot?