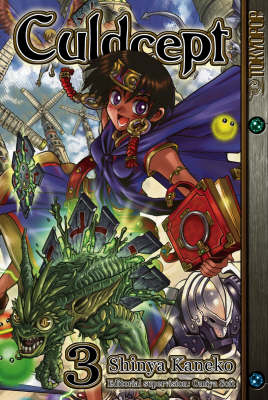 Paperback
Published: 31/07/2006
Chapter One (round 23): In the village of soldiers and workers, the soldiers are getting impatient by not receiving any of the treasure they've been promised for their efforts. However, just then, one of their members returned, claiming that a vast amount of treasure lies just beyond the gate, so they all decide to head for Bisteam. Najaran and her buddies are hanging in the forest for a lunch break when suddenly the animals of the forest come stampeding out, obviously afraid of something. A baby woodfolk (walking tree) comes out followed by a fullsized adult Woodfolk, which is twisted and evil-looking. Chapter Two (round 24): A battle breaks out between the crazed 'new species' of Woodfolk and Najaran and friends. When Naja tries attacking with her Thunderbeak Card, the baby Woodfolk gets in the way to protect its mother. Gantz remembers a previous encounter with the black 'flower' that is controlling the Woodfolk in a battle with his previous soldier comrades. In the battle, they are up against the rumored 'Black Cepters,' and their fallen comrades are transformed into killing zombie-like creatures, after having been taken over by a small parasitic creatures. The same creature is now controlling the giant Woodfolk. Chapter Three (round 25): Najaran and friends discover that the giant Woodfolk is actually sapping up the energy of fellow Woodfolks which are trapped in its back. Its only weak point is the black 'flower,' but it only sprouts out of its head from time to time. Alta uses her quick speed and acrobatics to get the Woodfolk to wind itself up with its own arm/branches/tentacles. (it's a cute scene where they're trying to keep the baby Woodfolk away from its mother like a basketball) Najaran then takes the opportunity to scramble up the tree and shove some plant killing formula into the tree to kill the evil 'flowers' and the mutant Woodfolk returns to normal. Everything ends happily but the trees make Najaran work for them for having killed a flower (which they vow to protect). Chapter Four (round 26): The troupe arrives to the next 'gate', which has a tree growing through its center. The elf, Kigi, shows up, threatening them not to run off, and warning them that the Dum-dum soldiers have already passed the first gate. The way to pass this next gate is to catch a wood nymph, but before they know it, there are hundreds all over the place. Gantz and Alta are turned into trees, and now only Narajan and Jaoquin are left to figure out a way to tell them apart. But to humans, all wood creatures look the same. Chapter Five (round 27): Najaran realizes she can identify the single correct nymph because she is so accurate at telling the differences between vegetables. She fails in catching it, turning into a plant, and now only Jaoquin is left to help. Only the help of the Woodfolk enable to capture the nymph. Chapter Six (round 28): They head for the gate, but just as Kigi comes in to stop them, she finds a flower given to them by the Woodfolk, meaning that they are true members of the forest as well. When they leave, Kigi falls suddenly to the floor, being that she is one with the forest, and at that very moment, stupid humans are burning down the forest! Alta has a flashback of when she used to be a tomb raider and her partners turned on her, killing her love, Lue. Chapter Seven (round 29): After the flashback, we find that Alta holds a single bullet the gun of her deceived friend because she really just doesn't trust anyone. There is a short scene of Kigi speaking with the elf chief, who is feeling the pain of the burning forest. The troupe lands on a graveyard island, covered in the bones of dead dragons and whatnot. And bam, a dragon zombie pops up for an attack. Chapter Eight (round 30): The dragon zombie doesn't realize it's still alive and fights on, full of hate and pain for being alone for some many centuries. Being an undead creature, Najaran eventually resorts to using one of her Forbidden Magic Cards to attack the dragon, but it gets caught in the ice of the zombie's head, not opening. Alta uses her last bullet in her gun, afraid that she's really losing her memory of Lue, and fires at the card to open it. Chapter Nine (round 31): Though physically defeated, the dragon's grudge still does not let it die. Fearing that is will transform into an evil spirit, Najaran soothes it by guaranteeing that it no longer has to stay alive to protect the land (which is the dragon's only tie to the living world). She gives it wings to fly to the sky, and all is peaceful. Then Kigi shows up and tells them she is impressed by their efforts. Chapter Ten (round 32): The Dum-dum soldiers are pleased that the monsters and gates are being cleared by Najaran and her gang, so that they can get to the end treasure easily. However, some feel dishonest about stealing from others, so they vow to get to the third gate ahead of them. At that time, Najaran and the gang arrive in the beautiful city of Bisteam. At the end, they run into Najaran's old adversary - Zeneth Dragon-Eyed Zeneth. He's a hotty with a whack dragon eye!
Publisher: Tokyopop Press Inc
ISBN: 9781591829546
Weight: 186 g
Dimensions: 189 x 127 x 15 mm
You may also be interested in...
Simply reserve online and pay at the counter when you collect. Available in shop from just two hours, subject to availability.
Thank you for your reservation
Your order is now being processed and we have sent a confirmation email to you at
When will my order be ready to collect?
Following the initial email, you will be contacted by the shop to confirm that your item is available for collection.
Call us on or send us an email at
Unfortunately there has been a problem with your order
Please try again or alternatively you can contact your chosen shop on or send us an email at