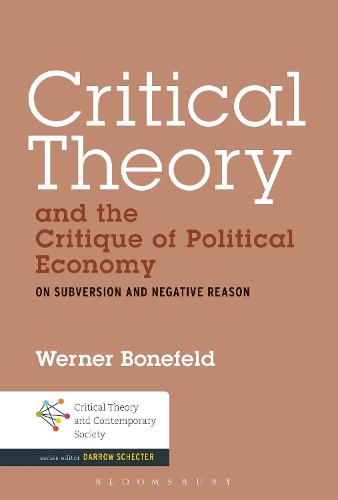 Critical Theory and the Critique of Political Economy: On Subversion and Negative Reason - Critical Theory and Contemporary Society (Hardback)
Prof. Werner Bonefeld
(author)
Hardback
256

Pages / Published: 03/07/2014
Subversive thought is none other than the cunning of reason when confronted with a social reality in which the poor and miserable are required to sustain the illusion of fictitious wealth. Yet, this subsidy is absolutely necessary in existing society, to prevent its implosion. The critique of political economy is a thoroughly subversive business. It rejects the appearance of economic reality as a natural thing, argues that economy has not independent existence, expounds economy as political economy, and rejects as conformist rebellion those anti-capitalist perspectives that derive their rationality from the existing conceptuality of society. Subversion focuses on human conditions. Its critical subject is society unaware of itself. This book develops Marx's critique of political economy as negative theory of society. It does not conform to the patterns of the world and demands that society rids itself of all the muck of ages and founds itself anew.
Publisher: Continuum Publishing Corporation
ISBN: 9781441161390
Number of pages: 256
Weight: 517 g
Dimensions: 229 x 152 x 23 mm
---
MEDIA REVIEWS
Bonefeld successfully both reveals the supposedly innate contradictions of a system that is imposed externally on us and succeeds in dissecting the most pivotal contradiction, that is, how our own labor is simultaneously organized as concrete and abstract labor. * Critique *
Bonefeld's most accomplished work to date, and certainly represents a definitive statement on critique, negative dialectics, and Open Marxism ... a book which sets out his own unique vision of Marxism as Critical Theory that "moves" in reflexive and dialectical engagement with its definite subject matter: political economy and the inherently antagonistic social constitution of capital ... Critical Theory at its intelligent, robust and challenging best-argumentation this book delivers from cover to cover. -- Greig Charnock * Antipode *
Exactly the kind of book we need ... We need a conceptual comprehension that sharpens and focuses our experience. We do not live in a world in which the abolition of capitalism seems imminent. In such conditions, especially when a thinker breaks through old theoretical integuments, the obligation is towards the very critique and critical theory that animates this book. -- Chris Wright * Mute *
Compelling and persuasively argued account of the tasks with which critical theory is faced today, and of the failure of the larger part of Marxist theory to date adequately to address those tasks ... The book represents what is perhaps the most sustained and comprehensive exposition of the critique of political economy from its at times incipient formulation within Marx's oeuvre. -- Josh Robinson * Marx and Philosophy Review of Books *
In the tradition of the best critical and Marxist theory, this brilliant, vital book encompassess and challenges everything ... [Bonefeld's prose] is audacious, breathtaking and exciting in a way unmatched in most 'academic writing' ... This book is a game-changer, theoretically practically, and politically. From within the field, Bonefeld gives considerable pause for thought to scholars working within value-form theory ... [and] even where Bonefeld cousels against the affirmation of alternatives, the book generates a sense of hope ... This urgent, stirring book of everything demands to be read. -- Frederick H. Pitts * Capital & Class *
A very rewarding read. It brings together a large array of ideas and provides devastating critiques of both capitalism and some of its Marxist critics. The book will no doubt appeal to those most associated with left communist ideas. That said, in a period where criticisms of capitalism have taken on no more than a dismal rejection of it as an unfair system ran by elites and corporations, I feel it is a must read for any person who considers themselves Marxist or anti-capitalist. Werner Bonefeld restates the fundamentals of the critique of political economy and provides us with a highly engaging and important piece of work. -- Liam Conway * The Project: A Socialist Journal *
Is Marx is an economic thinker? Bonefeld's lucid and original reading answers this question in the affirmative ... In an age when much of what passes as communist thought and practice is either the ossified dogmas of the past, or moralistic denunciations of the abstractions of wealth and finance, this book should, despite its density, act as a wake-up call to anyone who hopes for a reinvigoration of the anticapitalist left. -- John P. Merrick * Review31 *
Werner Bonefeld's outstanding book revitalizes the best tradition of critical theory, which he proficiently combines with the critique of political economy and new readings of Marx. Bonefeld's book is essential for anyone who wants to understand the inverted world of capitalism and to fight its barbarism. * Massimiliano Tomba, Dipartimento di Scienze Politiche, Universita di Padova, Italy *
Bringing together Adorno's Critical Theory and Marx's Critique of Political Economy sheds rather new light on basic concepts of Marx's Critique like the law of value, class, and state, and allows Werner Bonefeld to leave the usual roads of discussion travelled over the last four decades. This becomes clear not only when the relationship between economic law, labour, action, and force is discussed but also when the anti-capitalist implications of this approach are developed. This book is really a big step forward in the discussion of capitalism and its critiques. * Michael Heinrich, University of Technics and Economics, Berlin, Germany and author of An Introduction to the Three Volumes of Karl Marx's Capital *
Werner Bonefeld is one of the most rigorous and uncompromising critics of capitalism writing today. This book criticises and carries forward the most advanced thinking on critical theory and the critique of political economy. A must, a delight. * John Holloway, Professor of Sociology at the Instituto de Ciencias Sociales y Humanidades in the Benemerita Universidad Autonoma de Puebla, Mexico. *
Reclaiming the Marxian critique of political economy for critical theory, Werner Bonefeld reveals an overlooked trajectory of the Frankfurt School leading from Adorno to 'the new reading of Marx.' Bonefeld pushes 'the new reading of Marx' to recognise the class structure enforced by the state's 'law-making violence' that underlies the law of value. Critical theory needs to be anti-capital, Bonefeld argues, and he makes good on that subversive demand with a critique of economic categories that exposes the social sources of 'the dazzling spell of the world of value.' Bonefeld writes at the frontiers of the renewal of critical theory as the critique of political economy. * Patrick Murray, Creighton University, USA, and author of Marx's Theory of Scientific Knowledge *
In this important contribution [Bonefeld] uncovers within the critical theory of the Frankfurt School the foundations of a new and powerful reinterpretation of Marx's critique of political economy. ... The book concludes that, rather than seeking scapegoats or imaginary futures, we should embrace uncertainty and strive to change our lived experience. -- Hugo Radice, University of Leeds, UK * Political Studies Review *
Even after several readings, I do not claim to have absorbed all the lessons of this remarkable text. ...[I]t is the starting point for a newly invigorated critique of political economy, because it brings production and reproduction, primitive accumulation, politics and crisis together into a single frame in which the central figure is the worker specific to the capitalist mode of production in its fully developed form - the dispossessed producer of surplus value in the world market. * What's Worth Reading blog *
You may also be interested in...
Simply reserve online and pay at the counter when you collect. Available in shop from just two hours, subject to availability.
Thank you for your reservation
Your order is now being processed and we have sent a confirmation email to you at
When will my order be ready to collect?
Following the initial email, you will be contacted by the shop to confirm that your item is available for collection.
Call us on or send us an email at
Unfortunately there has been a problem with your order
Please try again or alternatively you can contact your chosen shop on or send us an email at