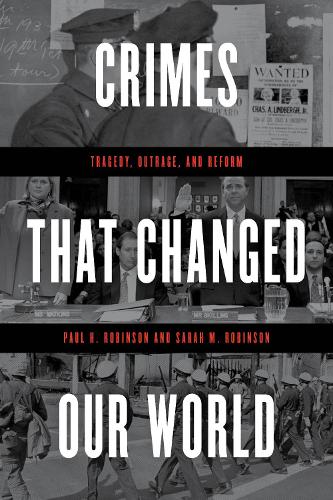 Hardback
408

Pages / Published: 08/08/2018
Can crime make our world safer? Crimes are the worst of humanity's wrongs but, oddly, they sometimes "trigger" improvement in our lives. Crimes That Changed Our World explores some of the most important trigger cases of the past century, revealing much about how change comes to our modern world. The exact nature of the crime-outrage-reform dynamic can take many forms, and Paul and Sarah Robinson explore those differences in the cases they present. Each case is in some ways unique but there are repeating patterns that can offer important insights about what produces change and how in the future we might best manage it. Sometimes reform comes as a society wrestles with a new and intolerable problem. Sometimes it comes because an old problem from which we have long suffered suddenly has an apparent solution provided by technology or some other social or economic advance. Or, sometimes the engine of reform kicks into gear simply because we decide as a society that we are no longer willing to tolerate a long-standing problem and are now willing to do something about it. As the amazing and often touching stories that the Robinsons present make clear, the path of progress is not just a long series of course corrections; sometimes it is a quick turn or an unexpected lurch. In a flash we can suddenly feel different about present circumstances, seeing a need for change and can often, just as suddenly, do something about it. Every trigger crime that appears in Crimes That Changed Our World highlights a societal problem that America has chosen to deal with, each in a unique way. But what these extraordinary, and sometime unexpected, cases have in common is that all of them describe crimes that changed our world.
Publisher: Rowman & Littlefield
ISBN: 9781538102015
Number of pages: 408
Weight: 694 g
Dimensions: 236 x 159 x 28 mm
---
MEDIA REVIEWS
Law scholar Paul and writer and researcher Sarah Robinson examine a series of major crimes of different forms from the early twentieth century to the present which sparked outrage and brought about social reforms.... These useful case studies form an excellent survey of government reforms, going beyond the sensationalized events and even beyond the initial resulting reforms to raise questions about how change occurs in America. The text's structure brings order to the chaotic unfolding of human events, even as the Robinsons consider how crimes often defy generalization. Readers interested in American history, law, political science, social movements, and psychology will find this book useful, as will aficionados of the true-crime genre. Crimes That Changed Our World is an ambitious cataloging of the many ways crime has shaped America. * Booklist *
Robinson and Robinson relate captivating tales about how outrageous and highly-publicized crimes produced legal reform and social change, usually for the better. Both specialists and novices will be fascinated by the role crime has played in improving our world. -- Douglas N. Husak, Distinguished Professor of Philosophy and Law, Rutgers University; author, The Philosophy of Criminal Law
Even today, when the genre has achieved unprecedented popularity, true crime is too often dismissed as mere sensationalism. What the Robinsons demonstrate, so powerfully in this thoroughly impressive book, is that we can learn as much about our nation's history from exploring its most significant crimes as we can from studying its politics, economy, art, or any other aspect of society. -- Harold Schechter, author, The Serial Killer Files
By tracing the connections between so many significant legal reforms and the outrage over the crimes that provoked them, Paul and Sarah Robinson offer many important insights for those pursuing law reform at every level. -- Gerald F. Uelmen, professor of law and dean Emeritus, Santa Clara University School of Law; Board of Directors, Catholic Mobilizing Network
What do the Triangle Factory Fire, Lindbergh kidnapping, Watts riots, attempted assassination of Ronald Reagan, and the Enron scandal all have in common? The answer, according to this fascinating book, is that the public outrage provoked in each case (as well as fifteen other cases discussed) led to a radical, and often sudden, legal reform - including, respectively, the promulgation of building safety codes, federalization of criminal law enforcement, militarization of the police, changes in the insanity defense, and tougher enforcement of financial crime laws. In twenty absorbing chapters, authors Robinson and Robinson offer a broad sweep of history, legal and social analysis, and human drama. -- Stuart Green, Distinguished Professor of Law, Rutgers University
A fascinating analysis of a remarkable range of criminal cases that, for better or worse, triggered significant changes in American law and policy - ranging from building safety regulations to the "war in terror", from drink-driving laws to financial crimes. The cases are described in vivid, often moving, detail, and their social and political significance, through the public outrage that they provoked, is illuminatingly explained. -- Antony Duff, professor emeritus, University of Stirling
Immensely readable and informative, Crimes That Changed Our World provides readers with an in-depth look at some of the most fascinating, tragic, and ultimately consequential crimes in the history of modern American criminal justice. From their effects on everything from building safety codes to the insanity defense to our modern system of 911, the authors show how a handful of salient and terrible crimes helped to transform the landscape of American criminal law in profound ways that are still felt-and often hotly debated-today. -- Richard A. Bierschbach, dean and professor of law, Wayne State University Law School
In their fascinating look at some of the most impactful crimes over the last century, the authors show a keen understanding of the patterns that have provoked large-scale change in our world. Whether by way of the war on drugs, three-strikes sentencing, criminal profiling, or the national presence of the FBI (to name a few), this book richly details the irony and public fury fueling how and why high-profile crimes can give rise to new- and at times troublesome- directions. -- Deborah Denno, PhD, JD, Arthur A. McGivney Professor of Law, Fordham University School of Law
Thomas Carlyle famously argued that human history boiled down to a chronicle of the achievements of outstanding individuals. In this fascinating and accessible book the Robinsons show that, beyond Carlyle's Great Men, drunken coroners, crooked politicians, double-dealing Mafiosi, and skillful issues entrepreneurs all play their respective parts in constructing the world we live in. Notorious crimes, and disasters caused by stupid people or stupid laws, have the potential to mobilize public demands for reform that lead to legal and social change. Sometimes the changes are for the better (like building codes), sometimes for the worse ("three strikes" sentencing laws), sometimes a mix of good and bad (enhanced drunk driving laws) and sometimes, as with airport security efforts, one just can't tell. This book will be a valuable resource to those interested in law and social reform, and deserves a wider readership among all who want to understand the drivers of social change. -- Daniel D. Polsby, professor of law, Antonin Scalia Law School, George Mason University
Americans have always been obsessed with our ample supply of "trials of the century," but Paul and Sarah Robinson have now shown us how the high profile crimes of any era have changed our government and legal system. Ingeniously conceived and elegantly written, this book dramatically narrates the historical dynamic by which public outrage over egregious crimes alters the very structures of American law and law enforcement, with consequences both good and bad, intended and unintended. -- Robert Weisberg, JD, Edwin E. Huddleson, Jr. Professor of Law, Stanford University; Faculty Co-Director, Stanford Criminal Justice Center
The title phrase says it all: this is the story of how a series of spectacular incidents and crimes, from the fire in the Triangle building in New York, in the early 20th century, to the attack on the World Trade Center on 9/11, impacted law and society. The story, fluidly and lucidly expounded, shows how these crimes and incidents did in fact produce changes in the contemporary world. The book is a significant contribution to our understanding of how law is made and remade, in democratic societies, through a chain of events which some dark incident sets off. -- Lawrence M. Friedman, Marion Rice Kirkwood Professor of Law, Stanford Law School
Tragedy, Outrage and Reform: Crimes that Changed Our World vividly recounts twenty infamous crimes that reshaped the law-from the triangle shirtwaist factory fire, and the Lindbergh kidnapping to the Reagan assassination and 9/11. Paul and Sarah Robinson combine careful research with fast-paced storytelling to reconstruct the impact each crime had on an indignant public. They also bring to life the reformers who skillfully channeled popular outrage into support for legal reforms with far-reaching consequences, most for good, and some for ill. A compelling read, this book is also an indispensable primer for aspiring reformers, showing how policy ideas can shape public perceptions of events to catalyze change. -- Guyora Binder, Distinguished Professor, Law School, University at Buffalo
You may also be interested in...
×
Download the Waterstones App
Would you like to proceed to the App store to download the Waterstones App?
Reserve online, pay on collection.
Please note that owing to current COVID-19 restrictions, many of our shops are closed. Find out more by
clicking here
.
Thank you for your reservation
Your order is now being processed and we have sent a confirmation email to you at
When will my order be ready to collect?
Following the initial email, you will be contacted by the shop to confirm that your item is available for collection.
Call us on or send us an email at
Unfortunately there has been a problem with your order
Please try again or alternatively you can contact your chosen shop on or send us an email at