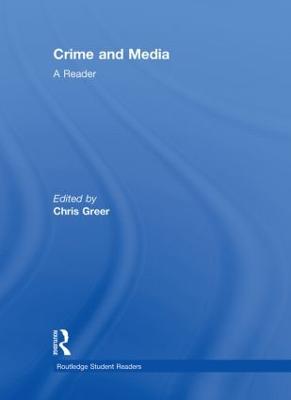 Crime and Media: A Reader - Routledge Student Readers (Hardback)
Chris Greer
(editor)
Hardback
624

Pages / Published: 01/09/2009
This engaging and timely collection gathers together for the first time key and classic readings in the ever-expanding area of crime and media. Comprizing a carefully distilled selection of the most important contributions to the field, Crime and Media: A Reader tackles a wide range of issues including: understanding media; researching media; crime, newsworthiness and news; crime, entertainment and creativity; effects, influence and moral panic; and cybercrime, surveillance and risk. Specially devized introductory and linking sections contextualize each reading and evaluate its contribution to the field, both individually and in relation to competing approaches and debates.
This book provides a single source around which criminology, media and cultural studies modules can be structured, an invaluable revision and consultation guide for students, and an extremely useful resource for scholars writing and researching across a wide range of relevant fields.
Accessible yet challenging, and packed with additional pedagogical devices, Crime and Media: A Reader will be an invaluable resource for students and academics studying crime, media, culture, surveillance and control.
Publisher: Taylor & Francis Ltd
ISBN: 9780415422383
Number of pages: 624
Weight: 1270 g
Dimensions: 248 x 171 x 38 mm
---
MEDIA REVIEWS
'One should hesitate to use the word `comprehensive' about any text, but so thought-provoking, intellectually sophisticated and avowedly inter-disciplinary is Chris Greer's Crime and Media: A Reader that it can probably justifiably lay claim to the appellation. Dazzling in the breadth and depth of coverage, the book succeeds in bringing together key `classics' in the field of crime and media with more obscure, idiosyncratic or simply difficult-to-get-hold of readings that are none the less essential to an understanding of the complex and nuanced relationship between crime and media. That said, the original and incisive commentaries written by the editor are worth the cover price alone. Challenging, provocative and perceptive, Greer's passion for his subject undoubtedly will enthuse students and breathe new life into sometimes stale debates. This is one of those rare books which makes anyone else's aspirations to produce a similar text in the future entirely superfluous. Quite simply, a tour de force.' - Yvonne Jewkes, Professor of Criminology, University of Leicester, UK
'This timely collection of classic and more recent analyses of crime and the mass media does more than simply cover a field; it is a conceptual tour de force. Greer's synthesis defines a new understanding about the relevance of new developments in cultural studies and media logic for a comprehensive critique of how the mass media packaging of crime as news and entertainment shapes practice, perceptions, and policies about crime and social control.' - David L. Altheide, Regents' Professor at the School of Justice and Social Inquiry, Arizona State University, USA
'The academic expression of the Sixties' imagination was to erode conventional disciplinary boundaries and to work in the new spaces where kindred interests could now meet. This was exactly the story of the meeting between, on one side, criminology, crime, deviance and social control and on the other, media studies. The result has been a flourishing of work on the many links between crime and the media. Chris Greer's selection of forty two readings from this vast literature - from theories of simulacra to the dialectics of Dixon - strikes just the right balance between theory and research, standard and novel, normal and edgy. His selection (plus running commentary on the readings) is comprehensive enough to be a handbook for the whole field of study and coherent enough to reveal a theoretical integrity of its own. An essential guide for students and memory-aid for their teachers.' - Stan Cohen, Emeritus Professor of Sociology, LSE, UK
'As technology and media continue to evolve and dramatically impact all aspects of social life, it is unfortunate that crime and media research has not been more strategically integrated into criminological conversations. One reason for this neglect is that, although there is a burgeoning interdisciplinary scholarship in this area, there simply is not an easy-to-access central repository of classic and innovative works brought together with corresponding critique and analysis. Chris Greer's important new book overcomes this limitation, providing access to, and analysis of, a compilation of key works that have helped define this area of scholarship. It is a must read for students and scholars interested in crime and media issues.' - Steven Chermak, Professor at the School of Criminal Justice, Michigan State University, USA
'Chris Greer's Crime and Media: A Reader brings together a judicious and pedagogically useful collection of readings drawn from the fast-developing field of crime and media studies. Intelligently incorporating classic statements as well as the latest cutting-edge interventions, the collection is not only positioned at the intersection of crime and media studies, it helps to define it. An invaluable resource for students and scholars alike.' - Professor Simon Cottle, Deputy Head of School, School of Journalism, Media and Cultural Studies, Cardiff University, UK
'In a field where students are apt to consider the newest as the best, Greer's selection of readings proves otherwise. By mixing classic readings from the 1960s and '70s with recent and revisionist pieces he shows that going back into a field's history is the best way to move forward. This strategy may seem counterintuitive when the problematic is an incessently shifting mediascape, but Greer's backward glance is part of his provocative pedagogy. He clearly has a passion for his field, which instructors and students will absorb through his introduction and his 'topping' and 'tailing' of readings with commentary, context and questions. Far more than a collection of essays, this text offers a tool kit for the construction of theoretically sophisticated and methodologically rigorous approaches to crime and media research. An invaluable resource for instructors as well as students.' - Carolyn Strange, Adjunct Professor Criminology and History, University of Toronto, Canada
'This is a text of remarkable range and sophistication. Chris Greer understands, as few in our field do, that scholarly inquiry into 'crime and media' requires not only a sensitivity to crime's meaning and representation, but a thoroughgoing conceptualization of media dynamics in all their cultural complexity. Because of this, he offers in Crime and Media a collection of classic and cutting edge media scholarship that for the first time establishes a comprehensive intellectual foundation for crime and media studies. A breakthrough book, Crime and Media now becomes essential reading for scholars and students alike.' - Jeff Ferrell, Professor of Sociology, Texas Christian University, USA and University of Kent, UK
'Crime and Media: A Reader will be a vital resource for the emerging field of media criminology. Here, in one integrated volume, are found both the classics of the field as well as wonderful, cutting edge research on a wide range of topics. Because Geer has also thought seriously about the need to develop the field both theoretically and methodologically, the volume provides media criminologists with key resources to do this important work.' - Meda Chesney-Lind, Professor of Women's Studies, University of Hawai'i at Manoa, Hawai'i
'This is an exceptionally useful, comprehensive and stimulating collection of papers on crime and media. It skilfully blends the essential texts with less well known ones, so there is much here to interest teachers as well as students. The introductions succinctly and clearly draw out the issues concerning the ever important and increasingly salient relationship between crime and media, and the significance of each reading. The editorial commentary and the selection of materials embody a sophisticated theoretical perspective on this exciting area. The book offers a one-stop-shop for the growing number of courses studying crime and the media, and also offers a state-of-the-art synthesis of the field for scholars, practitioners or policy-makers interested in this vital topic.' - Robert Reiner, Professor, School of Law, London School of Economics, UK
'Crime and Media provides a welcome and exceptionally wide-ranging overview of the many issues that intersect in the rapidly changing forms of contemporary media culture. Combining the classics of media studies and the latest debates in media criminology, this book is a valuable resource for beginners and experts alike. Authoritative, bold and innovative - this is interdisciplinary criminology at its best.' - Katja Franko Aas, Institute of Criminology and Sociology of Law, University of Oslo, Norway
'Crime and Media: A Reader is a terrific eclectic collection of pieces. Greer has assembled a selection of influential essays prefaced with a succinct introduction. It is an exciting and diverse anthology which will provide an essential companion for students, scholars, policy makers and journalists.' - Howard Tumber, Professor, Department of Journalism, City University London, UK
'In the late modern world the screen reflects the street and the street the screen. This state of the art collection is the only text which fully covers the interaction and intimacy between the act of crime and its representation. Perfect for courses, a must for scholars.' - Jock Young, Distinguished Professor of Criminal Justice, The Graduate Center and John Jay College, City University of New York, USA
You may also be interested in...
Simply reserve online and pay at the counter when you collect. Available in shop from just two hours, subject to availability.
Thank you for your reservation
Your order is now being processed and we have sent a confirmation email to you at
When will my order be ready to collect?
Following the initial email, you will be contacted by the shop to confirm that your item is available for collection.
Call us on or send us an email at
Unfortunately there has been a problem with your order
Please try again or alternatively you can contact your chosen shop on or send us an email at