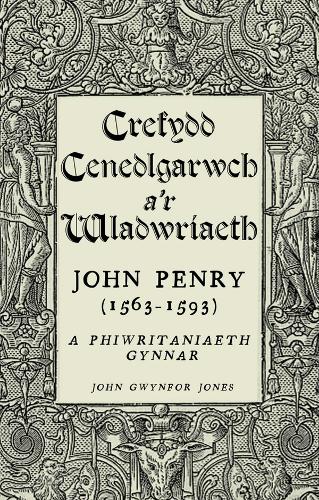 Crefydd, Cenedlgarwch A'r Wladwriaeth: John Penry (1563-1593) a Phiwritaniaeth Gynnar (Paperback)
John Gwynfor Jones
Paperback
Published: 15/07/2014
Can be ordered from our supplier
Cyfrol yw hon ar hanes John Penry a'i gyfraniad i dwf Piwritaniaeth yn Lloegr. Treuliodd ei fywyd byr yn ysgrifennu traethodau maith o blaid yr angen am weinidogaeth bregethu yng Nghymru, ac ymunodd a'r Presbyteriaid yn Lloegr. Gwrthwynebodd yr Eglwys Sefydledig Brotestannaidd (1559) ar ddechrau teyrnasiad Elisabeth I, ac ymwrthod a'i threfn a'i gweinyddiaeth, yn arbennig swydd esgobion ynddi. Un prif elyn iddo oedd John Whitgift, Archesgob Caergaint, a cheisiodd hwnnw sicrhau y byddai'n cael ei ddedfrydu i farwolaeth am deyrnfradwriaeth gan i Penry feirniadu'r Frenhines a'i llywodraeth yn hallt am eu hesgeulustod yn gwrthod diwygo'r Eglwys ymhellach. Fe'i cysylltwyd a gwasg Biwritanaidd ddirgel yn Lloegr ac wedi cyfnod yn yr Alban dychwelodd i Lundain lle y bradychwyd ef, ac yntau erbyn hynny wedi troi'n Ymwahanwr a barhaodd i ddadlau dros anghenion crefyddol Cymru. Fe'i crogwyd ddiwedd Mai 1593 yn Llundain. Fe'i ystyrir gan lawer yn ferthyr dros Gymru.
Publisher: University of Wales Press
ISBN: 9781783161317
You may also be interested in...
We would love to hear what you think of Waterstones. Why not review Waterstones on Trustpilot?