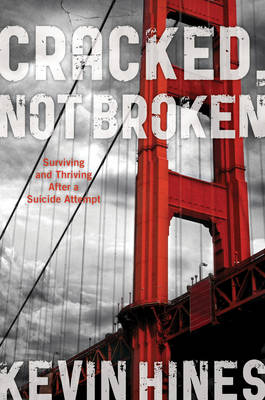 Hardback
200

Pages / Published: 27/08/2013
The Golden Gate Bridge is one of the most recognizable structures to define a modern city. Yet, for author Kevin Hines the bridge is not merely a marker of a place or a time. Instead, the bridge marks the beginning of his remarkable story. At 19 years old, Kevin attempted to take his own life by jumping off the Golden Gate Bridge - a distance which took four seconds to fall. Recently diagnosed with bi-polar disorder, Kevin had begun to hear voices telling him he had to die, and days before his attempt, he began to believe them. The fall would break his body, but not his spirit. His story chronicles the extraordinary will of the author to live mentally well in the face of his mental illness: bipolar disorder with psychotic features. With each mental breakdown, however, the author's desire to live mentally well-- and to be a mental health advocate-- pulls him from the depths of his condition. Kevin's story is a remarkable testament to the strength of the human spirit and a reminder to us to love the life we have. His story also reminds us that living mentally well takes time, endurance, hard work, and support. With these disciplines in place, those living with even very difficult diagnoses can achieve better lives for themselves and those who help to support and care for them.
Publisher: Rowman & Littlefield
ISBN: 9781442222403
Number of pages: 200
Weight: 413 g
Dimensions: 221 x 147 x 21 mm
---
MEDIA REVIEWS
At age 19, Hines nearly became one of the more than 2,000 people who have jumped to their deaths from the Golden Gate Bridge since it was built in 1937. Fortunately, however, Hines become part of a much better statistic: he is the 26th person known to have survived the 220-foot fall. The first-time author also found a reason for living after years of suffering without help from 'bipolar disorder 1 with psychotic features.' Now a well-known mental-health advocate, Hines presents a vivid and moving memoir of how he descended into mental breakdown, fought to overcome his demons with the help of family and medical experts, and has made it his 'life's work to educate people all over this great country, and around the globe, to prevent suicide and understand mental illness.' Hines doesn't go easy on the reader-he harrowingly describes his extreme paranoia, deep depressions, manic highs, hallucinations, and panic attacks. But he delivers a heartfelt message to other people who have undergone-or are undergoing-similar mental-health problems: 'always find hope, a future, and the epic beauty in life.' * Publishers Weekly *
Skilled international public speaker and mental health advocate Hines encourages audiences with inspirational presentations on the topic of suicide awareness and prevention and has been honored as a Lifetime Achievement Award winner by the National Council for Community Behavioral Health. . . This should appeal to fans of popular psychology. . . also patients of attempted suicide and their loved ones, who will find the select bibliography combined with Hines's insight into the suicidal mind helpful. * Library Journal *
This is an excellent resource for anyone who has suffered the devastation of a loved one's suicide or suicide attempt. This book should be an inspiration and a comfort to those who are suffering directly with mental illness. And it is a tribute to those who have lost their lives to these illnesses. * New York Journal of Books *
Cracked Not Broken is a testimony of ongoing recovery, where there is no false promise of a cure, but an affirmation that with hard work, persistence, and support, anyone can improve their quality of life. Hines does not hold back in this personal memoir of depression, mania, and suicidality. This book should be read by anyone seeking to gain a deeper understanding of what it is like to live with a mental illness. ... Kevin Hines' book does not disappoint when reflecting on his reputation as an award-winning author, mental health advocate, and international speaker. His influence on the fields of mental health and suicide awareness/prevention, has reached far and wide. Cracked Not Broken, chronicles the path that led him to a place of healing. * Suicidology.org *
Hines' story is a remarkable testament to the strength of the human spirit and a reminder for us to love the life we have. * Virginia Review *
Cracked, Not Broken: Surviving and Thriving After a Suicide Attempt is a striking story of survival and comes form an author who at age nineteen jumped off the Golden Gate Bridge. The fall didn't end his life; it began a chronicle of facing mental illness - bipolar disorder - and a series of breakdowns that challenged the author's desire to live mentally well. His is a powerful saga that offers many insights to those struggling with life after a suicide attempt; from living daily with mental illness to navigating the world and discovering keys to better living. A 'must' for any health or self-help collection! * Midwest Book Review *
The most compelling and authentic account into the depths of mental illness and facing imminent death. This book covers the full range of human emotion and fills you with a true belief in miracles and survival. -- Dr. Daniel J. Reidenberg, Psy.D., BCPC, FAPA, DAPA, CRS, CMT, CPAI, Executive Director - Suicide Awareness Voices of Education; Chair, American Psychotherapy Association
A gripping memoir which recounts the inspiring story of a suicide survivor and one of the leading mental health advocates of our time. A must-read for anyone who's ever wanted to know about living with mental illness. -- Linda Rosenberg, MSW, president and CEO, National Council for Behavioral Helath
I've had the pleasure of knowing Kevin Hines for nearly a decade now, since that time as a Los Angeles Times reporter in San Francisco when I went looking to profile someone who had jumped off the Golden Gate Bridge -- and survived. Not only did I find my man, but that young man changed my life. And became my friend. I spent time with Kevin. I trailed him to speaking engagements, accompanied him to the site where he jumped off that bridge as a troubled kid. I met his Dad and his now-wife Margie. I attended their wedding and have had dinner at their home. I have seen Kevin mature into a man, a young author and speaker, with a message to people in the Bay Area and across the nation: Suicide isn't the answer. Cracked, Not Broken should be required reading in Bay Area schools and for anyone else who wants to follow in the footsteps of a person with bipolar disorder who has emerged triumphant. -- John M. Glionna, national reporter, Los Angeles Times
Kevin's remarkable story of resilience and courage provides keen insight into the intense ambivalence experienced by those who struggle with thoughts of suicide. It is tragic to think about the hundreds who may have similarly wished like Kevin to be back on the bridge immediately after jumping. However, it is also extremely hopeful that lives can be saved even when someone is truly intent on ending their pain. Cracked, Not Broken proclaims, "suicide is not inevitable for anyone" and that belief is strengthening commitment to suicide prevention everywhere from the Golden Gate Bridge to the US healthcare system. -- David Covington, vice president, Adult and Youth Services, Magellan Health Services and Board Director, National Council for Community Behavioral Healthcare
Kevin is an extraordinary person with an inspirational story to share which will save lives and restore hope. This is an extremely brave and gripping account of how his mental illness and distress led him to try to end his life and how he survived against all the odds. Kevin epitomises courage and recovery and his own self care and self-management needs to be a lesson to us all. This book should be mandatory reading for all health, social care, educational, government and frontline professionals - in fact everyone! Kevin has an extremely powerful message for all of us: Suicide is preventable and we can all have a role. -- Alys Cole-King, FRCPsych, consultant psychiatrist, Royal College of Psychiatrists spokesperson on suicide and self-harm, Connecting with People training co-founder and Medical Director Open Minds Alliance CIC
Suicidal individuals often approach the edge of life and death, few catapult themselves over that edge and into the abyss below and return to talk about [it]. Kevin Hines knows. He has reflected, plummeting at 75 mph towards a freezing cold "certain death" on "what I have I done?" and "I want to live" while racing toward death. Hines gives us all hope, strength and courage to face another day, take on the challenges of life, and keep "living well. -- William Schmitz Jr., Psy.D, President-Elect, American Association of Suicidology
Cracked, Not Broken is a compelling insider's view into the despair of mental illness and the fight for mental wellness. Kevin Hines has dedicated his life to inspiring those that are waging a battle with depression, encouraging their loved ones and educating society so as a whole we come to understand: suicide is not an option. As a communications expert I can't think of a more important conversation than the one between a person who is hurting and the person who wants to heal them. Buy the book now and it will open your eyes. -- Brandy Mychals, bestselling author of How to Read a Client from Across the Room
Kevin Hines' memoir is a startling, hair-raising and compulsively readable account of one man's descent into the hell of bipolar disorder. It is a courageous testament of a man facing the tragedy of mental illness. Every person suffering with mental illness (or family member or friend) should read this book as soon as possible because it will save lives. -- Andy Behrman, author of Electroboy: A Memoir of Mania
Kevin Hines' survival from a typically fatal leap from the Golden Gate Bridge has become legendary in the field of suicide prevention. But what is most remarkable -- what makes his story a legend -- are the circumstances of his recovery His survival and resilience has become a continuing lesson on what makes life worth living. I am thrilled and forever thankful that Kevin is here to give voice to the kinds of stories that are rarely told, and testifying that hope can be just beyond those places where darkness takes hold. -- John Draper, Ph.D., director, National Suicide Prevention Lifeline
Kevin Hines' book is both mesmerizing and eye-opening. It sheds light on the impulse and momentum that lead to a suicide crisis in a gripping, heartpounding story that should make a believer out of anyone who has wondered how suicides happen. -- Eve R. Meyer, executive director, San Francisco Suicide Prevention
This account of Hines's suicide attempt -- and his blazing struggle back to wellness -- is harrowing, honest, and deeply human, shot through with his heartfelt insight and, often surprisingly, his great sense of humor. The people in these pages, from Uncle Kevin to the fellow inmates of the wards, are drawn with precision and grace. Cracked, Not Broken shows us the darkness in great detail, but this book ultimately leads us to the light. -- Scott Hutchins, author of A Working Theory of Love
Kevin's journey will take you to the edge of despair and back. He has become an inspirational advocate for those suffering from mental illness since the day he took a fast and fateful leap off the Golden Gate Bridge in an attempt to end his life. His story will surely find a home in the hearts of many seeking guidance. -- Jennifer Storm, award-winning advocate for victims' rights and author of Blackout Girl: Growing Up and Drying Out in America
A story of faith, courage, luck, and persistence. It's an affirmation of life and how, if given a second chance, a person can move from the deepest depths of despair to a calling that helps save others from the precipice. -- John Bateson, author of The Final Leap: Suicide on the Golden Gate Bridge and Building Hope: leadership in the Nonprofit World
Kevin Hines's memoir, Cracked, Not Broken, is both gut wrenching and heart warming all at the same time. As I was reading it, I experienced the most extreme emotions, moved from laughter to tears countess times. Because our son was also named "Kevin", I imagined it all through his mind and soul therefore this book has impacted me on a very personal level. Kevin Hines is a gifted speaker and writer but most importantly a beacon of light for anyone battling mental illness or loves someone who is. I could only hope that our "Kevin" would have had this same courage had he survived his own suicide. Kevin Hines honestly shares his desperate struggle to survive in spite of life threatening injuries, barriers to care and gaps in our mental health system. He reminds us all that life is a precious gift that can only be lived one day at a time. -- Carol Graham, wife of Major General, US Army (retired) who lost one son to suicide and one son to the war in Iraq
In Cracked, Not Broken Kevin captures the anguish and humanity of his struggles against the compelling voices in his head. Those voices drove Kevin to leap from the Golden Gate Bridge - a leap that should have killed him. Kevin writes with hard-earned insight and gripping candor about his terrible ambivalence about life and death leading to his jump. Believing he had run out of options, Kevin obeyed the commanding voices and hurdled the rail. Only as he hit free-fall did Kevin realize that he still had options to explore and a life to live. Kevin's survival is a gift to us all as he is able to write with rare insight gained from that horrific experience. As in his public presentations, in this narrative Kevin Hines moves us with his story of mental torment, survival, and his ongoing recovery. Kevin brings tremendous courage as he publically addresses his personal trials. He describes his mental illness and his reclaiming of his life from the perspective of one who has been given a second chance. His life-affirming story is not to be missed. -- Donn Marshall, Ph.D., associate dean of Students, director and Chief Psychologist, Counseling, Health and Wellness Services at University of Puget Sound
Kevin Hines's story is an important one. Of the more than 1600 suicides from the Golden Gate Bridge since its construction in 1937, fewer than 35 individuals have survived. Kevin reports that while falling toward the water, he realized how desperately he wanted to live. Other suicide survivors tell similar tales impressing upon us how impulsive and thus preventable and treatable suicide is. Kevin's survival ... is a blessing for us all. -- Mel Blaustein, MD Medical, Director of Psychiatry, St. Francis Hospital, SF
Cracked, Not Broken, is an amazing and absorbing story about a man with a tremendous will to survive even when his own mind is telling him he must die. After years of speaking all over the world to encourage others and to prevent suicide, he has gifted us with a book describing the experience and thoughts affected by his mental illness in illuminating detail. His story inspires us to believe in the incredible ability of people to recover and grow stronger. -- Helynna Brooke, executive director, San Francisco Mental Health Board
One of my very first contacts in a psychiatric hospital was in 1965, with a woman who had been deeply depressed and who, like Kevin Hines, attempted suicide by jumping off of a bridge. Unfortunately, although she survived she was permanently disabled and unable to speak. I wish that I had been able to read Cracked, Not Broken at that time in order to gain a better understanding of what her experience might have been. The book may have served as a voice for her. Kevin Hines' work captures the ongoing nature of serious and persistent mental illness, but leavens it with humanity, hope and understanding. -- Russell Lee, licensed psychologist and emeritus professor of psychology, Bemidji State University, Bemidji, MN
Kevin shares a compelling, at times disturbing, but always remarkably helpful story of his journey from certain death to eventual rebirth and recovery. The raw intimacy of Kevin's story will help not only those struggling with mental illness and suicidality, but also professionals committed to helping guide recovery. I walked away having been moved, educated, and inspired. In the end, Kevin's story is one of simple truths, that there's no easy way through life, that struggles will come, and that the one essential to happiness and wellbeing are the relationships that make up the fabric of our lives. Every clinician and any person suffering from a mental illness (and anyone who loves them) should read Kevin's story and remind themselves daily that a caring, committed and enduring relationship not only makes all the difference in the world, it saves lives. -- M. David Rudd, Ph.D., ABPP, dean of College of Social and Behavioral Science, University of Utah, former president of American Association of Sucidology, co-founder and scientific director of National Center for Veterans Studies
Cracked, Not Broken offers a window into a personal struggle with mental illness, ranging from the joy of recovery to the despair of relapse. Kevin Hines' remarkable story is one of hope, balanced with the realities of living with mental illness one day at a time. It is an inspiration to those who strive to live well every day and to their concerned family members. -- Jeremy W. Pettit, Ph.D., author of The Interpersonal Solution to Depression and over 85 publications on depression, anxiety, and suicide
Many people will be drawn to Kevin Hines because of his tragic and near-fatal experience at the Golden Gate Bridge. Once engaged, they will find that his voice and story represent much more: A true tale of the complex life factors that can culminate in a suicide attempt; a revealing glimpse of the mental state of someone in the moments just before and during a suicide attempt; an inspirational model of recovery and thriving; and a seasoned perspective gained from sharing his experiences widely will all those concerned with suicide prevention. Cracked, Not Broken compellingly weaves together these strands. -- Thomas Joiner, PhD, Florida State University
Kevin Hines is not "cured," he survives and thrives with chronic mental illness. From an almost always fatal suicide attempt through recovery and his emergence as an outspoken public figure and mental health advocate, Kevin tells us something every person with mental illness needs to hear - you too can survive and thrive. -- Paul Muller, founding member of the Bridge Rail Foundation, SF
You may also be interested in...
Simply reserve online and pay at the counter when you collect. Available in shop from just two hours, subject to availability.
Thank you for your reservation
Your order is now being processed and we have sent a confirmation email to you at
When will my order be ready to collect?
Following the initial email, you will be contacted by the shop to confirm that your item is available for collection.
Call us on or send us an email at
Unfortunately there has been a problem with your order
Please try again or alternatively you can contact your chosen shop on or send us an email at