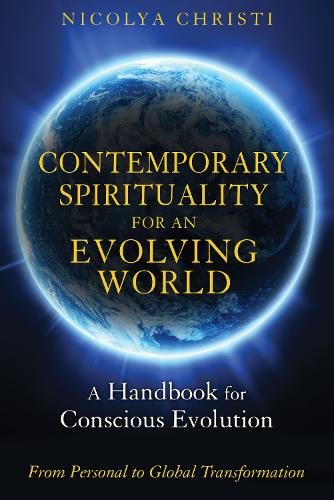 Contemporary Spirituality for an Evolving World: A Handbook for Conscious Evolution (Paperback)
Nicolya Christi
(author)
Paperback
304

Pages / Published: 02/10/2013
We are living in an unprecedented time of change, a new epoch with a new consciousness. We have reached Zero Point in our personal and collective consciousness and are now in a phase of accelerated conscious evolution and manifestation of personal and collective vision. As the current political, economic, and social systems begin to collapse, people are instinctively and intuitively reevaluating their lives and asking what has real meaning and value and what brings them true peace and happiness. Humanity is now poised to establish a unified, co-creative new world that reflects the evolved consciousness of awakened hearts and minds, of collaboration, and of peace. Presenting a guide for these auspicious times, Nicolya Christi offers psychological and spiritual tools to accelerate conscious and global evolution and initiate a New Consciousness for the post-December 21st, 2012, epoch. She gives an in-depth overview of religion and spirituality, both the old paradigm and the evolving new one, and explains how all trauma results from "empathic disconnection," which hinders our spiritual growth. She provides spiritual practices to manifest a meaningful connection between Self and God/Source/Creator as well as psychological exercises to heal and integrate the shadow self and dissolve psychological wounds. She offers the first fully written account of the First Nations Peoples' oral wisdom teachings on the 7 Dark, 7 Light, and 7 Rainbow Arrows for evolving consciousness. She also writes in depth about the evolution of relationship and aspiring to a higher love and sexuality. Detailing several maps and models for conscious and global evolution, this handbook inspires each of us toward a consciously evolving spirituality and a true and authentic relationship with God/Source/Creator.
Publisher: Inner Traditions Bear and Company
ISBN: 9781591431664
Number of pages: 304
Weight: 1 g
Dimensions: 229 x 152 x 20 mm
---
MEDIA REVIEWS
"This book is beautiful. The chapter `Contemporary Spirituality for an Evolving World' is revolutionary, thank God, and very, very timely. This book is about You. I highly recommend you read it." * Rev. Peter Owen-Jones, author of Bed of Nails and Letters from an Extreme Pilgrim *
"As our current political, economic and social systems have recently shown distinctive collapse, people instinctively and intuitively re-evaluate their lives by looking at the methods for achieving true peace and happiness. Nicoyla Christi believes we are now perfectly poised to establish a new, co-creative world that reflects awakened hearts, minds, peace and collaboration. This book is mean to facilitate an evolutionary shift within your consciousness so you can evolve into a lasting peace, free from past negativity, allowing you to become the best incredible being that you are." * Awareness Magazine, March 2014 *
"This book is outstanding, crucially timely, and important." * Ervin Laszlo, Nobel Prize nominee and author of 83 books in 21 languages, including Science and the *
"Christi (2012: A Clarion Call) feels the urgency of the need for widespread change in our existence; this extensive study and manual for such alteration, both personal and cultural, is organized rather loosely around Native American-inspired conceptions of "arrows": Seven Dark, Seven Light, and Seven Rainbow. Christi's prior work-and to a lesser extent this book-is anchored in the rather dubious elevation of 2012 as either the end of the world or a prompt for transformation, depending on your outlook (that "Mayan calendar"), but the principles she espouses are hard to contest: peace, justice, self-discovery. VERDICT Christi's goal-to turn "emergency into emergence"-is laudable and many readers, especially those interested in alternative religious perspectives, will find value in her book." * Library Journal, May 2014 *
"Nicolya Christi writes with the soul of a mystic, the mind of an evolutionary, and the heart of a lover of life itself. She brings forth the agenda for human conscious evolution--social and beyond--to guide us toward the next era of our evolution. . . . This book is magnificent, a labor of love and a gift to us all." * Barbara Marx Hubbard, author of Birth 2012 and Beyond and president of the Foundation for Conscious *
"Every now and then a rare book comes along that synthesizes the key trends of an epoch and where we are headed. Such was Marlilyn Fergusons's The Aquarian Conspiracy in 1980. Nicolya Christi has achieved a similar tour de force by synthesizing the fields of spirituality, psychology, and personal development. One feels that her understanding of spirituality is something she has lived through, experienced, and felt in a manner we have rarely encountered in the contemporary literature." * Pierre Pradervand, author of The Gentle Art of Blessing and Messages of Life from Death Row *
"Nicolya Christi's new book is a roadmap that speaks to the authentic self within each of us. This rich and compelling book is a psychological tour de force for finding our way back to the wisdom of the Self. Nicolya Christi speaks from the intelligence of the heart in offering a crystal-clear vision of psycho-spiritual integration, the `new human,' and the significance of Higher Love. This book is indispensable for anyone wishing to connect with a contemporary spirituality for an evolving world." * Kingsley L. Dennis, author of New Consciousness for a New World and Struggle for Your Mind and cofou *
"Nicolya Christi is a bridge between the old world and the New Earth that is arising, and so is this--her latest book. It connects the reader to deep psychological and spiritual truths explored in simple, accessible concepts and language. It connects the mind and the heart, the inner and the outer life, and shows how we have imprisoned ourselves and how we can liberate ourselves. It will prove a blessing to all who enter its pages and apply the wisdom through their own heart's knowing, thus blessing all life." * Wendy Webber, core process psychotherapist, trauma resource facilitator, coach/mentor for personal a *
"Contemporary Spirituality for an Evolving World: A Handbook for Conscious Evolution is recommended for general spirituality holdings as well as new age collections, offering a set of psychological and spiritual keys to achieve global evolution and a new consciousness for the new year. It reviews old and new paradigms of religion and spirituality, examining how elements of the newly evolving world differ from old habits and paths that hinder spiritual growth, and it provides a strong collection of psychological exercises designed to heal psychological and spiritual wounds. The result is an outstanding survey, highly recommended for any interested in uncovering differences between new spiritual thinking patterns and old habits." * Midwest Book Review, December 2013 *
You may also be interested in...
Simply reserve online and pay at the counter when you collect. Available in shop from just two hours, subject to availability.
Thank you for your reservation
Your order is now being processed and we have sent a confirmation email to you at
When will my order be ready to collect?
Following the initial email, you will be contacted by the shop to confirm that your item is available for collection.
Call us on or send us an email at
Unfortunately there has been a problem with your order
Please try again or alternatively you can contact your chosen shop on or send us an email at