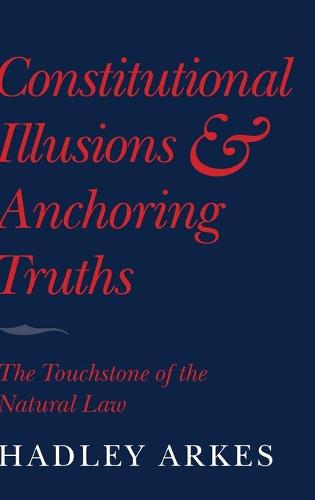 Constitutional Illusions and Anchoring Truths: The Touchstone of the Natural Law (Hardback)
Hadley Arkes
(author)
Hardback
280

Pages / Published: 31/05/2010
This book stands against the current of judgments long settled in the schools of law in regard to classic cases such as Lochner v. New York, Near v. Minnesota, the Pentagon Papers case, and Bob Jones University v. United States. Professor Hadley Arkes takes as his subject concepts long regarded as familiar, settled principles in our law - 'prior restraints', ex post facto laws - and he shows that there is actually a mystery about them, that their meaning is not as settled or clear as we have long supposed. Arkes shows this in his text, arguing that the logic of the natural law provides the key to this chain of legal puzzles.
Publisher: Cambridge University Press
ISBN: 9780521518178
Number of pages: 280
Weight: 500 g
Dimensions: 235 x 155 x 20 mm
---
MEDIA REVIEWS
'Hadley Arkes has given us a work of brilliance in regards to both argument and style. Few constitutional theorists can be placed in the same class as [him]. This work demonstrates why [he], among that guild, remains unsurpassed. Those working in constitutional theory cannot preserve their intellectual integrity while ignoring his arguments ... Arkes has within these pages given us a work of genius. This book belies an intellect of such range and depth that one is at once both awed and inspired. One's impression upon the completion of this work, as with all of Arkes's works, is that one has sat at the feet of one of the great intellects and teachers of our, or of any, time.' Paul R. DeHart, Texas State University, San Marcos
'The line between judicial interpretation and imposition is murky. Wherever it is drawn, reverence for our first principles - in both the political and judicial spheres - is imperative if we are to preserve the society the Framers sought to perpetuate. In that endeavor, Hadley Arkes remains a beacon in the dark night.' The New Criterion
'Hadley Arkes has given us a work of brilliance in regards to both argument and style. Few constitutional theorists can be placed in the same class as Arkes. This work demonstrates why Arkes, among that guild, remains unsurpassed. Those working in constitutional theory cannot preserve their intellectual integrity while ignoring his arguments.' Paul R. DeHart, Journal of Church and State
'... a highly readable and highly recommended book that uses law to analyse the much larger issue of the way in which liberal societies are constructed and how, in order to maintain and honour that construction, we must not ignore the reality of the 'first principles' of natural law in favour of the illusory certainty of positivist constitutionalism.' Stephen Collins, The Kelvingrove Review
"Who but Hadley Arkes could produce a page-turner on classic constitutional cases? Constitutional Illusions and Anchoring Truths is just that-an intellectually thrilling hunt for truths about man, nature and government encoded in decisions so familiar that we have lost awareness of their deepest meanings." -Mary Ann Glendon, Harvard University Law School
"With a rare combination of rigor and wit, Professor Arkes sheds new light on the principles animating Supreme Court cases long thought familiar. His penetrating analysis is a welcome challenge to understandings too often taken for granted in the academy and in the courts. This thought-provoking book will captivate anyone concerned about the legal and moral framework of our constitutional system." -Diarmuid F. O'Scannlain, United States Circuit Judge for the Ninth Circuit
"For over a generation, Hadley Arkes has been America's most articulate and cogent defender of the limited, but important and indispensable, role of moral reasoning in constitutional adjudication. Constitutional Illusions is his best book yet, a fitting capstone to a most distinguished career. In this new work, Arkes explores with characteristic subtlety such leading Supreme Court cases as Lochner v. New York, Near v. Minnesota, and The Pentagon Papers Case. In each instance, he uncovers the scarcely acknowledged moral structure of the Court's decision, and subjects it to a critical analysis. But the main concern of Illusions is a characteristic feature of today's judicial conservatism, which Arkes rightly attributes to Justice Scalia and Robbert Bork: that constitutional interpretation must steer clear of natural law, or unrestricted moral reasoning. Arkes argues forcefully that natural law has more to do with judicial review than these and other conservatives allow, though still less than most liberals claim that it does." -Gerard V. Bradley, University of Notre Dame Law School
"With considerable wit and charm, Constitutional Illusions and Anchoring Truths seeks to challenge conventional wisdom as it invites the reader to puzzle anew about old constitutional questions. In his urbane manner, Hadley Arkes may be among the most gifted prose stylists writing today." -George Thomas, Claremont McKenna College
"Hadley Arkes's Constitutional Illusions and Anchoring Truths clearly illustrates the value, famously emphasized by John Stuart Mill, of attending to important, carefully-considered-if also unconventional, unsettling, or contrarian-arguments. Professor Arkes remains one of the law's most gifted and rewarding prose stylists." -R. George Wright, Indiana University School of Law, Indianapolis
"Hadley Arkes is a well-known scholar, a superb stylist, and perpetual gadfly disturbing the peace of scholars on both the right and the left. Constitutional Illusions and Anchoring Truths continues his project of elaborating a `natural law' approach to jurisprudence, which argues that implicit in widely-accepted forms of legal reasoning is a commitment to certain principles of reason that transcend the text itself. He develops his argument through discussions of ex post facto laws, the Eleventh Amendment, substantive due process, prior restraint, and the Bob Jones case, and nothing indicates Arkes's skill as a writer and thinker better than his ability to find novel and fascinating perspectives on cases talked about endlessly by others. Constantly thought-provoking, chock-full of original insights, and elegantly written, this book is a powerful reminder to everyone that written law cannot be interpreted without reference to the fundamental moral understandings within which it is embedded." -Christopher Wolfe, Marquette University
"In his extraordinary book, Arkes's powerful intellect, wit, encyclopedic knowledge, and grace are all on full display as he takes us through a number of landmark cases that we thought we knew - cases whose meaning, we thought, was firmly settled - only to have him show us that we do not know them as we thought we did. He shows us what a difference it makes if we read these cases with more attentiveness to their reasoning and a clearer sense of the logical properties of their propositions. In short, he shows us by his example how we, too, can be freed from the tyranny of understanding landmark cases through the eyes of others." -Ralph Rossum, Claremont McKenna College
Arkes is a witty and elegant writer, more so than many other philosophers who have addressed these issues..." -Timothy Sandefur, California Lawyer
"Arkes's treatment is fresh, subtle, concise, careful, edifying, and at times, startlingly funny....The author's profound scholarship is sharply focused, and his skill in handling this deep and extensive knowledge with great verve is remarkable. This book is imbued of insight, common sense, and clear-sighted wisdom. It is a genuine pleasure to read." -Appellate Practice Journal
"Hadley Arkes... ranks high among America's most elegant and creative constitutional theorists. His latest work, Constitutional Illusions and Anchoring Truths: The Touchstone of the Natural Law, does not disappoint, taking readers through a reexamination and reconsideration of both well-known and obscure constitutional cases to reach surprising and provocative insights." -Michael D. Ramsey, University of San Diego School of Law, Library of Law and Liberty
"For those familiar with Professor Arkes's formidable body of work, this book will be seen as a culmination of his life-long efforts to seek the truth and defend it.... Be prepared to see old cases and legal concepts in a new light; be prepared to have your thoughts powerfully provoked; be prepared to be amused. Here is a superb book on Constitutional jurisprudence which is charming, unsettling, and memorable." -Denis Owens, Appellate Practice Journal
You may also be interested in...
Simply reserve online and pay at the counter when you collect. Available in shop from just two hours, subject to availability.
Thank you for your reservation
Your order is now being processed and we have sent a confirmation email to you at
When will my order be ready to collect?
Following the initial email, you will be contacted by the shop to confirm that your item is available for collection.
Call us on or send us an email at
Unfortunately there has been a problem with your order
Please try again or alternatively you can contact your chosen shop on or send us an email at