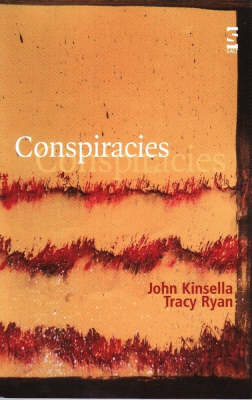 Paperback
192

Pages / Published: 01/09/2004
John Kinsella Family - The day she picked them up from school they knew she was there for good. They felt uneasy about it, but not angry or even annoyed. They could almost find it in themselves to be happy for their Mum, who'd had a rough time of it. They were surprised though, so surprised they forgot to feel embarrassed, the emotion that came most readily to them. In most ways they were very different, but in a consciousness of their public selves they were as one. Together, you'd know them as brother and sister. In their private worlds they inhabited different planets.The trick of getting close is to share a secret. He'd write this later in life, looking back at what formulated to make them a family. He always looked at things in terms of chemical reactions, of elements and compounds, of organic and inorganic reactions. Sex, he said at a young age, is like electrolysis. He never elaborated, possibly believing the simile speaks for itself. Their secret - his and his Mother's girlfriend's - was to do with the black eye Ben Jenkins gave after school in third grade.His Mother would have been straight up to the school, multiplying the humiliation. Not that he'd want his Mother to be any other way, but if it could be avoided it would make a rerun of the event less likely. Mary asked him what had happened. He told her. She said, I didn't hear you right. You were playing brandy on the school oval and the tennis ball copped you in the eye? Yes, that's it. That's exactly what happened. Of course, he worked out later that she probably conveyed the truth to his Mother, that they might have even laughed about it. No, he couldn't imagine his Mother laughing about it, but didn't doubt it brought her and Mary even closer. His Mother was a smart woman, and her kids were her only soft touch. And she respected good tactics. Mary was on a winner from beginning to end and he liked her more for this.Jo-anne lived for her music. Or more precisely, for the piano. Her Father was a great pianist, at least in Perth. He must be pretty good, she thought to herself, as he's always travelling and playing in different cities. Mum says that's what drove them apart. Mum plays a little but Mary is pretty good. I'm just attracted to pianists I guess, says Mum when Mary and I play a duet. I don't mind Mary.She doesn't yell, which is a relief, which isn't to say that she hasn't got a temper. But it's that moody kind of thing. When I'm like that Mum says I've got the sulks. I like her clothes as well -- she's always neat as. Mum says she's lucky, she can wear anything and get away with it. So can Mum, but she pretends she can't. After Dad left she bought a set of bathroom scales. She yelled at me for trying them out in the mornings before school.I felt uncomfortable letting them climb into bed with us on a Sunday morning. But they'd always done it when Jake was away. And nine years isn't too old for a good cuddle with parents. We didn't invite them, they appeared at the door a couple of months after Mary had moved in and just stood there, looking at us curled up around each other, the blankets piled high. I said without thinking, Jump in or you'll catch your death, it being mid-winter. The magpies were going hammer and tongs outside the window and the sun was cutting in through the partially open curtains. It was cold but bright. The light was brilliant, the room orange with the glow of the fabric. Mary just rolled over to one side and they climbed in over me and lodged themselves between us. Sam snuggled up to Mary. They seemed to share something special. They liked each other! Jo-anne seemed comfortable with Mary, though it was like Jo-anne to not get too close. She reserved familiarity for the piano.When I arrived in Perth from Sydney I had no one. I met Sarah at a garage sale - looking for bits 'n pieces to fill a very empty one bedroom flat. She was just there, not looking for anything in particular. She had her kids - she had Sam and Jo-anne that is - with her. Sam was messing around with a z-grade electronics kit and looked both excited and disgusted simultaneously. It's something to achieve a look like that. I liked him instantly. Jo-anne gave the impression of being a fastidious little miss, barely deigning to be there.But there was something about the two kids that made them seem inseparable. They could have been twins, but certainly not identical. But I'm just avoiding the issue. Their Mum - Sarah - knocked me out. A tall slender stretch of fuckability. Tall! Almost six foot. I'm tall - it's hard to find tall women.The garage was pretty crowded, the owners looking surprised that people actually want to haggle over their junk. She didn't notice me - she was as straight as they come. I touched her lightly without her noticing. I stumbled over her by way of introduction. I got talking, she picked up the conversation slowly. Bit by bit. Hey, I'm new in town, want to do something? A phone number. A movie, dinner, another movie. You know that way it goes. Six months later and I'm wrapped up in her arms flushed all over. Family feels good. Who would have thought it. Isn't life a bitch.I'm not in town much and probably don't belong in the family portrait. I've not been a very reliable Father. I like Mary, she's got balls, you might say. I stir them both but they're both good sports. The kids are thriving and Jo-anne seems to be coming out of her shell. She'll be as good on stage as she is at home. It won't be wine bars for her - she's got a one-way ticket to the concert halls of the world. Yes, I really like Mary, and I've always loved Sarah.
Publisher: Salt Publishing
ISBN: 9781844710188
Number of pages: 192
Weight: 288 g
Dimensions: 216 x 140 x 11 mm
---
MEDIA REVIEWS
On Tracy Ryan's Jazz Tango: "... an attractively moody and allusive piece of writing."
* The Canberra Times *
On Hothouse: "Tracy Ryan writes pungent, slightly riddling meditations, which tend to cluster around the experience of belonging, or - more often - not belonging."
* The West Australian *
Of Jazz Tango: "Tracy Ryan has not only a fantastic story-telling style but an amazing insight into the core of the human interior with all its fears and possibilities. She also understands social class ..."
-- Susan Holmes * Overland *
On John Kinsella's Grappling Eros: "... gritty, confrontational, and starkly erotic, sometimes almost pornographic stories, in which there are, too, pieces of real poetry and tenderness."
-- David Brooks
On John Kinsella's Grappling Eros: "Here `literature is not innocent' and has no intention whatsoever of pleading so."
-- Kathleen Mary Fallon
You may also be interested in...
Simply reserve online and pay at the counter when you collect. Available in shop from just two hours, subject to availability.
Thank you for your reservation
Your order is now being processed and we have sent a confirmation email to you at
When will my order be ready to collect?
Following the initial email, you will be contacted by the shop to confirm that your item is available for collection.
Call us on or send us an email at
Unfortunately there has been a problem with your order
Please try again or alternatively you can contact your chosen shop on or send us an email at