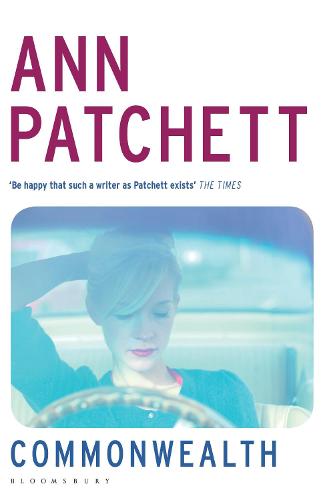 Hardback
336

Pages
Published: 08/09/2016
THE NO. 1 NEW YORK TIMES BESTSELLER A powerful story of two families brought together by beauty and torn apart by tragedy, the new novel by the Orange Prize-winning author of Bel Canto and State of Wonder is her most astonishing yet It is 1964: Bert Cousins, the deputy district attorney, shows up at Franny Keating's christening party uninvited, bottle of gin in hand. As the cops of Los Angeles drink, talk and dance into the June afternoon, he notices a heart-stoppingly beautiful woman. When Bert kisses Beverly Keating, his host's wife, the new baby pressed between them, he sets in motion the joining of two families whose shared fate will be defined on a day seven years later. In 1988, Franny Keating, now twenty-four, has dropped out of law school and is working as a cocktail waitress in Chicago. When she meets one of her idols, the famous author Leon Posen, and tells him about her family, she unwittingly relinquishes control over their story. Franny never dreams that the consequences of this encounter will extend beyond her own life into those of her scattered siblings and parents. Told with equal measures of humour and heartbreak, Commonwealth is a powerful and tender tale of family, betrayal and the far-reaching bonds of love and responsibility. A meditation on inspiration, interpretation and the ownership of stories, it is Ann Patchett's most astonishing work to date.
Publisher: Bloomsbury Publishing PLC
ISBN: 9781408880401
Number of pages: 336
Weight: 637 g
Dimensions: 234 x 153 mm
---
MEDIA REVIEWS
The book that really stood out for me was Ann Patchett's novel Commonwealth. It's so beautifully structured, and the characters are subtle and three-dimensional. If she were a man, I'm sure she'd be lauded as one of the Great American Novelists -- Jojo Moyes * Washington Post Books of the Year *
An outstanding novel ... The opening is a show stopper ... Patchett is a pleasure to read: there is a no-fuss casualness to the prose that is only possible when a writer is in control of every word and she is master of her art ... What is so skilful is the way Patchett makes no moral judgments ... Brilliant * Observer *
The opening scene .... is a faultless set piece ... Her prose is equally powerful when she's evoking a 1970s summer in Virginia ... Patchett deftly summons up a simmering childhood anger and dangerously ricocheting energy * The Times *
Dazzling ... sharply observed, ripe with humour, laden with significance ... Patchett weaves a complex structure ... Yet always feels in control ... She is adept at showing, not telling, her characters shimmer with life-likeness, and she pulls you into every one of her vibrantly drawn scenes with great ease ... The combination of lightness, warmth and remarkable incisiveness creates a novel that is life-affirming and compulsively readable * Sunday Times *
The book flows easily between narrators, constantly switching from past to present, and slowly revealing what happened that summer, allowing Patchett to play with memory and perspective to surprisingly moving effect ... Commonwealth is a book about relationships and the obligations they bring .. Poignant ... funny ... An engaging novel that draws you in with sharp observation, a gin-fuelled plot written in beautiful prose and convincing dialogue. You miss the characters once it's over * Evening Standard *
Commonwealth is full of heart, and is Patchett's most complex and emotionally suspenseful novel. She never hits a wrong note although she conjures with many deftly drawn characters. The opening chapter is one of the best party-scene seductions ever written -- Louise Erdrich, author of The Beet Queen
A deft craftsman ... Patchett ultimately wins the reader over with her perceptive qualities, alluring characters and undertone of humour ... In Commonwealth, Patchett's nimble storytelling floats like a butterfly and stings like a bee * Literary Review *
Patchett writes excellently and seemingly artlessly, her many sub-stories wandering in and out of each other like rivulets in a stream. Some characters swim into brilliant focus, while others remain dimly lit in the shadows, but Patchett boldly avoids resolving any of it and what emerges instead is the captivating music of life's random, relentless pulse * Daily Mail *
So clear and clean and at the top of her game ... It is just so masterfully done. The sweep of it and the subtlety of the ideas -- Esther Freud
Beautiful -- Katie Roiphe * Observer *
Gorgeously evocative writing and complex characters ... Patchett is a writer of exceptional talent, and this is one of her best yet * Good Housekeeping *
This delicate exploration of the ties that bind us never seems to lose focus * Stylist *
An absorbing, brilliantly observed novel * Women & Home *
From the mesmerising first chapter to the final page, Ann Patchett's new novel is utterly brilliant. This domestic drama deals in loyalties, sibling rivalries, jealously and heartbreak in an effortlessly graceful style that makes for unputdownable reading * Sunday Express *
Rich and engrossing ... her observations about people and life are insightful; and her underlying tone is one of compassion and amusement ... Patchett also skilfully illustrates the way that seemingly minor, even arbitrary decisions can have long-lasting consequences and the way that we often fear the wrong things -- Curtis Sittenfeld * New York Times *
Delicious. From the moment a kiss at a christening ends up sparking the divide and re-merging of two families, I was drawn into the minutiae of the drama ... Patchett makes you feel like you've lived among it and have been subsumed into the newly drawn clan * Grazia *
Humourous and heartbreaking, this quietly brilliant collage of a novel also happens to be semi-autobiographical itself * Mail on Sunday *
Life-affirming and compulsively readable * Sunday Times *
She achieves the great novel of American domestic life with a spare hand and a demotic prose that seems to come from the mouths of her characters, even when they aren't speaking ... Her unshowy account of public and private stories addresses the great puzzle of what our lives are really made of ... This novel convinces me she's wiping the floor with her heftier competitors -- Linda Grant * Daily Telegraph *
All of this will make Commonwealth sound like a domestic novel, and it is - one of the finest in recent memory, which is reason enough to admire it ... Part of Patchett's design is to curve every type, bend every cliche, adulterate every formula ... Subtle, startling and painful ... Commonwealth is one of the most discerning novels about siblings I can recall ... The novel is alive with provocative insights that sum up entire relationships * Guardian *
She moves effortlessly between perspectives ... Patchett's own powers are such that the reader is not only never confused, but is wholly convinced by the individuality of each character. Told with great sympathy and even greater wit - it should be said that Commonwealth is very funny indeed - this is a book to savour * The Lady *
A great novel about small moments. Patchett is brilliant at observing those tiny inflections of behaviour that give away so much. She is one of those rare writers, like Anne Enright or Anne Tyler, who is able to convey poignancy and humour in the space of a single sentence ... Written with wisdom, concision and compassion: reading it leaves you understanding just that little bit more about what it is to be human -- Elizabeth Day * Irish Times *
It's hard to imagine better execution than Patchett's ... None of the 322 pages lacks a prize-worthy revelation in Patchett's vibrant prose ... Patchett could wring fiction from a stone. It's delightful to read * Time *
Read Commonwealth by Ann Patchett. Stunning -- India Knight * Sunday Times *
Seductive ... Exquisitely drawn * Sainsbury's Magazine *
This mesmerising novel gripped me from the first page and held me until the last. It's one of those rare books that is so beautifully written; so cleverly constructed, and with characters who never fail to intrigue, that when you finish it, you feel bereaved * Irish Examiner *
Last, Ann Patchett's novel Commonwealth, and if you need to ask why, you've plainly never read any Ann Patchett. More fool you -- Deborah Ross * The Times, 'Christmas Book' *
An outstanding, tender and honest novel about the complications of blended families without judging or pointing the finger of blame -- Kate Figes * Mail on Sunday, 'Book of the Year' *
Would someone please buy me Commonwealth by Ann Patchett for Christmas -- Alan Johnson * Observer *
Modulating between amusement and poignancy Patchett (a former winner of the Orange prize for Bel Canto) fills her pages with subtly depicted characters and vividly teeming social scenes -- Book of the Year * Sunday Times *
The family drama explores not only the metafictional concerns of how writers wreak havoc on their subject matter but the ways that all of us use and abuse the people we love most * Time Magazine Ten Best Novels of 2016 *
An outstanding novel by Orange Prize winner, Ann Patchett -- Christmas Bookshop * Guardian *
Ann Patchett's Commonwealth: A novel is a sprawling, but very precise depiction of two families exploding and coming together, exploding and coming together. It's hugely entertaining and an unsettling joy to read -- Roddy Doyle * Irish Times *
Patchett moves through the gears very smoothly, from sexual attraction to disease and violent death. Exciting, and also poignant * Independent *
Ann Patchett's Commonwealth, Jenny Offill's Dept. of Speculation and Rainbow Rowell's Fangirl are three books I've read in the last year that I would put a gold shiny GREAT sticker on, without hesitation * Emma Straub, International New York Times *
Until this year I'd never read Ann Patchett. Her most recent novel, Commonwealth ... is an exhilarating and beautifully crafted dissection of an extended family. I'll definitely be taking another of her novels away with me on holiday this year * Craig Brown, Mail on Sunday, Summer Reading *
Commonwealth by Ann Patchett, one of those American novelists (like Anne Tyler, Jane Smiley, Elizabeth Strout) who still knows what fiction is for * Roy Foster, Irish Times *
Lacking all the tiresome bombast of her American peers, Patchett's unshowy account of public and private stories addresses the great puzzle of what our lives are really made of. She achieves the great novel of American domestic life with a spare hand and a demotic prose that seems to come from the mouths of her characters, even when they aren't speaking * Daily Telegraph, Summer Reading *
Ann Patchett's Commonwealth takes us west to Los Angeles, starting in the 1960s and forward over three generations, a set of interwoven tales that had me so gripped that I finished it in little more than a single reading and felt propelled to embrace the author with stunned thanks when I found myself unexpectedly sitting next to her * Philippe Sands, Observer *
You may also be interested in...
×
Download the Waterstones App
Would you like to proceed to the App store to download the Waterstones App?
Reserve online, pay on collection


Thank you for your reservation
Your order is now being processed and we have sent a confirmation email to you at
When will my order be ready to collect?
Following the initial email, you will be contacted by the shop to confirm that your item is available for collection.
Call us on or send us an email at
Unfortunately there has been a problem with your order
Please try again or alternatively you can contact your chosen shop on or send us an email at