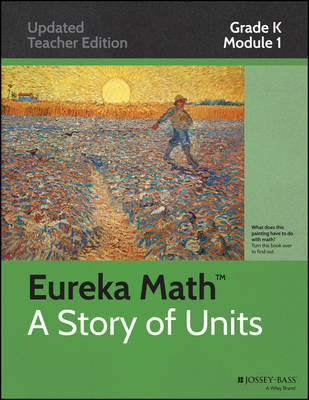 Common Core Mathematics, a Story of Units: Grade K, Module 1: Numbers to 10 - Eureka Math (Paperback)
Common Core
Paperback
Published: 18/10/2013
Eureka Math A Story of Units
Eureka Math is based on the theory that mathematical knowledge is conveyed most clearly and effectively when it is taught in a sequence that follows the "story" of mathematics itself. In A Story of Units, our elementary curriculum, this sequencing has been joined with methods of instruction that have been proven to work, in this nation and abroad. These methods drive student understanding beyond process to deep mastery of mathematical concepts. The goal of Eureka Math is to produce students who are not merely literate, but fluent, in mathematics.
This teacher edition is a companion to Eureka Math online and EngageNY.
Sequence of Grade K Modules
Module 1: Numbers to 10 Module 2: Two-Dimensional and Three-Dimensional Shapes Module 3: Comparison of Length, Weight, Capacity, and Numbers to 10 Module 4: Number Pairs, Addition and Subtraction to 10 Module 5: Numbers 10 20 and Counting to 100 Module 6: Analyzing, Comparing, and Composing Shapes
Publisher: John Wiley & Sons Inc
ISBN: 9781118792902
You may also be interested in...
We would love to hear what you think of Waterstones. Why not review Waterstones on Trustpilot?