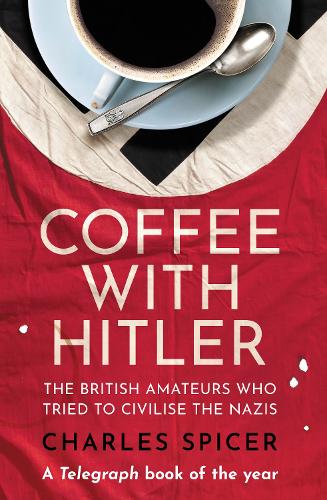 Coffee with Hitler: The British Amateurs Who Tried to Civilise the Nazis (Paperback)
Charles Spicer
(author)
Paperback
Published: 07/09/2023
How the British might have handled Hitler differently remains one of history's greatest 'what ifs'...
A TELEGRAPH AND SPECTATOR HISTORY BOOK OF THE YEAR
Coffee with Hitler tells the astounding true story of a handful of amateur British intelligence agents who wined, dined and befriended the leading National Socialists between the wars. With support from royalty, aristocracy, politicians and businessmen, they hoped to use the much mythologised Anglo-German Fellowship as a vehicle to civilise the Nazis. A pacifist Welsh historian, a Great War flying ace, a butterfly-collecting businessman... Coffee With Hitler offers a rare glimpse into a motley crew who would provide the British government with better intelligence on the horrifying rise of the Nazis than anyone else.
Drawing on newly discovered primary sources, Charles Spencer sheds light on the early career of Kim Philby, Winston Churchill's approach to appeasement, the US entry into the war and the Rudolf Hess affair, in a groundbreaking reassessment of Britain's relationship with Nazi Germany.
***
'Brilliantly readable.' DAILY TELEGRAPH
'Squirmingly enthralling.' SPECTATOR
'Terrifyingly relevant.' OBSERVER
Publisher: Oneworld Publications
ISBN: 9780861546176
Dimensions: 198 x 129 x 30 mm
---
MEDIA REVIEWS
'Compelling study.'
'This engaging book offers a warning from history that remains terrifyingly relevant today.'
'Squirmingly enthralling.'
'Fascinating… an important book, which must be taken into account by all who write about the subject in future. It is well produced and illustrated with excellent photographs. The story of Tennant, Conwell-Evans and Christie and their historical journey is an absorbing one, which casts light on many aspects of the period… They deserve the rehabilitation that Charles Spicer has eloquently accorded them.'
'This is a complex tale, but as skillfully narrated by Spicer, it moves along briskly.'
'In this terrific debut, historian Charles Spicer genuinely enriches and deepens our understanding of the Thirties – the all-important decade in which the great and the good of these islands, scarred to the depths of their souls by the Great War, struggled to avoid a second global conflict. ... A truly illuminating, humane and sophisticated book – and, one hopes, the first of many by an exciting new talent on the historical scene.'
'If ever there was a case of the road to hell being paved with good intentions, it is surely the story that Charles Spicer tells so brilliantly and empathetically in this exceptionally well-written book.'
'In this very well-researched and well-written work of historical revisionism, Charles Spicer reminds us of the important fact that not every Briton who wanted better relations with Nazi Germany did so from malign motives.'
'Charles Spicer tells the chilling story of how otherwise respectable men and women became pawns in a game of international intrigue with a reprehensible regime. The outstanding narrative reads like a thriller, taking readers from the salons of stately homes and St James's clubs to the mass rallies and diplomatic backrooms of Nazi Germany. With more than a few spies, rogues, and plot twists along the way, Spicer tells a story that could be ripped from the pages of a novel.'
'[An] absorbing history début.'
'Charles Spicer reveals the bold attempt of a handful of British intelligence agents to infiltrate and civilise the Nazi hierarchy. This unlikely band of mavericks – who included a butterfly-collecting Old Etonian and a left-wing Welsh pacifist – spent five doomed years wining and dining the leading henchmen of Hitler's diabolical regime. Meticulously researched and told with panache, Coffee with Hitler sheds new light on both the Nazis themselves and the group who tried to tame them.'
'Spicer offers a meticulously researched and pacy account of the behind-the-scenes soft diplomacy conducted by the Anglo-German Fellowship, a group of like-minded businessmen, politicians and academics united in the aim of preventing war with Nazi Germany. This fascinating study challenges the too easy dichotomy between the villainous and duped appeasers and those with Churchillian foresight and insight.'
'A captivating and convincing revisionist history.'
'As a lesson of history, this excellent book is a sober reminder to policymakers to look at the evidence in plain sight.'
'The extraordinary story of three men, a Welsh historian and political secretary, a butterfly-collecting Old Etonian and a Great War fighter ace.'
'Spicer, who has given close, neutral and unerring scrutiny of the sources, proves to be a brisk, fair-minded and authoritative revisionist… Coffee with Hitler should make it impossible to continue to lampoon the Fellowship as an unsavoury gang.'
'Spicer's book is a resounding success, retelling the fascinating history of the Anglo-German Fellowship.'
'This compelling book captures the double-edged nature of "one mainstay of British values" – giving "even the most blatantly disgusting people the benefit of the doubt."'
'In this refreshingly objective book, Spicer profiles the Anglo-German Fellowship, a 1930s British collective which tried to "civilise the Nazis" – some from naivety, others out of ruthless pragmatism.'
You may also be interested in...
×
Download the Waterstones App
Would you like to proceed to the App store to download the Waterstones App?
Reserve online, pay on collection


Thank you for your reservation
Your order is now being processed and we have sent a confirmation email to you at
When will my order be ready to collect?
Following the initial email, you will be contacted by the shop to confirm that your item is available for collection.
Call us on or send us an email at
Unfortunately there has been a problem with your order
Please try again or alternatively you can contact your chosen shop on or send us an email at