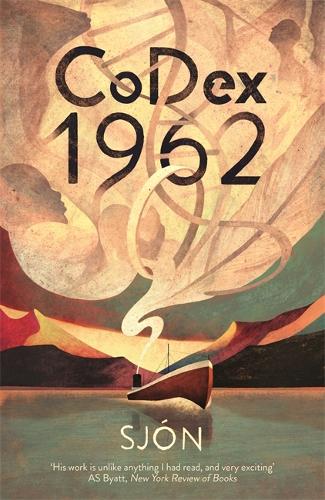 Hardback
528

Pages / Published: 26/07/2018
'This is a work of great ambition ... above all it feels like a work of virtuoso narrative for its own sake; an Icelandic 1001 Nights.' The Sunday Times

Josef Loewe can recall the moment of his birth in August, 1962 and everything that has happened since - or so he claims to the woman listening to the tale of his life . . .

A love story
He begins with his father, Leo, a starving Jewish fugitive in World War II Germany. In a small-town guesthouse, Leo discovers a kindred spirit in the maid who nurses him back to health; together they shape a piece of clay into a baby.

A crime story
Leo escapes to Iceland with the clay boy inside a hatbox, only to become embroiled in a murder mystery. It is not until 1962 that his son Josef can be born.

A science-fiction story
In modern-day Reykjavik, a middle-aged Josef attracts the interest of a rapacious geneticist. Now, what lies behind Josef's tale emerges. And as the story of genesis comes full circle, we glimpse the dangerous path ahead for humankind.

In this epic novel, Sjon has woven ancient and modern material into a singular masterpiece - encompassing genre fiction, history, theology, folklore, expressionist film, poetry, comic strips, myth, drama and, of course, the rich tradition of Icelandic storytelling.
Publisher: Hodder & Stoughton
ISBN: 9781473663022
Number of pages: 528
Weight: 827 g
Dimensions: 240 x 162 x 44 mm
---
MEDIA REVIEWS
Sjon is a raconteur of talent. He can flick from angelic frolics to seedy violence as if each tale were a smooth refraction of the last. He has a knack for high comedy, too. ... Victoria Cribb deserves equal praise for bringing all this zest into English so well. -- Cal Revely-Calder * The Daily Telegraph *
This is a work of great ambition ... above all it feels like a work of virtuoso narrative for its own sake; an Icelandic 1001 Nights. * The Sunday Times *
Sjon writes with a poet's ear and a musician's natural sense of rhythm. This extraordinary performance, consisting of three books in one, sets out to entertain, but also to prod the reader towards a stark realisation of human mortality and the games fate plays . . . The influence of Gunter Grass's The Tin Drum is evident. Sjon has mastered the earlier fabulist's technique of merging history with high-speed comedy and surreal profundity. With a man made of clay and a bewildered angel struggling to get rid of a symbolic trumpet, there are shades of the Bible as well as Milton. Sjon, an heir of Mikhail Bulgakov and Laurence Sterne, eases literary references into the text as mere suggestions. With the light, fluid touch of Victoria Cribb, a resourceful, often inspired translator who is alert to Sjon's quick-change vocal register and genre-hopping artistry, the effect is hypnotic. The reader becomes a gleeful collaborator in an extravaganza in which Bosch meets Chagall, with touches of Tarantino . . . His wild, subversive imagination is among his great strengths, not only in CoDex 1962 but throughout his work . . . This wayward, exciting odyssey confronts death throughout. Nothing is quite what it seems, and there are no easy answers. Here, instead, is an artist preoccupied with questions. -- Eileen Battersby * Guardian, Book of the Day *
This modern-day saga in three novels revolving around the life of Josef Loewe blends genres and illustrates the way stories can bring the most fabulous dreams - and nightmares - to life in a work that feels like The Tin Drum of our time. -- Johhn Freeman, Books of the Year * Boston Globe *
Bewitching . . . His stories compound the dreamscapes of Surrealism, the marvels of Icelandic folklore and a pop-culture sensibility into free-form fables. Call it magic realism under Nordic lights . . . Sjon's finale anchors his ingenuity to a moving plea for solidarity Hrolfur, the entrepreneurial geneticist, yearns to "soar heavenwards into a world where imagination is the only law of nature that matters". CoDex 1962 applauds the aim, but distrusts his means and motive. The wild flight remains a mission not for scientists but for story-tellers. * The Economist *
One blindingly beautiful section comprises a list of surrealist images, the nightly dreams of a group of townspeople . . . This book is a Norse Arabian Nights. Each section is a honeycomb. Stories are nested in stories and crack open to reveal rumour and anecdote, prose poems, tendrils of myth. This abundance isn't an empty show of virtuosity but rooted in Sjon's belief in the power and obligation of old-fashioned storytelling . . . [It] consumed me for the better part of a week. I can only echo Loewe, with gratitude, exasperation and awe. "This book's a bloody thief of time." -- Parul Sehgal * New York Times *
Sure to delight the reader . . . irresistibly sweeps the reader away . . . a masterpiece, meticulously executed from the first page to the last -- Sigridur Albertsdottir * National Broadcasting Service Iceland *
I found myself awed by its ambition, its uncommon narrative sophistication, its incredible emotional depth - especially in its concluding chapters - and, finally, most unexpectedly, its profound seriousness of purpose . . . it deserves all the attention and esteem it has received . . . every excess in CoDex 1962 is redeemed, accounted for, and justified by the end of the novel, which not only offers important revelations but also reconfigures everything that has preceded it so that the fantasy elements take on radical new meanings . . . far and away the best thing Sjon has ever written . . . It reads, on every page, like the work of a writer who is stretching his talents as far as they can go. It is one of the best novels of the year in any language - visceral, captivating, intellectually rewarding, and ultimately deeply moving - and its ambition and achievement are unlikely to be equalled by more than a handful of books this decade. -- Alex Dewar * Splice *
This book is psychedelic, it's potent and it wants to consume the whole world . . . Sjon is a prodigal storyteller in all senses of the phrase . . . he is a master of atmosphere, a fine observer of the cross-hatchings of human motivation and a vivid noticer of detail. * New York Times Book Review *
Sjon's novels are brilliant collisions of history and fable, psychology and fantasy -- Chris Power * Guardian *
Dazzlingly funny and entertaining in sections, dramatic and tragic, light and serious, woven with the artistry we recognise in Sjon's other work ... he creates with his inexhaustible imagination a gorgeous and relevant ending -- Fridrika Benonysdottir * Frettabladid *
Iceland's literary spell-binder ... A tantalising smoke of marvel and magic drifts through Sjon's work -- Boyd Tonkin * Economist 1843 *
Sjon is one of our era's great writers. Like Ovid, Kafka, and Bulgakov, he is fascinated by metamorphosis and, from apparently limitless resources of the imagination, can convey what it must feel like -- Charles Baxter * Nation *
An extraordinary and original writer -- A.S. Byatt
Masterful . . . [it] feels like a noble descendant from Bulgakov's The Master and Margarita . . . Yet as with all such works, it's not the categorising, of course, but the work's own strikingly individual, grounded yet independent streak that is such a delight. . . . Sjon is known as one of Iceland's top writers. With CoDex 1962, his place in English is strengthened, especially with this rigorously empathetic translation by his longtime collaborator, Victoria Cribb. . . . This novel is a wonderwork - and an insistently sheer joy to read. -- Andrew Singer * World Literature Today *
You may also be interested in...
×
Download the Waterstones App
Would you like to proceed to the App store to download the Waterstones App?
Reserve online, pay on collection


Thank you for your reservation
Your order is now being processed and we have sent a confirmation email to you at
When will my order be ready to collect?
Following the initial email, you will be contacted by the shop to confirm that your item is available for collection.
Call us on or send us an email at
Unfortunately there has been a problem with your order
Please try again or alternatively you can contact your chosen shop on or send us an email at