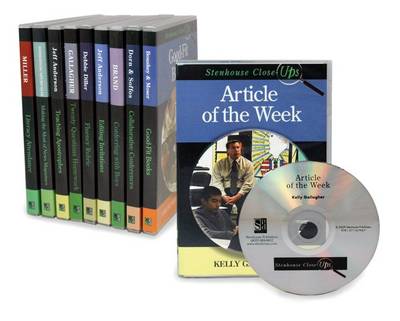 DVD video
Published: 30/03/2008
Conferring with Boys with Max Brand In this video, Max Brand confers individually with two different boys in this fifth grade classroom--one during writer's workshop, the other during reading workshop. Max demonstrates the key elements of successful literacy conferences with boys--plenty of wait time, homing in on specific text, and discussing reading or writing strategies the student is using. Literacy Attendance with Debbie Miller Literacy Attendance is an alternative to the traditional attendance roll at the start of the day. Students have the option of sharing reading or writing activities from home when their name is called, and teachers gain insight into students' literacy behaviors in the home environment. The daily activity is scheduled for no more than ten minutes, and provides teachers with a wealth of insight into literacy learning beyond the classroom. Making the Most of News Magazines with Franki Sibberson and Karen Szymusiak Franki Sibberson's fourth- and fifth-grade students use binders to organize their weekly news magazines in a compilation for use throughout the year. In this classroom vignette, the students use these magazines collected and organized over many weeks as part of their social studies curriculum considering the legal system. After the classroom sequence, Franki and Karen Szymusiak, an elementary principal, discuss the many natural curriculum extensions that come from having an assortment of current short text at every student's fingertips for skimming, sorting, and classifying throughout the year. Twenty Questions Homework with Kelly Gallagher Kelly Gallagher's Twenty Questions is an alternative to traditional high school homework assignments that fosters greater text comprehension. The simple design--students write twenty questions as they read assigned text--belies the complexity of the discussion fostered by the student-generated questions. On this day, students use the assignment to respond to George Orwell's 1984 in small-group and whole-class discussions. Collaborative Conferences with Linda Dorn and Carla Soffos During collaborative conferences, teachers observe a lesson or conference and provide explicit feedback on the teaching and learning interaction. Collaborative conferences use a team approach (with two or more teachers) to support student learning. During the pre-conference, the student's teacher identifies the instructional goal and asks the observing teachers to notice specific writing behaviors. After the lesson, the teachers engage in purposeful dialogue that aligns with the observation focus. This Close-Up features three conferences. Good-Fit Books with Gail Boushey and Joan Moser, "The Sisters" The ability to select just-right books is a key element in developing confident, successful, independent readers. Gail starts this mini-lesson with Joan's K-2 multiage students by modeling how she picks a pair of shoes that are a good fit for her. Having engaged the class, the sisters show how to use a similar five-step process to select appropriate books for a Daily Five book box: look at the book, consider the purpose and decide, am I interested in it? Do I comprehend it? Do I know most of the words? They show examples of successful and unsuccessful matches to clarify the children's understanding. Fluency Rubric with Debbie Diller It may be a little tricky explaining what fluency is to a group of third-graders; but they can recognize it when they hear it. Working with teacher Lisa Gregory's students in their Houston, Texas, classroom, Debbie introduces the concept of fluency and gives them a rubric so they can self-assess and score their fluency on a four-step scale. To help students become conscious of what fluent and not-so fluent readers sound like, Debbie reads passages, modeling the four levels of fluency contained in the rubric. Teaching Apostrophes with Jeff Anderson This 15-minute video shows how Jeff Anderson uses playful strategies and mentor text to engage writers in grammar and editing. In the "Apostrophe-thon," Jeff's sixth-grade students in San Antonio, Texas search through a mentor text excerpt to find examples of apostrophes and then categorize them as possessives or contractions based on a wall chart the class has compiled. Using real text, the students never fail to come up with some interesting examples such as "O'clock" and the two meanings of "they'd." Editing Invitations with Jeff Anderson Editing Invitations takes you into Jeff Anderson's sixth-grade classroom in San Antonio, Texas as Jeff demonstrates how he naturally links grammar instruction to writer's craft through his "Invitations to Notice." The Invitations are a warm-up activity used at the beginning of writer's workshops to help students learn to pay close attention to mechanics, style, and craft. They can be used as an alternative to Daily Oral Language for those teachers who are looking for stronger connections between writer's craft and grammar instruction. These quick exercises include whole-group examination of a sentence as a mentor text, focused practice, and discussion, all in just a few minutes. Article of the Week with Kelly Gallagher When Kelly Gallagher learned that his ninth grade students could not name the vice president of the United States, and when two seniors asked him in all seriousness, "Who is this guy, Al Qaeda?", Kelly was shocked into realizing he needed to do something outside the standard curriculum to build his students' background knowledge. In response, he developed the Article of the Week activity to address the serious gaps in his students' education.
Publisher: Stenhouse Publishers
ISBN: 9781571107633
You may also be interested in...
Simply reserve online and pay at the counter when you collect. Available in shop from just two hours, subject to availability.
Thank you for your reservation
Your order is now being processed and we have sent a confirmation email to you at
When will my order be ready to collect?
Following the initial email, you will be contacted by the shop to confirm that your item is available for collection.
Call us on or send us an email at
Unfortunately there has been a problem with your order
Please try again or alternatively you can contact your chosen shop on or send us an email at