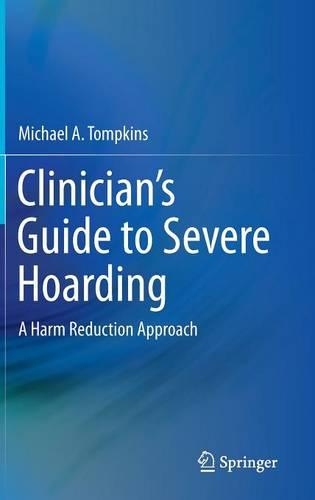 Clinician's Guide to Severe Hoarding: A Harm Reduction Approach (Hardback)
Michael A. Tompkins
(author)
Hardback
413

Pages / Published: 24/11/2014
The cat lady. The couple who won't let anyone in their apartment. The old man with all that junk in his yard. Their severe hoarding puts them, and often others, at risk for injury, disease, and even death. Most deny needing help, and for this reason, professionals are desperate to find more effective ways to offer and provide assistance to them.
In response to this growing public health problem, Clinician's Guide to Severe Hoarding refines our understanding and presents in depth and innovative alternative to traditional interventions. Arguing that although treatment for hoarding can be effective for those who are open to help, people with severe hoarding are not. The Clinician's Guide to Severe Hoarding describes an alternative strategy to help those who adamantly refuse help and yet face significant health and safety risks due to the hoarding problem - harm reduction. This client-centered approach takes readers through harm reduction plan development, team building, goal setting, client collaboration, and progress assessment. The Clinician's Guide also explains that a successful harm reduction plan may encourage clients to seek further help, and offers insights into working with special populations such as people who hoard animals and children who exhibit hoarding behavior. The Clinician's Guide describes in detail a range of strategies for assisting people with severe hoarding:
Strategies for engaging with clients who hoard.Guidelines for assessing harm potential.Guidelines for creating a harm reduction plan, building a harm reduction team, and conducting and evaluating home visits.Skills for client self-help: decision making, time management, and more.Guidelines for navigating the ethical and legal issues that arise in assisting people who hoard.Readings, links, and other resources.
With its practical common-sense approach to a complex problem, Clinician's Guide to Severe Hoarding is a unique volume not only for mental health practitioners, but also other professionals who assist people who hoard, such as home health aides, social workers, and professional organizers.
Publisher: Springer-Verlag New York Inc.
ISBN: 9781493914319
Number of pages: 413
Weight: 7804 g
Dimensions: 235 x 155 x 25 mm
Edition: 2015 ed.
---
MEDIA REVIEWS
Reviews:
"Dr. Tompkins has produced an excellent clinician guide that focuses on harm reduction treatment for serious hoarding behavior. Mental health clinicians, and many other professionals who encounter hoarding, will find this book particularly helpful in working with people who hoard, their family members, friends, and neighbors. This well-organized and user-friendly book makes it easy to understand hoarding and to respond compassionately and effectively. The focused team approach that includes the sufferer is an excellent strategy, and the troubleshooting recommendations are especially helpful. I highly recommend it!"
Gail Steketee, Ph.D., Dean and Professor, Boston University School of Social Work and co-author of Stuff: Compulsive Hoarding and the Meaning of Things
"Michael Tompkins is one of those rare hoarding experts whose brain you wish you could somehow inhabit in order to soak up his knowledge and experience. Short of this Malkovichian fantasy, ordinary clinicians like me must rely on his written word. Thankfully, his written word is rich with clinical anecdotes and laced with scientific knowledge. And his new book, Clinician's Guide to Severe Hoarding: A Harm Reduction Approach, is no different. His novel harm reduction perspective is highly refreshing and intuitive, and his hoard of useful techniques will have you finally feeling armed to approach this seemingly intractable public health challenge. Most impressive, however, is that Michael Tompkins refuses to shy away from hot button hoarding issues, like maximizing treatment leverage, addressing cleanout decisions, and navigating the legal challenges. Every clinician will find something in this book that will enhance their effectiveness with people who hoard."
Gregory S. Chasson, Ph.D
Licensed Psychologist; Assistant Professor, Department of Psychology, Towson University; Director, CBT Solutions of Baltimore
"Those of us who have worked on identifying ways to decrease the saving and acquiring behaviors characteristic of hoarding disorder (HD) have encountered several nasty truths along the way. Many people who have HD don't want our help. Many of those who want help can't get complete control over their behaviors. Many have co-occurring psychiatric, neurological, or medical issues that make it difficult for them to participate in, or benefit from, psychological treatment. In many cases, there are multiple stakeholders, not just the person with HD but also family members, neighbors, municipalities, and other service agencies. In this powerful book, Michael Tompkins addresses these problems head on and makes a compelling argument for the use of Harm Reduction strategies for people with HD. With an expert eye based on front-line experience, Dr. Tompkins walks the reader through several of the more difficult aspects of the intervention, and this book should be on the shelf of any professional working with difficult hoarding cases."
David F. Tolin, Ph.D., ABPP
Author, Buried in Treasures: Help for Compulsive Acquiring, Saving and Hoarding

"I recommend the Clinician's Guide to Severe Hoarding: A Harm Reduction Approach to every member of a harm reduction team including: code enforcement officers, professional organizers, social workers, firefighters, property owners, and property managers. The insights and advice of Dr. Tompkins are critical to understanding hoarding disorder and establishing realistic benchmarks for harm reduction. This book provides all the necessary tools and tactics for team members to give clients a minimum standard of comfort and safety."
Geralin Thomas, Professional Organizer, Metropolitan Organizing, LLC

"It really doesn't matter how much technical information you have if you can't help your client. In the Clinician's Guide to Severe Hoarding: A Harm Reduction Approach, Michael Tompkins offers you compassionate strategies while encouraging you to think outside the box, with one goal in mind - to help your client who hoards live a safe and meaningful life. As a veteran certified professional organizer I highly recommend this book to my colleagues."
Standolyn Robertson, CPO, past President of the National Association of Professional Organizers
"Clinicians, organizers, first responders, responsible family members, and researchers - this book is for you. This is by far the most comprehensive hoarding guide on the market. Every aspect covered. Every question answered. Dr. Tompkins has done it again!"
Dorothy Breininger, Featured Organizing Expert, Hoarders TV Series

"Finally, we have a comprehensive and extremely well-written reference on how to identify and treat patients who hoard. Dr. Tompkins has produced an extraordinary volume on novel approaches to help improve the lives of those who hoard, borrowing from well-established harm reduction strategies used in the treatment of addictions. By describing many different types of hoarding behaviors, Dr. Tompkins helps us to understand this disorder better and provides options for treatment that reduce the personal risks to society, and more importantly, to the patients who suffer with hoarding behaviors of various levels of severity."
Mason S. Turner, MD, President, Board of Directors, Mental Health Association of San Francisco; Chief, Department of Psychiatry, Kaiser Permanente San Francisco

"The Clinician's Guide to Severe Hoarding provides in depth knowledge and practical suggestions to help clients and their families manage the most challenging hoarding situations. This will now be our go to resource guide for the many clients and families who struggle with severe hoarding and look to us for help."
Stacey Miller, BSW, Manager, Community Services, A & O: Support Services for Older Adults, Manitoba, Canada
"This book provides a useful and practical road map for clinicians who treat individuals with severe hoarding disorder. Dr. Tompkins lays out important steps such as building motivation, assessing harm, and utilizing interdisciplinary community resources when working with someone with hoarding, who may resist treatment attempts. Critical informational gaps on how are now filled for providers who treat hoarding disorder, as this material has never been presented in such a clear and thoughtful manner."
Catherine R. Ayers, Ph.D., ABPP, Division Director, Outpatient La Jolla Mental Health Clinics, Assistant Professor, Department of Psychiatry, University of California, San Diego, VA San Diego Healthcare System
"Michael Tompkins has created a comprehensive and practical guide for hoarding intervention that is accessible for both clinical and non-clinical professionals. So often, professionals struggle to understand the best approach to supporting clients suffering from hoarding disorder. Using real life case examples, Tompkins, provides the reader with critical information on assessing harm potential, increasing client engagement and the importance of developing a team-based approach to hoarding intervention. This outstanding book is the first of its kind written to guide professionals through the process of utilizing harm reduction approaches in cases of severe hoarding."
Jesse C. Edsell-Vetter, Hoarding Intervention Coordinator, Metropolitan Boston Housing Partnership
"Clinicians have long been baffled by the enigma of hoarding. The devastating consequences of this disorder prompt many calls for help, but few of them are from the person who hoards. Very often, everyone, except the hoarder, wants help. Predictably, the caller is turned away. After all, how can you help someone who does not want it? The answer lies in redefining what you are helping and who and how you help. Michael Tompkins book offers clinicians new, innovative strategies to curtail the harmful consequences of hoarding. If you are a clinician who would like to expand the range of lives you affect, read this book. If you do, you will have something to offer those calls for help other than an apology."
C. Alec Pollard, Ph.D., Director, Center for OCD and Anxiety-Related Disorders, Saint Louis Behavioral Medicine Institute, Professor of Family and Community Medicine, Saint Louis University
"Michael A. Tompkins' Clinician's Guide to Severe Hoarding: A Harm Reduction Approach is a comprehensive guide to the Harm Reduction (HR) approach for addressing a situation in which an individual who is a "severe hoarder," i.e., a person who refuses help yet lives in a severely hoarded environment, and may lack insight into the fact that the effects of the hoarding behavior have compromised his or her own safety and possibly the safety of others in their community. The HR approach focuses on engaging the individual in the process of making the environment reasonably safe and comfortable. This approach requires ongoing monitoring and by nature requires the involvement of a team.
Although the book is targeted specifically to mental health clinicians, it would also be a valuable resource for other professionals, including professional organizers, like myself, who work with clients who hoard. Also, visiting nurses, elder care specialists, home healthcare aids, code enforcement officers, police officers, and attorneys and judges who become involved extreme cases or hoarding would find it a useful resource.
Cases requiring a HR approach are challenging and require the expertise, good intentions, and collaborative skills of a team. Tompkins is persuasive in his contention that the clinician is a natural fit for enlisting and engaging the HR team in the process of fulfilling the "do no harm" agenda and he models the process with the sensitivity and finesse gleaned from years of studying human nature firsthand. The process requires real commitment and dedication from various individuals, including the client, who co-create a set of goals designed to insure the safety and comfort of the client and other stakeholders. Creativity is also key since each of these situations is unique and the process is designed to be on-going, i.e., without a termination date.
I particularly enjoyed the dialogues Tompkins used to illustrate the motivational interviewing approach as a way of engaging the client at various stages various stages of the client's readiness for change and at various stages of the HR process. I also appreciated the way the author addressed and illustrated ways of using motivational interviewing to increase the effectiveness of working with other team members, who may come to the case with a variety of motivations as well as their own set of stressors and challenges.
In addition to illustrating the inner workings of the team, the author provides practical recommendations, including templates, for addressing practical team challenges such as team member turnover and recommendations for working with legal authorities who are involved in severe hoarding cases. It will be a valuable asset for training the next generation of clinicians and others with a specialization in working with hoarding."
Phyllis Flood Knerr, CPO-CD (R), editor of The ICD Guide to Collaborating with Professional Organizers For Related Professionals, Institute for Challenging Disorganization, 2014

"The Clinician's Guide to Severe Hoarding: A Harm Reduction Approach is a caring and thoughtful approach to hoarding problems. It is a must-read for clinicians dealing with hoarding clients and their families. Dr. Tompkins tackles what is the most frustrating aspect of hoarding disorder - the reluctance to seek help. This book represents a major advance in interventions for hoarding."
Randy O. Frost, PhD, Harold and Elsa Siipola Israel Professor of Psychology, Smith College
"As someone who has received and given support for clutter issues, I personally appreciate Dr. Tompkins' work. Knowing that clinicians will be learning and practicing a Harm Reduction approach gives me hope for those who would otherwise decline what they consider, "treatment." Recovery is more about living with a challenge, than living without it. Dr. Tompkins has articulated this matter with great empathy and compassion for those who are suffering, and for those who are trying to help them."
Lee Shuer, Certified Peer Specialist
"This is an invaluable resource to guide clinicians and other professionals to help those with severe hoarding problems. As he has done throughout his career, Michael Tompkins exhibits great compassion and precision as he characterizes hoarding behavior and lays out a comprehensive harm reduction approach. Well-crafted sections detail the assessment, planning, and implementation process, integrate motivational interviewing techniques and underscore the import of a collaborative multidisciplinary team. Dr. Tompkins anticipates and addresses critical questions related to the harm reduction approach demonstrating the depth of his experience and keen understanding of hoarding. His richly detailed vignettes and dialogues clearly illustrate how to apply the HR approach, present essential ethical considerations, as well as remind the reader that each hoarding situation is unique and all members of the HR team - professionals and clients - are human."
Jordana Muroff, Ph.D., LICSW, Associate Professor, Clinical Practice, Boston University School of Social Work
"Millions of people suffer from hoarding, yet there are literally only a handful of professionals across the nation truly trained in, or even understand the disorder itself. Dr. Tompkins book, Guide to Severe Hoarding: A Harm Reduction Approach, outlines the most important aspects when working with someone suffering from moderate to severe hoarding. It is time we shifted our thinking from emptying out a home and believing we have fixed the problem. The key to helping people who hoard is to understand the unique complexities of each client, and to make a roadmap for ongoing success specific to that person. This book guides you step by step in learning this process and includes everything from effective dialogue to scenarios you can encounter. It is proven time after time that we can do much more harm than good when we handle hoarding cases the wrong way. I would consider this the hoarding Bible for clinicians and the most comprehensive book available to date."
Cory Chalmers, hoarding and biohazard expert, President/CEO, Steri-Clean, Inc.
"Unequivocally, Dr. Tompkins provides the most comprehensive, step-by-step guide for clinicians learning to treat hoarding disorder. This is a must have resource for successful treatment outcome."
Robin Zasio, Psy.D., Director, The Anxiety Treatment Center of Sacramento
"The Clinician's Guide to Severe Hoarding is a must-have for every clinician, especially those who work with older adults. Hoarding disorder is a prevalent, debilitating, and under diagnosed problem that all clinicians should be aware of. Michael Tompkins lays out, in perfect detail, how to approach someone with problematic hoarding from a harm reduction approach. Clinicians and families alike will find this helpful."
Carol Mathews, M.D., Professor of Psychiatry, Department of Psychiatry, University of California San Francisco
"Michael Tompkins has written the long awaited comprehensive step-by-step book of how to build and implement a Harm Reduction Approach when working with severe hoarding. Here is a relevant and useful guide for clinicians and all professionals who form the Harm Reduction Team. It is written with thoughtfulness and sensitivity to the challenges not only for the individual with severe hoarding but also for those working with them."
Goldie Barth, Wellington Guelph Hoarding Response Lead
You may also be interested in...
Simply reserve online and pay at the counter when you collect. Available in shop from just two hours, subject to availability.
Thank you for your reservation
Your order is now being processed and we have sent a confirmation email to you at
When will my order be ready to collect?
Following the initial email, you will be contacted by the shop to confirm that your item is available for collection.
Call us on or send us an email at
Unfortunately there has been a problem with your order
Please try again or alternatively you can contact your chosen shop on or send us an email at