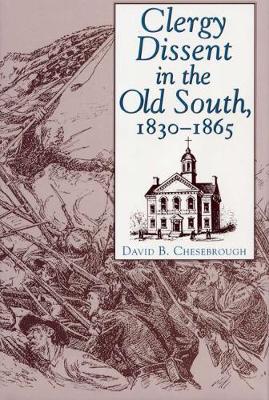 Hardback
Published: 30/11/1996
Emphasizing the courage required and the cost of dissent before and throughout the Civil War, David B. Chesebrough identifies dissenters among the southern clergy, tells their stories, and discusses the issues that caused these Christians to split from the majority
After an opening chapter in which he provides an overview of the role of the southern clergy in the antebellum and war years, Chesebrough turns to the South s efforts to present a united proslavery front from 1830 to 1861. Clergy who could not support the "peculiar institution" kept silent, moved to the North, or suffered various consequences for their nonconformity.
Chesebrough then deals with the war years (18611865), when opposition to secession and the war was regarded as much more serious than opposition to slavery had been. Some members of the clergy who formally supported and justified slavery could not support secession and war. This was a dangerous stance, sometimes carrying a death sentence.
The final chapter, "The Creative Minority" stresses the important societal role of dissenters, who, history shows, often perceive events more clearly than the majority.
The dissenters Chesebrough discusses include John H. Aughey, a Presbyterian evangelist from Mississippi who was imprisoned and sentenced to death for his opposition to secession; William G. Brownlow, a Methodist cleric and newspaper publisher who, though he later became governor of Tennessee, was imprisoned and forced to leave the state because of his opposition to secession and the Civil War; John Gregg Fee, the founder of Berea College in Kentucky, who was denounced by his family and forced to leave the state because of his abolitionist views; and Melinda Rankin, a Presbyterian missionary worker in Brownsville, Texas, who was dismissed from her teaching responsibilities because of alleged northern sympathies.
"""
Publisher: Southern Illinois University Press
ISBN: 9780809320806
Weight: 408 g
Dimensions: 216 x 139 x 18 mm
---
MEDIA REVIEWS
Scholarship on race and religion in the South has yielded a rich and varied harvest over the past decade. Two recent publications contribute to this growing literature. A number of historians have examined American churches' views of slavery in the antebellum South, especially proslavery ideology among southern clergy. David B. Chesebrough researches new territory in focusing on the minority of southern white clergy who supported neither slavery nor secession. Alonzo Johnson and Paul Jersild's collection of essays examines southern African American religion's links to both evangelical Protestantism and African folk traditions.
By 1830, most southern clergymen held solidly proslavery beliefs and by the 1850s viewed secession as either necessary or as a last resort for preserving slavery. Reflecting the values of the southern elite, these churchmen preached righteousness, benevolence, and mercy but ignored the great injustice of slavery. Against these cultural norms, clergymen who advocated even modest slavery reforms, gradual emancipation, and colonization were scorned, expelled from their churches, imprisoned, or even murdered. Nevertheless, before and during the Civil War, ministers occasionally dared to voice their disapproval of slavery and disunion. In discussing these individuals, Chesebrough, a historian and former Baptist minister, draws on a variety of primary and secondary material, skillfully blending narrative and analysis.
In his final chapter, the author examines how a "creative minority ... who spoke and wrote boldly in denouncing [slavery] as unjust, un-American, and ungodly" retained its leadership in both the church and the community. Their small number, he claims, indicates that most southern clergy reflected rather than molded society. He also briefly explores how denominational organization and geography affected clergy dissent, topics that deserve further inquiry.
Chesebrough effectively utilizes nineteenth-century books, sermons, newspapers, and manuscripts as well as secondary sources. Further research on dissenting southern clergymen may yield important additional information on how individuals form and express beliefs antithetical to a prevailing orthodoxy.
--Anne Miller"The North Carolina Historical Review" (09/25/2008)"
David B. Chesebrough offers in this brief but extremely perspicacious book an illuminating analysis of southern clergy who dissented from the overwhelming majority of Protestant ministers regarding slavery and secession before and during the Civil War. Religion as a major component of southern nationalism has long been a prevailing historiographical orthodoxy among scholars of the Old South. How most southern clergy after 1830 retreated from any earlier antislavery position to affirm the peculiar institution as primarily a civil rather than a religious concern is an old story ultimately ending in biblical justifications of slavery as a positive good. But Chesebrough carefully demonstrates that among southern ministers the argument was always much more than pro-slavery v. antislavery. Southerners also saw the larger contest as "a struggle between true and false religion, between orthodoxy and heresy, and between a biblically revealed religion and a man-made religion" (p. 12).
Yet despite enormous and steadily increasing pressures-social, economic, political, and even physical-there always remained a small "creative minority," in a phrase borrowed from Arnold Toynbee, who opposed first slavery and, by 1861, secession. The South was never a monolithic society, and Chesebrough offers compelling portraits of dissenters such as Richard Fuller, John Gregg Fee, Moncure Daniel Conway, William G. Brownlow, Charles Gillette, Melinda Rankin, John H. Aughey, and James A. Lyon to illuminate the fate, if not martyrdom, of such brave dissenters.
Interestingly, Presbyterians were overrepresented among these dissenters because their church had not split between northern and southern branches as did the Methodists in 1844 and the Baptists in 1845. A common thread for all these dissenters was some contact or exposure to the North. Yet not all dissenters were equally persecuted for their beliefs; a very few managed to hold on to their positions before and during the war. Most, however, were either banished from the South, dismissed from their churches, or driven to financial ruin, imprisonment, or even execution. No clear answer exists to explain the fortunate exceptions, but social class, personality, and good standing within the community offer logical explanations of why a very few dissenters escaped the harsh fate of their fellow dissenters.
The greatest value of Chesebrough's partial but representative account of dissenting clergy in the Old South from 1830 through the Civil War lies in its rich invitation to scholars to conduct additional research to delineate the contour and depth of such dissent. By far the most intriguing unanswered question is Chesebrough's speculation that an even larger number of clerics shared antislavery sentiments with these dissenters but remained silent in order to protect themselves or their families. Even to be suspected of such treason was extremely dangerous in most of the South, particularly during the war years.
Chesebrough finally argues that the fact that dissenting clergy were so few in number"supports the thesis that the clergy are more reflectors of society than molders" (p. 88). In this same vein, he also contends persuasively that the many extant nineteenth-century sermons, contrary to earlier scholarly opinion, are a rich source for measuring the ebb and flow of relevant public opinion on outstanding political and economic issues of the day. One wonders if the hidden dissenters among the southern clergy ever revealed any trace of their true feelings, however cryptically, in these numerous sermons. If such sermons are indeed a rich source for analyzing political issues, Chesebrough's fine-study-points the way toward further exploration of an important key to our understanding of the mind of the Old South in all its diversity and complexity.
--Durwood Dunn"Georgia Historical Quarterly" (10/02/2008)"
David B. Chesebrough is the assistant chair in the department of history at Illinois State University. His previous works include "God Ordained This War: Sermons and the Sectional Crisis, 1830-1865 "and "No Sorrow Like Our Sorrow: Northern Protestant Ministers and the Assassination of Lincoln."
The work begins with a detailed account on how clergymen in the South formed a state of mind in their congregations which led to secession. Throughout the nineteenth century, southerners increasing became fearful of attempts by abolitionists to end slavery. From the pulpits of Presbyterian, Methodist, and Baptist churches, which composed ninety-four percent of southern congregations, messages were delivered by the majority of preachers, who called for protection of their institution of slavery. Clergymen like Methodist preacher Samuel Dunwoody of South Carolina used the Bible in his defense of slavery and claimed that the Negro race "was condemned to an existence of slavery"(10). Southern preachers also claimed that the South was the true Israel, because the North, through its wickedness, infidelities, and perversities was inferior and a "den of iniquity."""
Because the North was seen as evil, southern preachers called for the South to break away from the Union in attempt to preserve its own purity. However, Chesebrough demonstrates that the South was not totally a monolithic society and that there was dissent among the southern clergy. He discusses the careers of preachers like William G. Brownlow, who was jailed because of his opposition to secession; John Fee, who was forced to leave Kentucky because of his abolitionist views; and Presbyterian pastor John H. Aughey, who was sentenced to death because of his opposition to slavery. Many others who were opposed to slavery simply kept quiet or moved north.""
Chesebrough demonstrates that he has canvassed the archives and repositories in his research. The work is well written and is an important contribution to southern history as well as American religious history. "Clergy Dtssent in the Old South "will go a long way in presenting a subject that has largely been in the shadows of obscurity.
--David L. Kimbrough"The Filson Club History Quarterly" (09/25/2008)
You may also be interested in...
Simply reserve online and pay at the counter when you collect. Available in shop from just two hours, subject to availability.
Thank you for your reservation
Your order is now being processed and we have sent a confirmation email to you at
When will my order be ready to collect?
Following the initial email, you will be contacted by the shop to confirm that your item is available for collection.
Call us on or send us an email at
Unfortunately there has been a problem with your order
Please try again or alternatively you can contact your chosen shop on or send us an email at