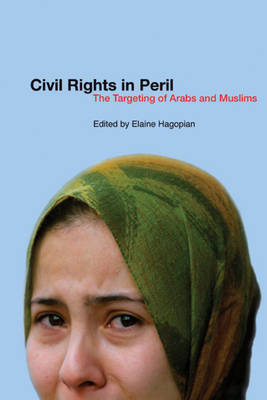 Paperback
Published: 20/05/2004
Can be ordered from our supplier
'What an amazing book! This may be the best post-9/11 book I have read. It gives a cogent, intelligent, and political explanation of the relationship between the repression of Muslims and Arabs domestically and US empire building abroad...Buy it, read it, and fight back!' Michael Ratner, President, Center for Constitutional Rights, Attorney for Guantanamo Detainees 'A refreshingly critical view of the current demonization of Muslims and Arabs. What [Hagopian] and the others make clear is the deadly connection between this phenomenon and US behavior in the Middle East.' Howard Zinn 'The forgotten victims of September 11 are the Arabs and Muslims in the US, whose rights have been curtailed, and activities monitored, and charities closed down or suppressed. This volume tells their story.' As'ad AbuKhalil, California State University '[This] helps us to understand the matrix of the new American juggernaut and its impact on the lives of ordinary people.' Abdeen Jabara, Civil Rights Attorney, Past President, American Arab Anti-Discrimination Committee Muslims and Arab-Americans are increasingly under attack as a result of the US 'war on terror' - at home, as well as abroad. Since the tragic events of September 11, Arab and Muslim Americans have faced a major assault on their civil liberties. While targeting vulnerable groups and drawing on racist stereotypes about Arabs and Muslims, these measures threaten millions of people, including immigrants, activists, trade unionists, academics, writers, and anyone who the government wishes to define as a 'threat' to national security. The Patriot Act and new immigration laws primarily aimed at Muslims and Arabs have greatly expanded federal powers and eroded longstanding civil liberties. The US government has used its expanded powers to detain, deport, and try individuals, at times without access to lawyers or full disclosure of evidence and charges used against them. Civil Rights in Peril seeks to expose the impact of these new governmental powers on Muslims and Arabs, as well as other groups and individuals targeted as part of the Bush administration's 'war on terror', and to show how ordinary people can resist these attacks on our fundamental rights. This powerful anthology, edited by the well-known scholar and activist Elaine Hagopian, includes essays by Samih Farsoun, Naseer Aruri, Susan Akram, Nancy Murray, Robert Morlino and William Youmans.
Publisher: Pluto Press
ISBN: 9780745322643
You may also be interested in...
We would love to hear what you think of Waterstones. Why not review Waterstones on Trustpilot?