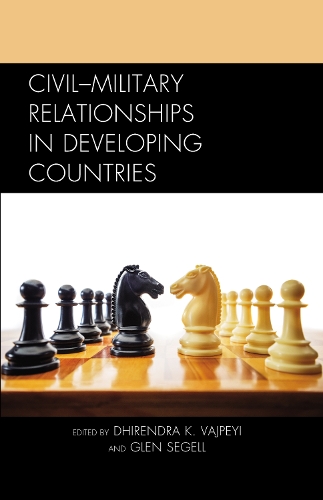 Hardback
222

Pages / Published: 16/12/2013
This book examines two sides of civil-military relations in developing countries. One is the place of civil-military relations within a state's political and economic systems; the other is the role of the military on a state's maintenance of peace and stability. The book thus proposes that the function of soldiers is not only to defend and deter, but also to develop. The chapters provide a comprehensive analysis of civil-military relationship with comparative cases on Botswana, China, El Salvador, Honduras, Guatemala, India, Indonesia, Nicaragua, Nigeria, Pakistan, and The Arab Spring Countries of the Middle East including Bahrain, Sudan, Iraq, Jordan, Saudi Arabia, Egypt, Tunisia, Yemen and Libya. Each chapter analyzes the historical, cultural and political factors that shape the direction of the man on the white horse (military elite) and the politician. In doing so, this book reveals the potential impact of the nature of civil military relations on democratization, political and economic development, and on regional/international security. Dhirendra Vajpeyi and Glen Segell discuss and critique the current models and literature on civil-military relations. The innovative framework and careful choice of case studies, presented in a jargon-free, accessible style, makes this book attractive to scholars and students of civil military relations and development studies, as well as policymakers.
Publisher: Lexington Books
ISBN: 9780739182802
Number of pages: 222
Weight: 454 g
Dimensions: 239 x 158 x 20 mm
---
MEDIA REVIEWS
This book deals directly with some of the most intractable civil-military relations of our time and does so with a very clear and helpful `debate' format in which each expert chapter is followed by editors' notes. Glen Segell's typology of the possible political outcomes of the broad phenomenon now known as the `Arab Spring' is both perceptive and very effective. He sheds important light upon the requisites of democracy in the twenty-first century and the political options that stem from particular patterns of civil-military relations. Dhirendra Vajpeyi's analysis of the profoundly different systems in Pakistan and India sheds new light on those confusing conundra. Orlando Perez brings his extensive expertise to bear on the Central American countries, incorporating Alfred Stepan's concept of `military prerogatives' to enhance our understanding of civil-military relations, and hence democracy, in these complex cases. Additional chapters by an impressive list of authors on Central American, Chinese, Indonesian, Nigerian, and Botswanan civil-military relations reinforce the impression that this book is a major contribution to civil-military relations, and thus to the often overlooked prerequisites to democracy, the dominant, but by no means permanently assured, political pattern of our age. -- Daniel Zirker, The University of Waikato
Civil-Military Relationships in Developing Countries is an outstanding work with considerable intellectual reach. Vajpeyi and Segell, the editors, have brought together a first-rate team to advance the study of civil-military relations into the 21st century. This well-written and organized survey of major states such as China and Indonesia, along with the lesser powers in Central America and elsewhere, provides the most compelling treatment of the subject area available for the developing world. Much can be learned from this book about the role of the military in development, the evolving nature of political and economic systems, democratization, and other areas of interest. This expansive study will be of interest to scholars in disciplines such as political science and sociology, along with interdisciplinary fields like international studies. I recommend this work without reservation. -- Patrick James, University of Southern California
Dhirendra Vajpeyi and Glen Segell, together with five experts, deliver a comprehensive book which will certainly become a valuable resource to scholars, politicians, and military professionals. Mistakenly, the study of civil-military relations in developing countries brings to mind mainly coups d'etat and civil wars. While this might have been true several decades ago, the current state-of-the-art of this field of study is very different, as this rich volume methodically clarifies. The book includes distinct examples from almost twenty different developing countries in Asia, Africa, Latin America, and the Middle East. The assorted analyses provide a wide scope of civil-military relations: on the one hand, successful cases where the military institute takes upon itself nation-building missions-thus contributing and in fact enhancing the country's political development, modernization, and economic growth; and on the other hand, instances of destructive civil-military relations that result in political instability, economic stagnation, conflicts, and even bloody clashes between the armed forces and the civil society. The diligent reader will find here possible explanations to this diversity, as well as some clues for better decision-making. -- Reuven Gal, Samuel Neaman Institute
Many developing countries are reconfiguring their civil-military relations, acknowledging the overlapping boundaries of development, poverty, and security. This book makes a significant contribution to our understanding of this complex situation, conveying that no single paradigm determines the role of the armed forces in a given country. -- Jorge Zaverucha, Universidade Federal de Pernambuco
Segell and Vajpeyi's volume is an empirical goldmine. It deftly resuscitates a focus on developing countries that has been lost in the civil-military relations literature over the past decade. In doing so, it both situates these countries in the larger conceptual debate and incisively points out colonialism's corrosive legacy, fifty years on, for the relationship between development, security, and democratization. -- Kai Michael Kenkel, Pontifical Catholic University of Rio de Janeiro
The wave of military disengagement and the seeming civilizing of politics in developing countries, which began in the late 1970s, led to a dearth of scholarship on the subject; scholars appeared to assume that civilian control over the military was a reality, and the armed forces withdrew to the barracks to concentrate on their professional mission. Yet, a closer look reveals that the relations between the military and civilians moved from a model emanating from Mao's maxim of power flowing from the barrel of a gun to a contesting model in which the political and military elites compete and negotiate the distribution of power. The Vajpeyi and Segell compendium captures the pulse of this new reality and reignites interest in the study of civil-military relations in the developing world. The volume brings together an impressive array of well-chosen examples that focus on hitherto neglected countries, but also reexamines other cases that had occupied scholarly attention in the past. Future generations of scholars and practitioners alike will look back on this pioneering tome as a springboard and a very important foundation. -- Constantine P. Danopoulos, San Jose State University
In this exciting new anthology, Dhirenda K. Vajpeyi and Glen Segell have assembled a distinguished group of scholars to analyze current aspects of civil-military relations (CMR) in key developing countries. Both theoretically informed and substantively rich, the contributions to this volume shed new light on the ever-changing interplay between the state, society, and the military across a range of states, including several countries often overlooked in other studies. This excellent volume deserves a wide readership among students of developing countries and particularly those concerned with the role of militaries there. -- Jonathan Swarts, Purdue University North Central
Civil-Military Relationships in Developing Countries is a rich contribution to our understanding of political roles that armed forces play. Its juxtaposition of contrasting cases from across the developing world brings to the fore how institutionalized government control of the armed forces can be inhibited by complex military-society interactions that span military corruption, ideological and religious tendencies within the armed forces, and the use of the military to repress civil unrest. -- Maiah Jaskoski, Northern Arizona University
You may also be interested in...
Simply reserve online and pay at the counter when you collect. Available in shop from just two hours, subject to availability.
Thank you for your reservation
Your order is now being processed and we have sent a confirmation email to you at
When will my order be ready to collect?
Following the initial email, you will be contacted by the shop to confirm that your item is available for collection.
Call us on or send us an email at
Unfortunately there has been a problem with your order
Please try again or alternatively you can contact your chosen shop on or send us an email at