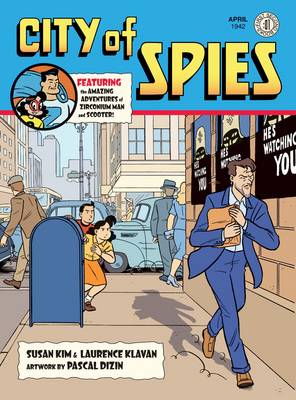 Paperback
176

Pages / Published: 21/05/2010
Evelyn typically satisfies her longing for adventure with the help of a pencil and a sheet of paper. But when she makes a new friend, Tony, she's happy to abandon her art for a real-life search for spies. Young adult.
Publisher: Roaring Brook Press
ISBN: 9781596432628
Number of pages: 176
Weight: 308 g
Dimensions: 216 x 161 x 9 mm
---
MEDIA REVIEWS
"With her mother gone and a father who has better things to do than be bothered raising a daughter, Evelyn is sent to live with her unconventional aunt Lia in the bohemian art world of 1942 New York City. Lia isn't shaping up to be much of a caretaker, but Evelyn spends much time in the company of imaginary super-heroes, fouling up the plans of Nazi spies. Before long she finds an unlikely friend in the building superintendent's son, Tony. Together, they negotiate the complexities of their different social strata and, always sniffing around for trouble, stumble upon an actual Nazi plot. With stupefying precision, Dizin's art channels Herge's Tintin in tone, palette, and with the remarkable expressiveness of the clean, flexible figures. He also echoes the Belgian master's sense of fun and action, even as Kim and Klavan put a sophisticated spin on classic boys' adventure story elements and handle issues of friendship, economic class, and abandonment. And with villains and danger that just border on the genuinely scary, the tale is filled not only with a thrilling sense of excitement but also with a child's longing for a grown-up to believe in." --Jesse Karp, Booklist
"It's wartime in New York City and spies are everywhere, or so it seems to young Evelyn, an aspiring writer of comics, and her new friend Tony. Their adventure, told with seat-of-the-pants, graphic-novel immediacy, is an artful melding of jewel-box illustration with noir atmosphere--Tintin directed by Hitchcock. Still, the story's slant is all its own. "We had an elderly friend who, as a little girl, chased imaginary Nazi spies in New York City during WWII," say Susan Kim and Laurence Klavan. "As she told us, the years disappeared and, in her face, we saw the child having the adventure...She didn't live to see the book, but we take comfort, for what we know, in that she helped win the war." The snappy, uncluttered tale has a rousing visual flow and plot depth on a variety of fronts. Plus, the Nazis wind up swimming with the fishes. Pow! Pow! Pow! (Ages 10-14)" --Kirkus
"With World War II at its height, fledgling cartoonist Evelyn is embroiled on the homefront in what appears to be a German conspiracy in this retro-tinged graphic novel. Bored by the prospect of spending the summer with her pampered dilettante aunt, Evelyn befriends Tony, and the two wander about their New York City neighborhood trying to find German spies. Although the duo is positive that they have found spies lurking, once they report them to the authorities, their hunches turn out to be wrong. When they finally do discover a fiendish German plot, will anyone believe them? Evelyn and Tony's story is interspersed with episodes of Evelyn's own comic about Zirconium Man and his sidekick Scooter, who bears a keen resemblance to Evelyn. An appealing combination of Tintin-inspired art with its European sensibility mingles with the superhero stippling of a classically American style. A nice mix of espionage, romance and adventure, this well-paced, well-drawn tale will surely appeal to thoughtful young readers. (Graphic historical fiction. 12 & up)" --Kirkus
"This graphic novel takes the kid detective genre to the world of WWII espionage. In this case, the role of Nancy Drew is being played by Evelyn, a 10-year-old girl who's recently come to live with her free-spirited aunt in New York City. Imaginative and bored, Evelyn and her friend Tony see spies everywhere, with decidedly mixed results. Unlike the Hardy Boys or Boxcar Children, they don't always get it right, and their false alarm about a surly doorman makes for embarrassing headlines. Eventually, they do happen upon a real Nazi spy, and they're off on an exciting adventure, hiding in bakery vans, sneaking into parties, and decoding secret messages with a little help from Evelyn's Aunt Lia and a friendly policeman. The writers manage the difficult trick of writing real children into a terrific adventure story, and the book is completely age-appropriate without ever talking down to its readers. Dizin's loopily expressive art has a period feel while still looking fresh and kid-friendly. His work on "Zirconium Man and Scooter," Evelyn's comic about herself and her absent father as superheroes, is particularly charming. City of Spies is a good old-fashioned adventure story and rip-roaring fun. Ages 12-up. (May)" --Publisher's Weekly, Stared Review
"Gr 5-9-This complex, well-executed work combines a modern, emotional narrative with a European comic style. In 1942, Evelyn, a neglected rich girl, spends her time drawing the comic-book adventures of Zirconium Man and Scooter, who are idealized superhero versions of her father and herself. When her absentee father sends her to live with an upper-crust bohemian aunt, the transition is initially difficult. However, after finding herself in New York City's German district, Evelyn soon pairs up with Tony, who lives in her building, and the two decide to rid the city of the Nazi spies they imagine are all around them. Following a false lead causes the lives of the kids, the aunt, and a down-on-his-luck police officer to intersect. When the children bump, quite literally, into an actual Nazi spy ring, love, adventure, and redemption all arise in course. The artwork is highly reminiscent of Herge, creator of the "Tintin" series, and is a perfect complement to both the period and feel of the story. Another nice touch is that the artwork changes to a more traditional American style when depicting Evelyn's own comic fantasies. The challenge with City of Spies will be finding the right audience. While the illustrations evoke comics that are traditionally for younger readers, the many personal dilemmas at work in the narrative will be appreciated by older students. But, if the right reader can be found, this should be a very enjoyable reading experience." --Douglas P. Davey, Halton Hills Public Library, Ontario, Canada, School Library Journal
You may also be interested in...
Simply reserve online and pay at the counter when you collect. Available in shop from just two hours, subject to availability.
Thank you for your reservation
Your order is now being processed and we have sent a confirmation email to you at
When will my order be ready to collect?
Following the initial email, you will be contacted by the shop to confirm that your item is available for collection.
Call us on or send us an email at
Unfortunately there has been a problem with your order
Please try again or alternatively you can contact your chosen shop on or send us an email at