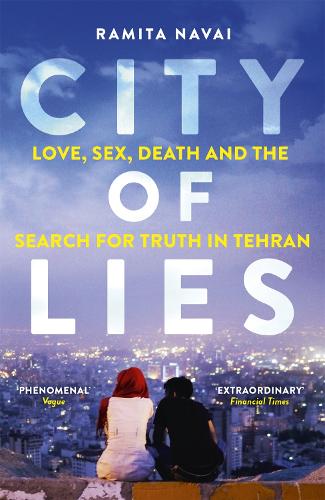 City of Lies: Love, Sex, Death and the Search for Truth in Tehran (Paperback)
Ramita Navai
(author)
Paperback
320

Pages
Published: 11/06/2015
An eye-opening account of ordinary lives lived under the shadow of a repressive regime, City of Lies documents the dangerous, desperate and frequently bizarre activities of eight men and women residents of Tehran. In collating and presenting these testimonies, Navai sheds light on a society all too often hidden from Western eyes.
Lying in Tehran is about survival.
Welcome to Tehran, a city where survival depends on a network of subterfuge. Here is a place where mullahs visit prostitutes, drug kingpins run crystal meth kitchens, surgeons restore girls' virginity and homemade porn is sold in the sprawling bazaars; a place where ordinary people are forced to lead extraordinary lives.
Based on extensive interviews, City of Lies chronicles the lives of eight men and women drawn from across the spectrum of Iranian society and reveals what it is to live, love and survive in one of the world's most repressive regimes.
Publisher: Orion Publishing Co
ISBN: 9781780225128
Number of pages: 320
Weight: 240 g
Dimensions: 196 x 128 x 20 mm
---
MEDIA REVIEWS
'An intriguing book based on the premise that, to survive in a repressive regime where the government believes it has the right to interfere in even your most intimate matters, you have to lie... A talented writer... Navai has a reporter's eye for the telling detail... this is a timely and beautifully written insight into the lives of Tehranis - "masters at manipulating the truth", Navai says - just as their country seems to be opening up.' - Christina Lamb, Sunday Times
'Welcome to life in the Islamic Republic of Iran - or, more specifically, in its teeming, ugly, catastrophically polluted capital city. Ramita Navai is an award-winning British-Iranian journalist and broadcaster who has lived in Tehran and London, and feels allegiance to both countries. It was while working as a newspaper correspondent in Tehran that she began interviewing a wide range of ordinary people about their lives, collecting stories which are (unsurprisingly) extraordinary. This gripping book is a mosaic of such glimpses into a very different world... the chapters read like utterly compelling short tales, catapulting us imaginatively into the hearts and minds of people we feel we know, even though their lives are so very 'other'... It is the author's considerable achievement to make you feel deeply moved by these lives - even as you send up a fervent prayer of gratitude that we were lucky enough to be born here.' - Bel Mooney, Daily Mail
'City of Lies is a fascinating account of ordinary life in a major city where religious fanaticism has been allowed to run riot. It's hard to close the book without valuing the freedom secularisation brings, and the relative absence of hypocrisy that arrives through not having to repress human nature.' - Entertainment Focus
'City of Lies is thoroughly researched and deeply evocative of place. Navai has a formidable talent as a storyteller. Her stories are by turns comical, intriguing and heart-wrenching. And although there's a great deal of sadness in the stories she tells, she writes with obvious love for the wondrous variety of life in Tehran.' - Geographical
'City of Lies explores the double lives led by Tehranis as they evade the watchful eye of the regime... a rich portrait of this vibrant, opaque and paranoid city... at the heart of City of Lies is some brilliant reporting. Persuading subjects to talk, even anonymously, is an achievement where betrayal is commonplace and there is always someone watching. Black humour runs through the book.' - Hugh Tomlinson, The Times
'Navai's Tehran teems with crystal meth pushers, gun runners, prostitutes and transexuals... what makes City of Lies engaging is that it is rooted in real-life stories... It is, in many ways, the written version of a television docudrama, with parallel stories that never intersect.' - Farah Nayeri, The Independent
'Searing account of life in Tehran... Iranians share stories intimate and unforgettable enough to establish City of Lies as a remarkable and highly readable map of its human geography... Navai's prose is startling... She picks up snatches of songs, poems, billboard propaganda and is quick to find the knife and turn the blade on the hypocrisy of the city she knows so well.' - Eliza Griswold, The Sunday Telegraph
'Telling the story of Tehran through a cast of characters...Navai illustrates how Iranians are far more bound by what they have in common: a strong awareness of class, an irrepressible drive for upward mobility, daily clashes with the forces of modernity and tradition, and a profound disillusionment with the opportunities society has on offer. Fast-paced and saturated with detail each chapter describes a Tehrani whose life the treacherous, glittering city has disfigured in some way... what [Navai] has done is extraordinary. Despite the bleakness of life in their "city of lies", her Iranians continue to soldier on, hoping the future holds something better.' - Azadeh Moaveni, Financial Times
'Phenomenal... Pacy and informative. City of Lies is an extraordinary insight into a country barely known - an often feared - by the West.' - Vogue
'In City of Lies, the British-Iranian writer Ramita Navai has brought together an intriguing collection of cameo portraits to illustrate the difficulties and challenges Tehranis face in their everyday lives... Navai provides a fascinating insight into the routine hypocrisy and dishonesty for millions of city-dwellers... Navai's book offers a fascinating glimpse into how Iranians cope with the demands of living under one of the world's most authoritarian regimes. But it also suggests the country needs to experience an altogether different type of revolution before its people can ever dream of living something approaching a normal life.' - Con Coughlin, The Mail on Sunday
'Of the great cities of the Earth, Tehran is by no means the most engaging... Bursting with automobiles, poisoned with smog and opium, shaken by earthquakes and almost permanent insurrection... City of Lies shows how well the Islamic Republic, for all its unworldliness has survived for 35 years and why a man such as ex-president Ahmadinejad, to us a mere clown, for a long time commanded a following... In few other places is the gulf so wide between what is said and what is done.' - James Buchan, The Guardian
'Iranians will condemn Navai for sowing this bleak and ugly side of Iran, in which she has broken taboos and laid bare what everyone knows but nobody mentions... She writes well and with fluency, in tight prose.' - Antony Wynn, TLS
'In City of Lies Ramita Navai tells us that 'in order to live in Tehran you have to lie'. Survival there depends on dodging the fatwas of Iran's medieval theocratic regime. Drink, drugs and paid-for sex proliferate; the divorce rate soars while religious attendance tumbles. Navai paints brilliantly insightful portraits of eight Tehranis suffering under an Iranian revolution which has gone terribly wrong - but with no stomach for another in the light of the failed 'Arab Spring' - Jonathan Rugman, The Spectator
'Gripping, a dark delicious unveiling of the secret decadent life of Islamic Tehran, deeply researched yet exciting as a novel.' - Simon Sebag Montefiore, Evening Standard
'Each chapter reads almost like a short story, covering the fascinating inner worlds of socialites, prostitutes, gangsters, junkies and anti-regime bloggers. Nose jobs, illicit sex, bribery and fear of the Gashte Ershad morality police loom large in this vivid captivating insight as Navai explores the little reported day-to-day existence of Tehranians.' - Tom Chesshyre, The Times
'Compulsively readable... readers are granted a panoramic view of Iranian society.' - The Wall Street Journal
'This is an important book. A seamless literary tapestry that just happens to be true. Ramita Navai's collection of stories are uniquely Iranian yet they will move, chill and delight even a reader indifferent to Persia.' - Sam Kiley
'Ramita Navai has written a fascinating, unforgettable book about the unbreakable human spirit in one of the world's great cities.' - Jeremy Bowen
You may also be interested in...
×
Download the Waterstones App
Would you like to proceed to the App store to download the Waterstones App?
Reserve online, pay on collection


Thank you for your reservation
Your order is now being processed and we have sent a confirmation email to you at
When will my order be ready to collect?
Following the initial email, you will be contacted by the shop to confirm that your item is available for collection.
Call us on or send us an email at
Unfortunately there has been a problem with your order
Please try again or alternatively you can contact your chosen shop on or send us an email at