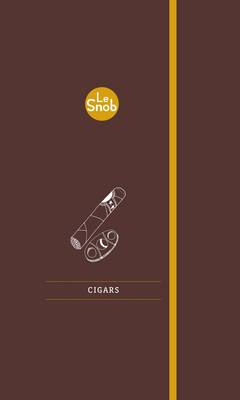 Hardback
Published: 01/08/2011
For the men and women who appreciate the finer things in life, The Le Snobsare your guides to the work of skilled artisans, culinary connoisseurs andinspired designers from around the world. Impeccably stylish and beautifullyunderstated, these handbooks will appeal to anyone seeking perfection and,importantly, ensure you always know more than everyone else. Witty, assuredand informative, these books are the perfect foil for your passion for the finerthings in life. Evocative and richly appointed with little-known facts, this bookis about savouring the world's most sophisticated tobacco products to the full. It celebrates the fine distinctions between brand, place, tradition and taste thatelevate cigar appreciation to an art in itself. Le Snob: Cigars reaches acrossthe Caribbean from the powerful tobaccos of Central America, through Cuba'srich aromas, to the Dominican Republic's finesse to show you the finest cigarsavailable today, and why it is worth being a snob about the cigars you choose tosmoke. With the cachet knowledge every expert must possess, plus authenticinsights into the lives and skills of cigar producers, Le Snob: Cigars offersimpeccable advice on all aspects of this traditional, from pronunciation toprofessional tasting techniques. The book also features an authoritative directoryof rare and prestige cigars to help you explore the very finest international stylesin greater depth.
Publisher: Hardie Grant Books
ISBN: 9781742701714
You may also be interested in...
We would love to hear what you think of Waterstones. Why not review Waterstones on Trustpilot?