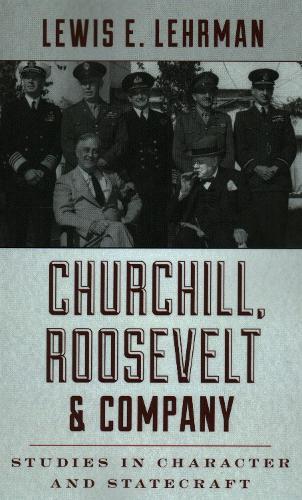 Churchill, Roosevelt & Company: Studies in Character and Statecraft (Paperback)
Lewis E. Lehrman
(author)
Paperback
472

Pages / Published: 01/10/2020
During World War II the "special relationship" between the United States and Great Britain cemented the alliance that won the war in the West. But the ultimate victory of that partnership has obscured many of the conflicts behind Franklin Roosevelt's charm and Winston Churchill's victory signs-the clashes of principles and especially personalities between and within the leadership of the two nations.

Synthesizing an impressive variety of sources from memoirs and letters to histories and biographies, Lewis E. Lehrman explains how the Anglo-American alliance worked-and occasionally did not work-by presenting portraits and case studies of the men who worked the back channels and back rooms, the generals and the admirals, the secretaries and under secretaries, ambassadors and ministers, responsible for carrying out Roosevelt's and Churchill's agendas while also pursuing their own. Such was the conduct of Joseph Kennedy, American ambassador to England often at odds with FDR; generals George C. Marshall and Dwight D. Eisenhower; spymasters William Donovan and William Stephenson; Secretary of State Cordell Hull, whom FDR frequently bypassed in favor of Under Secretary Sumner Welles; the Soviet spy in the leadership cadre of the US Treasury, Harry Dexter White, and his struggle with Lord Keynes; British ambassadors Lord Lothian and Lord Halifax; and, above them all, Roosevelt and Churchill. The President and the Prime Minister had the difficult task, not always well-performed, of managing their subordinates. Churchill and Roosevelt frequently chose to conduct foreign policy directly between themselves, and with Stalin.

Scrupulous in its research and fair in its judgments, Lehrman's book reveals the personal diplomacy, the character and statecraft, at the core of the leadership of the Anglo-American alliance.
Publisher: Stackpole Books
ISBN: 9780811739436
Number of pages: 472
Dimensions: 216 x 140 mm
---
MEDIA REVIEWS
Lewis E. Lehrman's arresting and deeply researched study of the Anglo-American alliance during the Second World War brilliantly establishes how Roosevelt and Churchill-sometimes willing to use back channels and bypass conventional diplomatic authority-found and relied on the right people to smooth relations between the two countries. Rich in historical immediacy, Churchill, Roosevelt & Company demonstrates how generals, diplomats, spies, businessmen, economists, and other key figures served the needs of both Prime Minister and President in their unyielding defense of democratic government. Not least, the book delivers a powerful reminder of the contingent role of human interaction and personal chemistry in determining the course of historical events. - Prof. Richard Carwardine, Rhodes Professor of American History at Oxford University
Lewis E. Lehrman demonstrates an almost uncanny feel for all the senior personalities around Winston Churchill and Franklin D. Roosevelt during the Second World War; he understands their characters, viewpoints and motives and has an enlightening insight into all of them, coupled with an impressively objective judiciousness. I didn't think much more of genuine value could be written about this glittering galere-one of the great 'genius clusters' of history-but this well-researched, well-written and profoundly thoughtful book proves me wrong. - Prof. Andrew Roberts, King's College, London, author of Masters and Commanders: How Churchill, Roosevelt, Marshall and Alanbrooke Won the War in the West
Lewis E. Lehrman has done a lot of business in his life, both public and private. He is also an accomplished scholar and historian. In this book, Churchill, Roosevelt & Company, he describes the business of war and politics during the Second World War. The focus is on Churchill and FDR and their Anglo-American team which led the war effort in the West. Mr. Lehrman is exceptionally well-qualified, and his excellent book is proof of that fact. - Prof. Larry Arnn, former research director of the multi-volume Martin Gilbert authorized biography of Winston Churchill; author of Churchill's Trial; now president of Hillsdale College and responsible for the Churchill project at Hillsdale College
Lewis Lehrman's Churchill, Roosevelt & Company offers a detailed look at the special relationship, especially during World War II, when Anglo-American cooperation achieved its most impressive results and faced its most formidable challenges. The book is packed with fascinating detail and illuminates not only the past but the challenges of the present day. * The Wall Street Journal *
Lewis E. Lehrman's Churchill, Roosevelt & Company is a richly detailed history of the Anglo-American alliance, in which the architects of the war effort include not only Winston Churchill and Franklin Delano Roosevelt, but a host of diplomats, ministers, secretaries of state, spymasters, business leaders and other subordinates....Lehrman, a historian and recipient of the National Humanities Medal, offers compelling portraits and case histories of the men who worked together-and sometimes intrigued against each other-in the campaign to end world war....The resulting group biography is a veritable embarrassment of riches for history buffs eager for a deeper understanding of the forces that led to the end of the greatest global conflict in modern times. -Lee Polevoi, Foreword * Forward *
Lewis E. Lehrman's...Churchill, Roosevelt & Company: Studies in Character and Statecraft, is an impressive array of eclectic sources, Lehrman has constructed an intimate narrative of the personalities that traversed these great events, their role in shaping the world around them as well as their limitations....Lehrman's insight and extensive research, his willingness to let the individuals speak for themselves through endless quotations in a seamless narrative, make this an excellent addition to the bookshelf. -Chris Murray, DefenceReport.com
Lewis Lehrman...has written an invaluable and notably unsentimental account of the relationships between the two leaders and their respective staffs....Lehrman writes with a deep knowledge of the period that is productive of much insight...his portrait of "an intimate, effective Anglo-American alliance" is not only illuminative of a finest-hour chapter in the history of nations that carry on the English tradition of liberty, it also moves the reader to ponder the future. -Michael Knox Beran, National Review * National Review *
His well researched analysis begins...utilizing numerous sources, Lehrman conveys the complexities, jealousies, and challenges these men confronted during the war and how many disagreements-some petty, many substantial-were set aside in the interest of defeating Germany and Japan....This impressive and thorough history will appeal to those with an abiding interest in WWII... -Publishers Weekly * Publishers Weekly *
"In his newest work, "Churchill, Roosevelt & Company: Studies in Character and Statecraft" (Stackpole, 2017), historian Lewis E. Lehrman offers deep insights into that remarkable relationship [between the United States and Great Britain]. The volume provides a candid and unvarnished accounting of pivotal moments in the story of the world's most consequential alliance, going beyond the broad strokes of history into the far more nuanced realities. Lehrman performs a significant public service through his powerful analysis of this key moment in history." - Michael Poliakoff and Ted Eismeier, Real Clear Books
"Lewis E. Lehrman's new book, Churchill, Roosevelt & Company, is a formidable digest of most of the memoirs and serious historical analyses and biographies about and around the 1940-1945 era alliance between Winston Churchill, Franklin D. Roosevelt, and Joseph Stalin. As such, it is up to date and contains a great many and interesting asides that even the devotees of that great drama will find enlightening. The book is a very interesting read, and in many places, is perceptive. I strongly recommend it for its insightful portrayal of almost all the key personalities in the upper echelons of Anglo-American leadership in the European part of World War II." - Conrad Black, The New Criterion
"Lewis E. Lehrman applies scholarly yet lucid treatment to complicated relationships. Churchill, Roosevelt & Company is written to be enjoyed by lay readers and scholars alike. It is immediately accessible. The story Lehrman reports appears to be the fruit of a lifetime of research. There is hardly a point he makes that is without substantial documentation. His fascinating endnotes encompass over 100 pages. This provides an immediately accessible story that is easy to read and follow." - William R. Collier, Tioga Freedomist
"In his new book, Churchill, Roosevelt & Company: Studies in Character and Statecraft, National Humanities Medal holder Lewis E. Lehrman describes, in a strong narrative and with great precision, the tense diplomatic relationship between the United States and Great Britain in the lead-up to World War II. Lehrman demonstrates a jeweler's eye for detail. He does an excellent job at documenting and capturing personalities, and not only those of Roosevelt and Churchill. This book is suffused with human interest." - Jon Schweppe Townhall.com
"Churchill, Roosevelt & Company is a more detailed account of how the allies came together, executed their tasks, and then drifted apart, than any other book of its compact size that I have read. If you want to read a comprehensive account of the war in less than 500 pages, this is the book. Lehrman has produced a unique chronicle of World War II, focusing not on chronology but on the interaction of the war's major figures and lesser figures. His research is overwhelming and he writes elegantly." - R. Emmett Tyrrell, The American Spectator.
You may also be interested in...
×
Download the Waterstones App
Would you like to proceed to the App store to download the Waterstones App?
Simply reserve online and pay at the counter when you collect. Available in shop from just two hours, subject to availability.
Thank you for your reservation
Your order is now being processed and we have sent a confirmation email to you at
When will my order be ready to collect?
Following the initial email, you will be contacted by the shop to confirm that your item is available for collection.
Call us on or send us an email at
Unfortunately there has been a problem with your order
Please try again or alternatively you can contact your chosen shop on or send us an email at