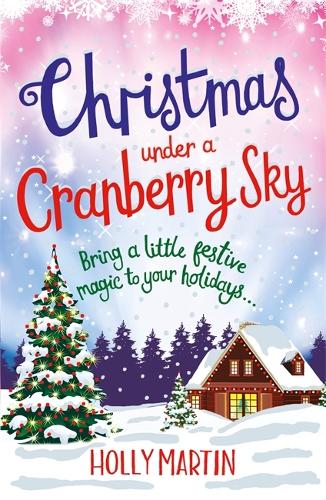 Christmas Under a Cranberry Sky (Paperback)
Holly Martin
(author)
Paperback
368

Pages / Published: 02/11/2017
Curl up with this gorgeously romantic tale and let the glistening snow and the roaring fires of Stardust Lake Hotel get you in the festive spirit this Christmas. Piper Chesterfield lives a glamorous life travelling the world and reviewing the finest hotels. She calls nowhere home, she works alone and that's how she likes it. For long ago Piper decided that to protect her heart she should lock it away. So when Piper's next assignment brings her to the newly opened Stardust Lake Hotel for the festive season, the last person she expects to face is Gabe Whitaker, the man who broke her heart so completely she could never love again. But Piper isn't the only one who has been frozen in time by heartbreak. Gabe hasn't forgotten the golden-eyed girl who disappeared from his world without a trace. Now fate has reunited them on Juniper Island, can the magic of Christmas heal old wounds? And can this enchanting town be the one place Piper can finally call home? Read what everyone is saying about Christmas Under a Cranberry Sky: 'I couldn't get enough . . . This story is MAGICAL . . . I wish I could spend my next Christmas on Juniper Island . . . It's the perfect story to get into the festive mood and it's one you cannot put down.' Simona's Corner of Dreams 'I absolutely LOVED this book. Holly Martin just completely wows you with her beautiful writing, wonderful characters and great story.' Renita D'Silva 'This story is absolutely beautiful.' Me, Cupcakes and Tea 'Having just finished and been astounded by Christmas Under A Cranberry Sky, I think I am fairly safe in declaring Holly Martin a queen of the Christmas book.' Rachel's Random Reads 'Christmas romance at its absolute best . . .' Lozza's Book Corner 'I have yet to read a book by Holly Martin that I haven't loved, and this one is no different.' Clara's Books and Lit 'I cherished every single page of this book . . . Holly whisks you away to this magical place that had me craving all things Christmas.' Star Crossed Reviews
Publisher: Zaffre Publishing
ISBN: 9781785763120
Number of pages: 368
Weight: 269 g
Dimensions: 198 x 129 x 21 mm
---
MEDIA REVIEWS
Lovely Christmas romance that draws you into Penny's world and has you cheering for her all the way! * Angry Grey Cat Reads *
First time in print for this e-book author much loved by bloggers * The Bookseller *
Christmas at Lilac Cottage is the perfect winter read. It's everything you need in a Christmassy book and I suggest you make yourself a big cup of hot chocolate when you start reading it. The story of Penny and Henry is filled with humour, love and emotion. I have thoroughly enjoyed it and was sad to leave them once I finished the book. Holly is incredible at writing stories that read fluent, and this one flowed so easy that I often wondered if I had skipped a line. But it was just due to the fluent prose and well written story * Silk eReads and Writes *
5/5* * My Life as a Dog Bed *
Like a creamy hot chocolate with marshmallows, you won't want to put this deliciously heartwarming novel down * Isn't That Novel *
Christmas at Lilac Cottage is the perfect winter read. It's everything you need in a Christmassy book and I suggest you make yourself a big cup of hot chocolate when you start reading it * I Read to Escape *
I loved this sweet and gentle holiday love story and the descriptions of the cottage and the village made me feel like I was in White Cliff myself * For the Love of Books *
Christmas at Lilac Cottage is definitely a book to try, preferably whilst wrapped up in a warm blanket with a mug of steaming coffee next to you...it will certainly get you in the mood for the Christmas festivities that are set to come * Book Worm Mummy *
The first half of the book was wonderful. I LOVE Penny, in fact I loved her through the whole book. I loved the small town feel and the festive setting of the book. It had great secondary characters as well as well as some laugh out loud moments * Between the Book Ends *
This is a very pretty silver sparkling cover with a one of the best romantic stories that I have ever read. It really is a page turner with lines that made me smile, laugh and had me in tears. I just never knew what a fantastic author Holly Martin was until I read Christmas at Lilac Cottage * I Read Novels *
I am totally in love with the cover of her books. What is not to love? * Lou's Mind *
Cozy and sweet, this is the perfect book to snuggle up with on a cold, drizzly day * A Bookish Way of Life *
I love Christmas and I love a good Christmas romance and that is exactly what this book is....such a charming easy read...a perfect book to curl up with around the fire * MI Bookshelf *
Grab a cup of your favorite tea or coffee, curl up in front of the fireplace or dig your toes in the sand and take a trip to White Cliff Bay. Christmas at Lilac Cottage by Holly Martin is a delightful Christmas tale that can be enjoyed any time of the year * Deb Will Reads *
I absolutely loved this story. This book promises you to be the perfect romance book to curl up with in front of a fire. I must say that it delivers every promise. I didn't want to put it down * With Love for Books *
Um, I think I just found a new favorite...I absolutely loved this story. This book was absolutely charming and heartwarming. Overall, I found this a wonderful novel. Highly recommended * No Apology Book Reviews *
I honestly think that this story had the perfect ending and was very well written. I have a visual mind so I loved that this was so descriptive. It was also very fast moving but I feel as though that added to the story in some way * Me, Cupcakes and Tea *
A really cute, simple, festive romance that will undoubtedly warm your heart during the cold winter days before Christmas * A Spoonful of Happy Endings *
This is a cute, warming Christmas read about love, life, romance, family, loneliness and friendship. It's sweet and fun, with romantic touches and emotional moments, and even a touch of danger here and there. Perfect if you want a charming, cosy read this winter * The Book Gannett *
The story flows at a lovely, warm and gentle pace that makes for heartwarming reading. Both Penny and Henry are wonderful characters...Packed with humour, love and full of Christmas cheer, 'Cottage At Lilac Cottage' is a deliciously tender and festive story, that made for magical reading * Handwritten Girl *
Christmas at Lilac Cottage had it all but mostly, it was romantic storytelling at its very best and a true Christmassy delight to read * Reviewed the Book *
A heartwarming Christmas love story. An enjoyable read to make you feel good in the dark cold nights.It's a simple festive romance that ticks all of the right boxes. There was drama, attraction, a sprinkling of heartwarming do-gooders... Very enjoyable * Brightly Shining Love *
Christmas at the Lilac Cottage is a lovely feel-good read just right for the run up to Christmas - a season which forms the back drop of the story, but doesn't over dominate. Even better, there's a smashing recipe just asking to be baked at the end too. I'm looking forward to reading much more from Holly Martin in the future * Linda's Book Bag *
Christmas at Lilac Cottage is a heartwarming Christmas story that is perfect for those who love funny and festive small town romances * With Love for Books *
Like a creamy hot chocolate with marshmallows, you won't want to put this deliciously heartwarming novel down... * Writing.ie *
This was a fun and fabulous book to curl up with under the blanket and with a fire blazing. In a way it make me yearn for those cosy winter nights in with nothing better to do than read a book (sorry... sort of). And best of all it made me excited for Christmas! * Escapades of a Bookworm *
The perfect Christmas treat * Annie's Book Corner *
Full of sparks, humour, gentle moments, with characters to die for... I highly recommend this heart - warming, lovely story! * On My Bookshelf *
This book had everything I want in a Christmas novel, a beautiful setting, a romance which is both naughty and nice, adorable characters, a few moments of danger or uncertainty and most of all I want to laugh. With Christmas at Lilac Cottage Holly Martin has completely nailed all these aspects and written a truly wonderful book. I can see this being a favourite of my Christmas reads for many years to come * That Things She Reads *
A perfect love story * Heat Magazine *
'Christmas at Lilac Cottage is the first book I have read by the author, Holly Martin, but it is definitely not my last. As soon as I started reading it, I was drawn in.' * Sarah Broadhurst reviews *
'This is a fantastic book to pick you up and help you escape from the world for a little bit. A fantastic Christmas read.' * Laura's Little Book Blog *
'Easy to read with a really great setting. The author has created some delightful characters too...Christmas at Lilac Cottage is a feel-good read. Holly Martin adds a dollop of fun to her well imagined characters and has produced a book that will cheer everyone on the coldest winter evening.' * Random Things Through my Letterbox *
'I would recommend this with mulled wine and a (hopefully delicious!) mince pie! I can't fault the festive nature of Christmas at Lilac Cottage; tree buying, mince pie making and Christmas balls are all in abundance! It definitely embodies a modern, small town Christmas romance!' * Literature Love Reviews *
'This is a great holiday book to curl under a warm blanket, by a fire with a warm beverage and it will put you into the Christmas spirit.' * Books N Kisses *
You can always count on Holly Martin for a cozy romantic escape * Happily Ever After Novel Thoughts *
I truly loved this novel. It is a second - chance romance, it is about overcoming issues, it is about trust and forgetting about the past and looking into the bright future, and I loved how optimistic it is and when I came to the end I really didn't want to part with this lovely Island. Already looking forward to reading the second book in the series, but in the meantime I highly recommend "Christmas Under the Cranberry Sky" to you! * On My Bookshelf *
'This book has made me look forward to the cold weather coming in, for blankets and fires to be essential and to have the perfect excuse to read a perfect book. This book had me swooning, heart melting and put a big smile on my face over the cuteness of it all. Guys if you like Christmas, if you love romance, and it you are after something cute and will give you all the feels. Then this is the book for you.' * Escapades of a Bookworm *
Funny, heartfelt and wonderfully warm * HEAT magazine *
If a cuddly blanket could be book shaped then Christmas Under a Cranberry Sky is the absolute perfect match to wrap yourself up in. The warmth of this wonderfully romantic festive story spreads from the absolute beauty of its sparkly cover, to the delicate balance of romance and family drama, which blend together to make the perfect fit for a delightful Christmas read * Jaffa Reads Too *
This is sparkly and Christmassy from the cover down to the characters. A gorgeous read of second chances and new beginnings. All set in a idyllic location. This really swept me away and you can't help but feel excited for all things festive. What happens when we listen to our heart and not our head and who risks getting hurt ? I look forward to reading more of her books now I've discovered how great a author she really is * Charlene Jess *
I absolutely loved the setting of this book. Such a perfect place to read about to get in the Christmas mood! This book is pure romance...The story is heartwarming and definitely a great fit for fans of romance * Chick Lit Chickadees *
there isn't an author better at getting you in the Christmas spirit than Holly Martin. Christmas under a Cranberry Sky is as expected, a festive, wonderful wintery tale..There was a lot to love about this novel. Everything, from the setting to the characters, made Christmas under a Cranberry Sky a special kind of read. Regardless of what time of year you read Christmas under a Cranberry Sky, you are bound to feel full of cheer and festive spirit * Reviewed The Book *
Christmas Under a Cranberry Sky is the perfect little book to snuggle up with over the festive season, it's a cute romance read with of course, some drama thrown in because what's a Christmas without a bit of drama? * Be My Anchor *
The one novel I absolutely loved this year, was Christmas under a Cranberry Sky by Holly Martin. I completely adored this book and the storyline nestled within. Holly is such a master of words and it was so incredibly easy to completely lose myself in Piper and Gabe's world. Christmas under a Cranberry Sky will definitely be added to my shelf of most favourite Christmas books. If you are searching for a novel to get you in the festive spirt, look no further - this one is perfect! * Cosmochicklitan *
You may also be interested in...

"A wonderful, christmassy, romance novel"
Christmas Under a Cranberry Sky is my first Christmas book this year, and it's going to be hard to beat. Now I can be a bit of a Bah Humbug at Christmas, and want it to be over as soon as possible. What Holly has... More

"A must read"
I was born 3 days before Christmas which means Christmas fiction is my speciality reading time of year. Holly Martin is one of my favourite authors who blends in the most delightful characters with a story that can... More
Simply reserve online and pay at the counter when you collect. Available in shop from just two hours, subject to availability.
Thank you for your reservation
Your order is now being processed and we have sent a confirmation email to you at
When will my order be ready to collect?
Following the initial email, you will be contacted by the shop to confirm that your item is available for collection.
Call us on or send us an email at
Unfortunately there has been a problem with your order
Please try again or alternatively you can contact your chosen shop on or send us an email at