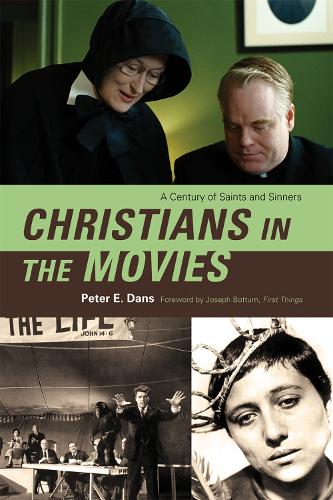 Hardback
410

Pages / Published: 16/06/2009
Christians in the Movies traces the arc of the portrayal in film of Christians from 1905 to the present. For most of the first six decades, the portrayals were favorable and even reverential. By contrast, from 1970 on, Christians-and especially Catholics-have often been treated with hostility and sometimes outright ridicule. This book explores the shift through in-depth reviews and commentaries on over 100 important films, as well as briefer discussions of 75 additional films with Christian themes or characters.
Publisher: Rowman & Littlefield
ISBN: 9780742570306
Number of pages: 410
Weight: 744 g
Dimensions: 238 x 162 x 35 mm
---
MEDIA REVIEWS
Dr. Dans provides a thoughtful and informed perspective on the fascinating intersection of faith and film, using some surprising insights and examples to explode the discouraging old idea that movies and religion must always convey opposing messages. -- Michael Medved, nationally syndicated talk radio host, author of The 10 Big Lies About America
An extensively researched 406-page work, complete with index and photos, of the treatment Christians have received on the big screen. * The Catholic Review *
Dans, a Catholic, has published a second book, Christians in the Movies, a similarly impressive inquiry into the cinematic portrayal of Christianity and Christians. Like his first book, Christians in the Movies is both a highly readable and informative work of film commentary and a discussion of changing social attitudes. . . . Dans not only documents changing images of faith, he sketches the larger social context of films from The Passion of Joan of Arc and Angels With Dirty Faces to Dogma and The Magdalene Sisters. . . . Even when Dans' opinions diverge from the reader's, his views are always engaging and thought-provoking, and the reader's views will benefit from interacting with Dans'. For serious Christian movie buffs, Christians in the Movies is a must-have. * National Catholic Register *
Dans is a physician and professor by trade, and a man of good film taste by a lifetime of cultivation. The longtime writer of a movie column for the Pharos journal and author of Doctors in the Movies: Boil the Water and Just Say Aah, Dans is a true cinephile. Approximately 200 titles are covered in this volume, from the silent era right up to 2008's Doubt. Each entry features a plot summary and brief commentary from Dans on how a film fares in its treatment of Christianity. We hear a fair amount of grumbling about Hollywood's "ridicule of organized religion, especially Christianity," but Dans also enjoys highlighting films that handle the faith with sympathy or ingenuity, from mid-century Bible spectaculars to made-for-TV gems that you probably missed....Dans packs his chapters with tons of information, including mini-essays that historicize cinematic and cultural developments, institutions like the Catholic Legion of Decency, and directors like Bunuel. These essays are delivered in Dans' frank style, and his writing is enjoyably informed by a lifetime of learning. * Books and Culture *
Dans's critical judgments are generally reliable or provocative. . . . Students researching depictions of Christians and Christian concerns and people selecting Christian-themed films for churches and other institutions will find valuable information here. * Library Journal *
Dans adds a welcome, stimulating voice to the discussion about those smudged and sterling religious characters created more in the image of Hollywood than in imago Dei. . . . Recommended. * CHOICE *
Dans is a thoughtful, intelligent observer whose considered views merit respect. As either a historical study of the shifting fortunes of the Church in Hollywood or as a guide to particular films, this solid book offers much of use, and is happily recommended to academic and parish libraries. * Catholic Library World *
The author presents generally informative and interesting plot summaries for each film, followed by his commentary on its merits. . . . Dans offers a comprehensive and insightful overview of religious-themed films. * Publishers Weekly *
Dans, a professor at Johns Hopkins Medical School, wrote a well-received volume about Hollywood's portrayal of doctors from 1931 to 2000. As a serious Catholic and longtime film aficionado, he decided to do the same for Christians. Dans selected over 200 Christian-themed films produced from 1905 to 2005 and organized them by decade, with a brief historical overview for each section. Although he likes most of the films, he also includes films that attack Christians. In this way he is able to trace the steady decline, with some notable exceptions, of the generally positive film portrayals of Christians until, as he puts it, 'all orthodox clergy and believers were either vicious predators or narrow-minded, mean spirited Pharisees.' Dans includes plenty of photos along with the plots and his analyses. . . . A worthy participant in the ongoing battle for the culture, Dans' book should find a prominent place in every family's home theater. * First Things *
Christians in the Movies was a pleasure to read. It should appeal to cinephiles of any faith, and may prove an important analysis of how the treatment of Christians in the movies reflects society's challenge, as once-revered institutions may be vilified, undervalued, and discarded. With our leisure time and disposable funds so limited, and the shift of viewing habits from a night at the movies with friends to DVD family nights at home, the movie industry is facing a crisis of its own. This may be a critical time to pick up Dans's clarion call to participate in restoring the balance. His backstories can show us why; the chapter introductions explain how. * The Pharos *
Christians in the Movies traces the arc of the portrayal in film of Christians from 1905 to the present [2008]....To do an exhaustive study would take more time and effort than an associate professor of medicine at Johns Hopkins University would have, so [Dans] narrowed the field down to a manageable number. That, in turn, makes the book more accessible to the reader than one with several hundred....This is a book to be watched with your computer on and your web browser open to your Netflix account, because you will learn about films you'll want to watch. * Christian Cinema *
In his new book, he offers concise synopses of plots and characters, anaylses, and interesting background details on the movies' makers. * Hopkins Medicine *
He exhibits a deep knowledge of film history and, by and large, insightful engagements of each film.... Given the wealth of material here, there is much to praise about Dans' work.... As a whole, Christians in the Movies is a valuable resource and a much-needed one. This will be a perfect text for classroom and congregational use. Entire courses, lectures, and discussion series are just waiting to be created from the material that he has provided here. * Patheos *
Peter Dans is a gifted writer, with crystal clear prose and an eye for essential details. Christians in the Movies is a panoramic, film by film view of Hollywood's treatment of religion over the years, from the reverential to the profane. Although the book is a boon for researchers, writers and students, Dans' witty insights make it an enjoyable read for anyone interested in movies, culture or religion. -- Robert Knight, director of the Media Research Center's Culture and Media Institute, author of The Age of Consent: The Rise of Relativism and th
Peter E. Dans' book, Christians in the Movies, is a fascinating, compelling, insight into movies featuring Jesus Christ and Christian personalities over the last 100 years. -- Ted Baehr, chairman, Christian Film & Television Commission; MOVIEGUIDE
Christians in the Movies is a stimulating contribution to the discussion about religion and cinema. Peter Dans shows a true love and knowledge of film. -- Peter Malone, editor of Through a Catholic Lens: Religious Perspectives of 19 Film Directors from Around the World
In his book, Christians in the Movies: A Century of Saints and Sinners, Peter E. Dans reviews, with great insight and aplomb, movies released during various periods (such as The Silent Era) over the last century of the motion picture industry. He also reveals the magnitude of the cultural shift that has occurred during that time period....This book is extremely comprehensive and very readable. There are wonderful insights into the directors, authors and others involved in some of the greatest films of all times. There are also interesting reflections by critics of those films. It is well researched and well organized....MOVIEGUIDE (R) is very enthusiastic about this book and recommends it to everyone who likes film history or wants to know what to watch. * Movieguide *
You may also be interested in...
Simply reserve online and pay at the counter when you collect. Available in shop from just two hours, subject to availability.
Thank you for your reservation
Your order is now being processed and we have sent a confirmation email to you at
When will my order be ready to collect?
Following the initial email, you will be contacted by the shop to confirm that your item is available for collection.
Call us on or send us an email at
Unfortunately there has been a problem with your order
Please try again or alternatively you can contact your chosen shop on or send us an email at