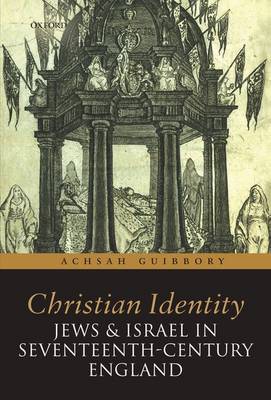 Christian Identity, Jews, and Israel in 17th-Century England (Paperback)
Achsah Guibbory
(author)
Paperback
344

Pages / Published: 26/09/2013
Christian Identity, Jews, and Israel in 17th-Century England is a cultural history of seventeenth-century England. It assesses the complexity and fluidity of Christian identity from the reign of Elizabeth I and the early Stuart kings through the English Revolution, and into the Restoration, when the English Church and monarchy were restored. Throughout this tumultuous period, which included debate about readmission of the Jews, England was preoccupied with Jews and Israel. As the Reformation sharpened national identity and prompted reconsideration of the relation of Christianity to Judaism, English people showed intense interest in Jewish history and Judaism and appropriated biblical Israel's history, looking to the narratives in the Hebrew Bible, even as reformed Christianity was thought to be purged of Jewish elements. There was an unstable, shifting mix of identification and opposition, affinity and distance, in English attitudes towards Jews - a mix that held positive possibilities for Jewish/Christian relations as well as negative. Grounded in archival research, this book analyzes writings ranging from those of Foxe and Hooker to Milton and Dryden, from sermons to lyrics, from church polemic to proposals for legal and economic reform. Literary texts discussed include Herrick's Hesperides, Vaughan's Silex Scintillans, Bunyan's Grace Abounding, Milton's major prose and poems, and Dryden's Annus Mirabilis and Absalom and Achitophel. Attention is also paid to publications associated with James I, Charles I, and Cromwell, and writings by and about such figures as William Prynne, Gerrard Winstanley, Margaret Fell, George Fox, Menasseh Ben Israel, and self-proclaimed prophets such as John Rogers, Abiezzer Coppe, and Anna Trapnel.
Publisher: Oxford University Press
ISBN: 9780199681709
Number of pages: 344
Weight: 532 g
Dimensions: 234 x 156 x 19 mm
---
MEDIA REVIEWS
Review from previous edition [A] large and important book ... It consistently stimulates thought. It should be essential reading for anyone interested in seventeenth century England, literature and history, the history of religion, and interfaith relations. * Jason P. Rosenblatt, Religion and Literature *
Guibbory's work stands as a notable achievement. * Andre A. Gazal, Sixteenth Century Journal *
[A] fine book, a major contribution to the understanding of Early Modern literature, religion, and history, showing many unexpected, revelatory links between works of different kinds. * Warren Chernaik, The European Legacy: Toward New Paradigms *
Guibbory's study offers a rich, original, and well-researched account of the Hebrew Bible and the history of the biblical Jews as they were interpreted in seventeenth-century England ... This outstanding study deserves to be widely read by scholars and students of early modern English history, religion, and literature. * David Loewenstein, English Historical Review *
[An] important book ... Should be essential reading for anyone interested in seventeenth-century England, literature and history, the history of religion, and interfaith relations. * Religion & Literature *
Achsah Guibbory ... brings to the field refreshing insight ... a forceful study that demonstrates that writing English history without the Jews deprives the subject of an important aspect that would have been instantly recognized by people who lived there then. * David S. Katz, Journal of British Studies *
Christian Identity is remarkable for its determination not to subscribe to any one, simple grand narrative - the map it offers is complex ... what distinguishes this outstanding book and the best kind of history is its judicious fullness and the self-awareness that enables the author not to occlude the alterity of the past even as it denies her the ideal she longs for. * Paul Stevens, University of Toronto Quarterly *
Well researched, thoroughly accessible and carefully structured, Christian Identity presents an important argument about some of the ways that early modern Christians constructed their identity in relation to Israel and the Hebrew Bible. * N.C. Aldred, Notes and Queries *
This stimulating book adds a distinctly literary perspective to the growing body of scholarship... These high notes are well prepared by the pleasingly eclectic variety of literary resources upon which Guibbory draws. The book elegantly shows how apologists and critics of the English Church throughout the turbulent seventeenth century shaped its future identity through encounter with the Jewish past. * Sharon Achinstein, Oxford University, Renaissance Quarterly *
Guibbory deftly bridges the traditional academic disciplines of literary criticism, history, and religious studies to substantiate some very specific claims about the formation of early modern Christian identities. She suceeds in this endeavor both because of her astute critical judgments about how to weigh the textual evidence and also because of her years of painstaking archival reseach...This is an important book both because of its explicit recognition of the complexity and fluidity of Christian identity and also because of what it reveals about the specific ways the Reformation precipitated a renegotiation of the relations between Christianity and Judaism in the West. * William E. Engel, The University of the South, Sewanee, Seventeenth Century News *
The great achievement of Christian Identity is to show just how ubiquitous discussion of Judaism was in this period, it reveals that all - Anglicans, Puritans, monarchists, republicans - drew deeply on the Old Testament in their discussions of everything from politics to religion to social life. The book also shows the deep ambivalence at the heart of much of this: many who were willing to celebrate the ancient Jews were equally happy to dismiss their modern descendants with disgust. * The Revd Dr William Whyte, Church Times, October 2011 *
This is a rich, detailed picture of the Jewish aspects of British culture * C.S.Vilmar, Choice *
In Christian Identity ... Achsah Guibbory provides a comprehensive account of early modern English attitudes toward biblical and postbiblical Jews. The complexity of Guibbory's analysis exposes the reductiveness of many prior statements about Christian-Jewish relations in the period. ... This is a richly detailed book that deserves to be read in its entirety. * Studies in English Literature *
Christian Identity is a major contribution to early modern scholarship. ... The most rewarding books transform the reading experience of the field through new or reworked concepts, paradigms and methodologies, and Christian Identity, by confounding neat formulations of the otherness of Jews and exposing the effusions of Englishness in the crucible of Judaism and the narrative of Israelite biblical history, succeeds in doing precisely that. * Elizabeth Sauer, The Review of English Studies *
take[s] the reader through a dazzling array of identifications and interactions ... [a] magnificent account. * John K. Hale, Milton Quarterly *
will be de rigueur reading for anyone interested in understanding the tightly interwoven connections between sacred and secular literature and history as well as religions major role in shaping English national identity. * Rachel Trubowitz, Clio *
This is an important book that significantly advances our understanding of Judaism's role in the formation of early modern Christianity. It breaks new ground in several areas and should be regarded as indispensable for anyone seeking to understand seventeenth-century English culture. * David Hawkes, Modern Philology *
[Guibbory] has created a compelling narrative that allows the reader to move seamlessly to a broader understanding of the seventeenth century and its significance in molding later attitudes. * Frank Felsenstein, Jewish Quarterly Review *
In this study, she [Achsah Guibbory] examines the extent to which biblical Israel, Jewish history and Judaism played a role in shaping Christian identity in England in the century or so between the reign of Elizabeth I and the Restoration of the Monarchy ... Yet, while identification with Israel serves as the theme which runs throughout this study, arguably its greatest strength is that it remains highly sensitive to the different ways in which this was interpreted by different groups, in large part as a result of their respective agendas. * Kenneth Austin, Reformation *
You may also be interested in...
Simply reserve online and pay at the counter when you collect. Available in shop from just two hours, subject to availability.
Thank you for your reservation
Your order is now being processed and we have sent a confirmation email to you at
When will my order be ready to collect?
Following the initial email, you will be contacted by the shop to confirm that your item is available for collection.
Call us on or send us an email at
Unfortunately there has been a problem with your order
Please try again or alternatively you can contact your chosen shop on or send us an email at