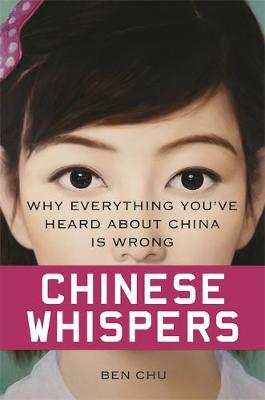 Chinese Whispers: Why Everything You've Heard About China is Wrong (Hardback)
Ben Chu
Hardback
Published: 10/10/2013
Check availability
At your local shop
An iconoclastic portrait of modern China and a counterblast to Western assumptions. We think we know China. The world's most venerable and self-confident civilisation, home to the largest unified race of people on the planet, China manufactures the objects that fill our lives. We see a country peopled by docile and determined factory workers, domineering 'Tiger Mothers' obsessed with education and achievement, and a society that has put the accumulation of wealth above political freedom. Above all, we see a superpower on the rise, destined to overtake the West and to dominate the 21st century. But how accurate is this picture? What if, as Ben Chu argues, we are all engaged in a grand game of Chinese Whispers, in which the facts have become more and more distorted in the telling? We have been getting China and the Chinese wrong for centuries. From the Enlightenment philosophes, enraptured by what they imagined to be a kingdom of reason, to the Victorians who derided the 'flowery empire', outsiders have long projected their own dreams and nightmares onto this vast country. With China's economic resurgence today, many have fallen once more under the spell of this glittering new global hegemon, while others foretell terrible danger in China's return to the centre of the world stage. CHINESE WHISPERS tugs aside this age-old curtain of distortion in a powerful counterblast to modern assumptions about China. By examining the central myths, or 'whispers', that have come to dominate our view of China, Ben Chu forces us to question everything we thought we knew about world's most populous nation. The result is a surprising, penetrating insight into modern China.
Publisher: Orion Publishing Co
ISBN: 9780297868446
You may also be interested in...
We would love to hear what you think of Waterstones. Why not review Waterstones on Trustpilot?