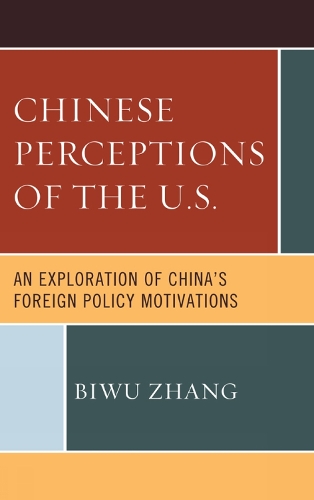 Chinese Perceptions of the U.S.: An Exploration of China's Foreign Policy Motivations (Paperback)
Biwu Zhang

(author)

,

Richard Herrmann

(foreword)
Paperback
282

Pages / Published: 03/05/2013
The "China threat" has been one of hotly debated topics since the early 1990s. Chinese Perceptions of the U.S. is a book about what Chinese scholars said about the U.S. among themselves, their criticism and appreciation of the U.S., its power status in the world, the advantages and disadvantages of its political and economic systems, and most importantly, what China should do with regard to the U.S. The author addresses two fundamental questions: Does China have the capabilities to challenge the international system? And does it have the motivation to do so? This book offers a systematic study of China's foreign policy motivations by exploring how consideration of national interests and how China's perceptions of key characters of the U.S. affect its foreign policy orientation.
Publisher: Lexington Books
ISBN: 9780739184547
Number of pages: 282
Weight: 399 g
Dimensions: 228 x 153 x 20 mm
---
MEDIA REVIEWS
Western opinion is divided on whether a stronger China will be a `status quo' power or a `revisionist' state and a future hegemon. Structural realists stress the difficulties that attend power transitions whereas liberals point to evidence of the civilizing role of globalized commerce. In this important book, Professor Zhang provides much-needed insights into Chinese images of the United States and elite motivations. He does not underestimate the challenges that lie ahead, but his lucid and careful study shows that perceptions of shared opportunities may well restrain the competitive pursuit of narrow advantages. This book is essential reading for analysts of the crucial bilateral relationship of the modern era. It will be especially valuable to all those who are interested in how the closer interweaving of more open economies will influence not only the coming phase of US-China relations but the future of international society. -- Andrew Linklater, Woodrow Wilson Professor of International Relations, Aberystwyth University, UK
Since the end of the Cold-War, many Americans scholars have been trying to describe the ordinary Chinese feeling about the US. The diversities of Chinese views and the complexity of Chinese culture disabled all efforts to draw a comprehensive picture of this issue. Prof. Zhang Biwu achieved a progress in analyzing Chinese scholars' views of the United State in this book. His analysis will help readers to deepen their understanding about how the Chinese scholars of international relations view the US as a solo superpower and its relations with China. -- Xuetong Yan, professor and director, the Institute of International Studies, Tsinghua University, China
This informative, insightful volume by Zhang (Xiamen Univ., China) seeks to probe US-China relations by reviewing Chinese perceptions of the US. The book contains eight chapters, in addition to a foreword by Richard K. Herrmann. Chapter 1 addresses the question of whether China is a status quo or a revisionist country. Chapter 2 discusses the image approach as a useful way of exploring a country's foreign policy motivation. Chapters 3 and 4 deal with China's perceptions of threats and opportunities arising from the US. Chapter 5 explores the Chinese perceptions of US power in various areas. Chapter 6 explains how a study of Chinese perceptions of the US economy is important for understanding China's foreign policy orientation toward the US. Chapter 7 examines Chinese perceptions of US politics. The concluding chapter addresses the question of the extent to which China is a threat to the US. The author believes that there is "a great opportunity for mutual benefits if [China and the US] can manage to cooperate with rather than confront each other. It is rational to define the bilateral relationship as one of partnership." Summing Up: Highly recommended. General readers through research faculty. * CHOICE *
Biwu Zhang brings international relations theory and systematic data to the study of US-China relations in a way rarely seen. His cognitive approach to Chinese perceptions of America casts new light on whether China is a revisionist or status quo power, and his nuanced findings are of great relevance to policy makers and others inclined to exaggerate the 'China Threat.' Images of the United States as a partner, model, imperialist or declining power are all present in a fascinating brew that tells us much about the likely consequences of China's rise. -- Kevin J. O'Brien, University of California, Berkeley
Zhang Biwu has written a sophisticated book on an important period in U.S.-China relations. During the 1990s China experienced rapid acceleration of its rising power status and China and the United States witnessed heightened conflict over Taiwan as well as expanded cooperation on a wide range of economic and political issues. Zhang's extensive research of Chinese perceptions of the United States reveals the multiple sources of Chinese policy making and the complex mix of Chinese expectations of both cooperation and conflict. He thus offers a persuasive analysis of the sources of the frequent oscillations in U.S.-China relations and he makes a valuable contribution to the scholarship on U.S.-China relations. -- Robert Ross, Boston College
Dr. Biwu Zhang's book is a much needed addition to the study of Sino-American mutual images, which are crucial in shaping the direction of this most important bilateral relationship in the 21st century. His analysis of Chinese elites' perceptions of the United States is systemic, sophisticated, and solid. His conclusion that China is not a revisionist power that poses an irreconcilable threat to the United States is well-grounded and convincing. -- Zhong Xiang Zhang, Peking University
This book gives a comprehensive assessment of the strategic relationship between the United States and China. Zhang explains why the relationship is often too complex for generic international relations theories to grasp. Ideal for students of international affairs. -- Denny Roy, Senior Fellow, East-West Center, Honolulu
The steady rise of a non-Western, non-Christian and non-democratic China over the past thirty years has been a major challenge for the United States. In sharp contrast to the U.S. perceptions of China of either 'collapsing' or 'threatening' in the 1990s-a crucial period after the Soviet collapse and before 9/11-the Chinese perceptions of America, according to Dr. Zhang's solid and comprehensive study, were more nuanced and diverse as the U.S. was viewed as a partner, a model and a trigger-happy world policeman. Regardless which perception was right about the other side, China's mixed feelings about America seemed more in line with the complexity of this important bilateral relationship in the 21st century. Zhang's finding also indicates a crucial difference between the world's most powerful and most populous nations; that is, America won't be at ease until the rest of the world becomes similar like 'us' in political, economic and cultural systems; China, however, is more comfortable with a world of different style, shape and substance, be it Western or not. -- Bin Yu, professor and director of East Asian studies at Wittenberg University, Ohio
Zhang's book offers an important dimension that is often neglected in the 'China threat' debate in America: what are the Chinese motivations? These, Zhang rightly argues, can best be understood by looking at Chinese texts that represent a range of prominent analysts writing about America, including its power, politics and economy as well as the threat and opportunity America presents to China. Zhang shows that realist assumptions of aggressive Chinese intentions do not bear themselves out in the large amount of elite Chinese journals he analyzes. Resentment for America is mainly leveled at the latter's interference in China's internal affairs, while in foreign policy China will remain likely committed to an accommodation approach toward America. -- Yan Sun, associate professor of art history, Gettysburg College
This timely and important study is needed now more than any time in recent international history and Professor Zhang has matched his considerable scholarship with both the experience and the insights to bring us a sensitive and compelling account of a major influence on Sino-US relations in the early 21st century. This work is without doubt relevant, thorough and rigorous and the analysis provides the grounds for a far-sighted understanding of one of the permanent features of existing and emerging Great Power politics. For anyone interested in what lies beneath the daily headlines of world diplomacy, and looks to future possibilities, this learned book is indispensable. -- Michael McKinley, senior lecturer, international relations and strategy, The Australian National University, Australia
[T]his book should be regarded as one of the insightful volumes on 'China threat' and China's perceptions of the United States. Therefore, it deserves to be read by scholars, policy makers, analysts, students and concerned readers who are interested in the 'China threat' and China-U.S. relations. * East Asia Integration Studies *
You may also be interested in...
Simply reserve online and pay at the counter when you collect. Available in shop from just two hours, subject to availability.
Thank you for your reservation
Your order is now being processed and we have sent a confirmation email to you at
When will my order be ready to collect?
Following the initial email, you will be contacted by the shop to confirm that your item is available for collection.
Call us on or send us an email at
Unfortunately there has been a problem with your order
Please try again or alternatively you can contact your chosen shop on or send us an email at