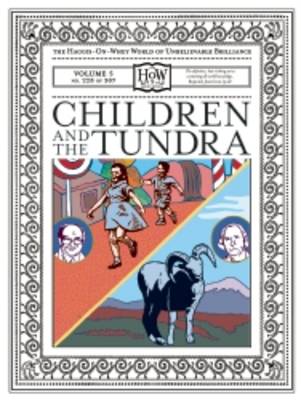 Leather / fine binding
Published: 25/08/2011
This is the fifth volume in the "Haggis-on-Whey" series is the funniest yet, with Dr. Doris and Benny mis-explaining two subjects: children and the tundra. Dave and Toph Eggers have been moonlighting for many years as the not-so-secret authors of the "Haggis-on-Whey" series of faux-scientific texts for children. In each book, an elderly scientist, Dr. Doris Haggis-on-Whey, takes on a subject and rearranges all previous assumptions. She is joined by her husband Benny, who is pretty much useless. The series started with the cult classic Giraffes? Giraffes!, developed through Your Disgusting Head, and peaked with Animals of the Ocean (in Particular the Giant Squid) and Cold Fusion. All of the books look to the naked eye like '50s-era grade school reference books, but inside they're strange, deranged, and hilarious. This fifth volume is actually two books in one, as Dr. Doris, due to space constraints, is forced to explain both the concept of children - a species she doesn't trust for a second - and the tundra, in one book.
Publisher: McSweeney's Publishing
ISBN: 9781934781890
You may also be interested in...
We would love to hear what you think of Waterstones. Why not review Waterstones on Trustpilot?