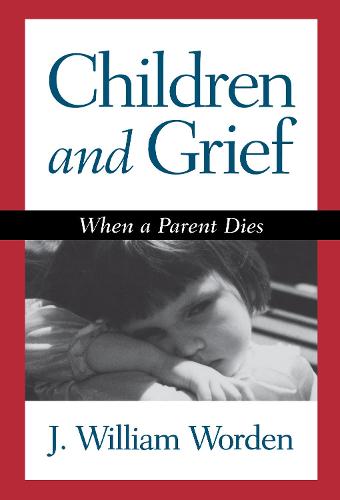 Hardback
225

Pages / Published: 27/01/1997
Drawing upon extensive interviews and assessments of school-age children who have lost a parent to death, this book offers a richly textured portrait of the mourning process in children. The volume presents major findings from the Harvard Child Bereavement Study and places them in the context of previous research, providing insights on both the wide range of normal variation in children's experience of grief and the factors that put bereaved children at risk. The book also compares parentally bereaved children with those who have suffered loss of a sibling to death, or of a parent through divorce, exploring similarities and differences in these experiences of loss. A concluding section explores the clinical implications of the findings and includes a review of intervention models and activities, as well as a screening instrument designed to help identify high-risk bereaved children.

Publisher: Guilford Publications
ISBN: 9781572301481
Number of pages: 225
Weight: 516 g
Dimensions: 229 x 152 x 23 mm
---
MEDIA REVIEWS
"Understanding of the child and of bereavement has informed the systematic approach of the investigators. Most impressive is the attention to details such as developmental level, gender of the child, gender of the deceased and living parent, family size, and sibling order, to mention only a few....This is a readable and practical contribution to the clinical understanding of children who have lost a parent."--The Journal of Psychotherapy Practice and Research

"Each chapter contains a wealth of information, well presented, written in Worden's own inimitable free-flowing style and summarized clearly at the end. This book is more than just the findings from a research project. It offers concise and sensible guidance for those working in the field with families where children are bereaved."--Mortality

"...excellent...this reference book is destined to become another classic in the field of bereavement, grief, and mourning....Any teacher or student of children's grief will definitely want this book in his or her personal professional library....Worden's expertise comes through as he applies his four tasks of the mourning model to the children's level....A nice bonus in this book is Worden's comparisons of the loss of a parent by divorce juxtapositioned against the loss of a parent by death....This book certainly serves as a model of excellence of what can be accomplished and published in the arena of death and dying."--Illness, Crisis & Loss

"...a consummately crafted volume that should become required reading for all psychotherapists in training, practicing psychotherapists with a multicultural clientele, and teachers of advanced multicultural psychology or psychology of women courses."--Signs

"This is an instructive, practical, and readable book that clearly deserves attention....Worden writes in a simple, clear, and straightforward style. He is thoroughly familiar with the literature in his field. He takes care to describe the work of others plainly and fairly, and to show how that work relates to his own views. He organizes materials well. He makes good use of the task-based approach to understanding coping with loss and grief that he first introduced, and he draws on his own extensive experience as a clinician, researcher, and presenter."--Death Studies

"...informative, and eminently readable....It will become a classic study in the area....clinicians and researchers alike will return to this book often for its clear and perceptive treatment of the central issues in the lives of bereaved children and their families."--Journal of Nervous & Mental Disease

"The author is a concise writer, with clear lines of thought....I appreciate how research data have been presented in a clinically practical fashion. Two immensely strong points about this book are the inclusion of verbatim statements from children to add a human dimension to the data, and also the summary 'points to remember' at the end of each chapter....This book will satisfy readers from many differing levels of expertise. It gives a reliable look at the landscape of mourning, in which the reader will find many helpful signposts."--Canadian Child Psychiatry Review

"An important book....Clearly written, with powerful quotations from children themselves, summaries at the end of each chapter and a helpful biography."--Palliative Medicine

"Clear, comprehensive, and extremely useful...A scientifically sound and readable text that will be useful to developmental psychologists, family therapists, family physicians, and parents."--Family Medicine

"Well worth reading by health care professionals and others who care about wounded children...Well-written, well-organized, useful, and comprehensive....Presents practical suggestions about how to identify children at high risk for maladaptation to grief, and offers easily understood approaches that might be taken by adults who are concerned about bereaved children."--Journal of Family Practice

"An excellent addition to the mental health clinician's library....The volume offers a variety of theoretical perspectives, practical guidelines, and therapeutic suggestions....The work not only provides current scientific information, but also shows how it may be used to help children and families adjust to loss and death."--Science Books and Films

"A valued summary of the impact of parental death on children. As such, counselors and educators will find it useful."--Contemporary Psychology

" An excellent book that will enlighten"--Choice

"William Worden is one of our best writers about grief and loss. Children and Grief stands out among the growing numbers of books on this subject because it includes actual studies of children who have faced loss. Worden effectively weaves the learnings from the research with his actual work with children, making the volume all the more impressive."--Ted Bowman, Minnesota Council on Family Relations

This book is a useful aid in understanding the needs of bereaved children and adolescents and will help group workers in their decision making about providing group services for the bereaved."--Long Island Institute for Group Work With Children and Youth

"Helping children cope with the loss of a parent is a complex challenge which touches the lives of everyone around them. This pioneering work, which never fails to give voice to bereaved children themselves, provides immeasurable help and sensitive guidance to those of us involved with facilitating family rituals and supporting children through the tasks of mourning and remembrance."
--Sumner James Waring, Jr., PhD, (Hon), B.S., B..A., Affiliated Family Funeral and Cremation Arrangement Service

"Seldom do books on bereavement integrate theory, research, and practical suggestions. Worden does this masterfully in his new book, Children and Grief. A report of his research on children who experienced the death of a parent is well-integrated with theory and the research of others, along with practical and helpful information that will be useful to clinicians and the public alike. This is must reading for anyone who cares for parentally bereft children."--Gerald P. Koocher, Ph.D., Chief of Psychology, Children's Hospital, Boston; Associate Professor, Harvard Medical School

"What a gift! Dr. Worden has provided us with a much-needed substantive resource surrounding the needs of bereaved children. This new resource is mandatory reading for anyone who is an advocate for the needs of children who have been impacted by the death of someone loved. This book is packed full of new findings and insights that will help guide caregivers in their efforts to help children mourn well so they can go on to live well."--Alan D. Wolfelt, Ph.D., Director, Center for Loss and Life Transition, Fort Collins, CO; author, Healing the Bereaved Child

"Children and Grief will advance the reader's understanding of the impact and needs of children who have had a parent die. Worden goes beyond simply sharing the results of a longitudinal study, which in itself would be helpful. He also identifies those most at risk, and discusses models for intervention. This book is a 'must read' for anyone in the field of childhood bereavement."--Donna L. Schuurman, Ed.D., Executive Director, The Dougy Center for Grieving Children, Portland Oregon

You may also be interested in...
Simply reserve online and pay at the counter when you collect. Available in shop from just two hours, subject to availability.
Thank you for your reservation
Your order is now being processed and we have sent a confirmation email to you at
When will my order be ready to collect?
Following the initial email, you will be contacted by the shop to confirm that your item is available for collection.
Call us on or send us an email at
Unfortunately there has been a problem with your order
Please try again or alternatively you can contact your chosen shop on or send us an email at