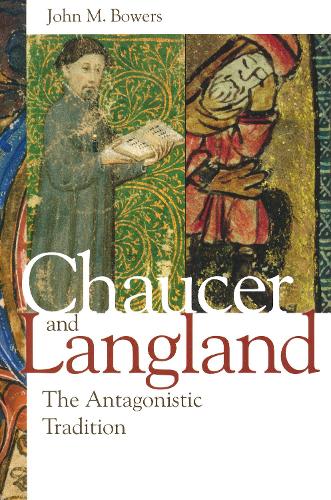 Although Geoffrey Chaucer and William Langland together dominate fourteenth-century English literature, their respective masterpieces, ""The Canterbury Tales"" and ""Piers Plowman"", could not be more different. While Chaucer's writings suggest that he considered himself an heir, not a begetter, the notion of him as a father-figure standing at the head of a patrilineal literary tradition was formulated within a generation of his death. John Bowers asks how Chaucer, not Langland, was granted this position. His study becomes an examination of the political, social, and religious factors that contributed to the formation of a literary canon in fourteenth-century England.The earliest complete version of ""Piers Plowman"" predates Chaucer's text; Langland's poem was immediately influential and widely disseminated; it was read, quoted, copied, and imitated throughout the last decades of the fourteenth century. In contrast, there is very little evidence that Chaucer's works reached any sort of wide readership in his lifetime.Yet it was Chaucer, not Langland, who was elevated as a cultural and literary progenitor early in the century after his death. He was a court poet, and he was fortunate enough to have a series of literary heirs, notably Thomas Hoccleve and John Lydgate, who vigorously promoted him as England's foundational writer. Chaucer was also a kinsman of the new Lancastrian kings, who championed his ""Canterbury Tales"".Langland, on the other hand, despite his contemporary popularity, was a dissenter and social critic. Linked with the Peasants' Revolt in 1381, Langland's poem espoused a brand of religious reform associated with the heretical Lollard movements.Through extensive manuscript evidence, Bowers tracks the reputations of the two writers into the fifteenth century, when studies of fourteenth-century literature became more clearly configured in terms of a double, antagonistic dynamic. Never really separate, the two literary traditions constantly interacted, with the reputation of Chaucer the court poet eclipsing that of Langland the dissenter and critic. By examining the historical and social contexts within which these traditions arose, Bowers helps us to understand how some texts and writers become canonical and how others become marginalized.
Publisher: University of Notre Dame Press
ISBN: 9780268022020
Number of pages: 424
Weight: 590 g
Dimensions: 232 x 159 x 25 mm
---
MEDIA REVIEWS
"This brave and ambitious study seeks to bring together two writers who were kept apart not only by the very stark differences in their styles and the subjects they chose to write about, but by centuries of reception which tended to preserve, and even accentuate, this difference. . . . In putting so many of those hypotheses before us, and exploring them with such detail and imaginative energy, however, Bowers has certainly given all students of Chaucer and Langland a lot to think about." --The Review of English Studies
"Bowers, a Ricardian specialist, cheerfully joins the ranks of those striving to make the 'dull' fifteenth century a thing of interest (if not beauty) and of (sober) joy for the 'longe nightes blake' (if not 'for ever'). [Bowers's] thesis is that Langland was better known and more influential in his day, but the Lancastrian followers of Chaucer, aided by his son Thomas, set up the latter as the canonical national poet of political and religious orthodoxy, leaving Langland to the Lollards and their sympathizers: 'Established on the basis of manuscript transmissions and poetic imitations, a virtual antagonistic relationship merges between the two literary traditions' . . . a lively and engaging book." --Medium Aevum
"John Bower's new book is destined to stir controversy and response. In an extensive and discursive argument richly supported by references to works and authors from the late fourteenth century to the mid-sixteenth century, he explores the literary and cultural dynamics that elevated Chaucer and relegated Langland in literary history... The end result is that this is a book one reads actively, fully engaged with the argument from the first page, agreeing, objecting, thinking." -- Arthuriana
." . . A radical reorientation of how those two authors are read both with and against one another in a strikingly original (and polemical) assessment . . . This is a perfect book for graduate students (or anyone else) who want an up-to-date, one-stop resource for many of the major trends in Chaucer and Langland scholarship of the last fifty years. . . . Chaucer and Langland should provide a touchstone for critical conversation about Chaucer and Langland for years to come." --Speculum
"John M. Bowers begins his newest book with a simple question: why has Geoffrey Chaucer, not William Langland become the poet whom many, beginning with Dryden, have dubbed "the Father of English Poetry"? . . . Bowers arranges his ambitious study as a weaving together of the two poets' lives, works, and legacies. In spite of the sheer scope of his arguments, as well as the breadth of scholarly criticism he invokes in making them, he ably integrates his study of the two poets into a sweeping narrative of tradition formation and perpetuation." --Comitatus
You may also be interested in...
Simply reserve online and pay at the counter when you collect. Available in shop from just two hours, subject to availability.
Thank you for your reservation
Your order is now being processed and we have sent a confirmation email to you at
When will my order be ready to collect?
Following the initial email, you will be contacted by the shop to confirm that your item is available for collection.
Call us on or send us an email at
Unfortunately there has been a problem with your order
Please try again or alternatively you can contact your chosen shop on or send us an email at