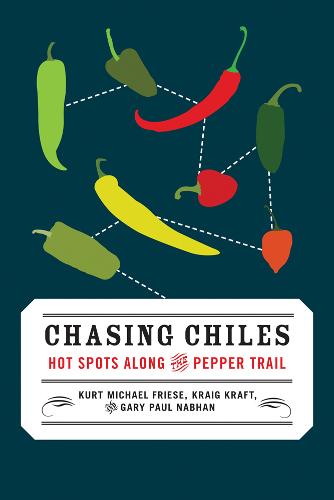 Paperback
224

Pages / Published: 16/03/2011
Chasing Chiles looks at both the future of place-based foods and the effects of climate change on agriculture through the lens of the chile pepper-from the farmers who cultivate this iconic crop to the cuisines and cultural traditions in which peppers play a huge role.
Why chile peppers? Both a spice and a vegetable, chile peppers have captivated imaginations and taste buds for thousands of years. Native to Mesoamerica and the New World, chiles are currently grown on every continent, since their relatively recent introduction to Europe (in the early 1500s via Christopher Columbus). Chiles are delicious, dynamic, and very diverse-they have been rapidly adopted, adapted, and assimilated into numerous world cuisines, and while malleable to a degree, certain heirloom varieties are deeply tied to place and culture-but now accelerating climate change may be scrambling their terroir.
Over a year-long journey, three pepper-loving gastronauts-an agroecologist, a chef, and an ethnobotanist-set out to find the real stories of America's rarest heirloom chile varieties, and learn about the changing climate from farmers and other people who live by the pepper, and who, lately, have been adapting to shifting growing conditions and weather patterns. They put a face on an issue that has been made far too abstract for our own good.
Chasing Chiles is not your archetypal book about climate change, with facts and computer models delivered by a distant narrator. On the contrary, these three dedicated chileheads look and listen, sit down to eat, and get stories and recipes from on the ground-in farmers' fields, local cafes, and the desert-scrub hillsides across North America. From the Sonoran Desert to Santa Fe and St. Augustine (the two oldest cities in the U.S.), from the marshes of Avery Island in Cajun Louisiana to the thin limestone soils of the Yucatan, this book looks at how and why climate change will continue to affect our palates and our producers, and how it already has.
Publisher: Chelsea Green Publishing Co
ISBN: 9781603582506
Number of pages: 224
Weight: 354 g
Dimensions: 229 x 152 x 15 mm
---
MEDIA REVIEWS
Kirkus Reviews-
Three self-described "gastronauts" plumb climate change through the piquant prism of chile peppers.The journey is the destination as the earnest trio launch their "spice ship" throughout the United States and Mexico to learn how shifting weather patterns have been affecting the noble pepper's destiny-and the fate of those who rely on the crop. The authors-a chef, an agroecologist and an ethnobotanist-rely on listening (and, of course, eating) during their one-year odyssey, harvesting anecdotes to better understand the global dilemma. "We had a hunch that climate change wasn't just out there-in the polar ice caps and in receding glaciers-but in here, in our food system," they write. On their travels, the authors meet men like Fernando Nino Estudillo, a spice trader in Sonora who describes his recent quandary: "I've been ten years in the business; most years I drive truckloads of chiltepines to Tijuana myself. Only this last year has the wild chile crop ever failed me...I didn't even make a single trip to the border." But it's not all serious-the trio relishes chiles, after all. In Florida, as they prepare to dig into a jar of datil peppers in white vinegar, they write, "We smiled at one another like old junkies who have just discovered that someone left a couple of joints in their midst."The occasionally florid writing notwithstanding, the book provides well-crafted regional recipes and edifying passages about the surveyed chiles.


"Chasing Chiles makes you feel like you are riding shotgun on Gary, Kraig and Kurt's Spice Ship! This book is a agri-culinary-eco-botanical odyssey that brings some of the most important issues about food, eating, and the impact of climate change to the fore in a way that is both engaging and compelling. A truly pleasurable read for anyone who appreciates authentic flavors and the pleasures of the table--and of course, the wisdom of our farmers. Practical principles we can all "swallow" is the guiding light here."--Tracey Ryder, CEO, Edible Communities
"Chasing Chiles is truly one of the most inspiring and unique treatments of climate change in current literature. The book provides us with an entirely fresh and critical perspective on this contentious issue directly from farmers and chefs, focusing on one particular crop. And the proposed solution to this complex problem is both plain and prudent: 'Eat and farm as if the earth matters, ' as we should have been doing all along."--Frederick Kirschenmann, Distinguished Fellow, Leopold Center for Sustainable Agriculture, and President of Stone Barns Center for Food and Agriculture.
"This book will fascinate not only chile aficionados, but also those students of biodiversity who are alarmed at the disastrous effect that climate change is wreaking on our food crops in general. With this book in hand, I happily climbed aboard the authors' Spice Ship to embark on their personal odyssey, and saw up close the devastating effects of climate change on the environment, farmers, and their crops whose very existence is at stake."--Diana Kennedy, author of The Essential Cuisines of Mexico and The Art of Mexican Cooking
"An instant classic of chile pepper lore, Chasing Chiles is the best social history of chiles since Amal Naj's Peppers from 1992. In fact, I think it's better-because it's not just journalism; it has fascinating science and entertaining humor as well. Highly recommended!"--Dave DeWitt, "The Pope of Peppers" and coauthor of The Complete Chile Pepper Book
"The noble chile--and its equally noble growers--illustrate the key principle we need for a world stressed by an ever-more-fickle climate: resilience. This book will make you understand the situation far better than most dry tomes on the subject."--Bill McKibben, author of Eaarth, Founder of 350.org
"Chasing Chiles is nothing short of a brilliant ethno-bio-culinary convergence. It accomplishes what so very few books do; marrying place to flavor and science, the result is a visceral understanding of the profound impact climate change has on the global community and the foods that we always seem to take for granted. Kurt Friese, Kraig Kraft, and Gary Nabhan have produced a must-read classic for all time."--Elissa Altman, founder of PoorMansFeast.com
"How can our hemisphere's "spice of life" be ignored after reading Chasing Chiles? I mean, what will there be to live for?"--Wes Jackson, President, The Land Institute
"All food has a story behind it--a story about people, culture, land, ecology, and economy. Chasing Chiles looks at the stories behind 6 chile pepper varieties, and the land, culture, food traditions, and farmers that, together, make their existence possible, and the changing climate that threatens all. But this isn't just about vulnerability; it is a book about the hope and resilience we create when we eat food with a story that makes us proud."--Josh Viertel, President, Slow Food USA
"A treasure trove of chile lore and a wake-up call to everyone who cares about real food, Chasing Chiles will amuse and alarm you. These three gastronauts carry a wealth of culinary and botanical knowledge, and their journeys in their Spice Ship uncover an incredibly diverse world of chiles that is changing with breathtaking speed. Stop worrying about the impact of climate change on future harvests; cross your fingers for this year's instead."--Rowan Jacobsen, author of American Terroir and Fruitless Fall: The Collapse of the Honey Bee and the Coming Agricultural Crisis
You may also be interested in...
×
Download the Waterstones App
Would you like to proceed to the App store to download the Waterstones App?
Simply reserve online and pay at the counter when you collect. Available in shop from just two hours, subject to availability.
Thank you for your reservation
Your order is now being processed and we have sent a confirmation email to you at
When will my order be ready to collect?
Following the initial email, you will be contacted by the shop to confirm that your item is available for collection.
Call us on or send us an email at
Unfortunately there has been a problem with your order
Please try again or alternatively you can contact your chosen shop on or send us an email at