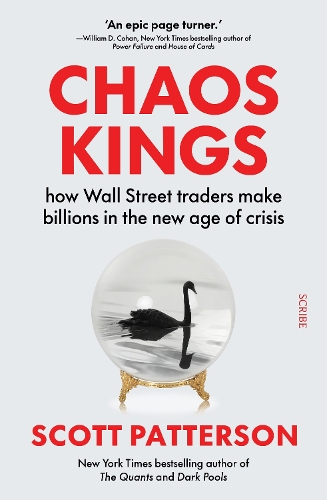 Chaos Kings: how Wall Street traders make billions in the new age of crisis (Paperback)
Scott Patterson
(author)
Paperback
Published: 13/07/2023
For fans of The Black Swan and written by a veteran Wall Street Journal reporter, this is a fascinating deep dive into the world of billion-dollar traders and high-stakes crisis predictors who strive to turn extreme events into financial windfalls.
There's no doubt that our world has gotten more extreme. Pandemics, climate change, superpower rivalries, technological disruption, political radicalisation, religious fundamentalism — all threaten chaos that put trillions in assets at risk. But around the world, across a wide variety of disciplines, would-be super-forecasters are trying to take the guesswork out of what formerly seemed like random chance. Some put their faith in 'black swans' — unpredictable, catastrophic events that can't be foreseen but send exotic financial instruments screaming in high-profit directions. Most famous among this group of big-bet traders are those who run the Universa fund, who, on days of extreme upheaval, have made as much as $1 billion.
Author Scott Patterson gained exclusive access to Universa strategists and met with savvy seers in a variety of fields, from earthquake prediction to counterterrorism to climatology, to see if it's actually possible to bet on disaster — and win. Riveting, relevant, and revelatory, this is a must-read for anyone curious about how some of today's investors alchemise catastrophe into profit.
Publisher: Scribe Publications
ISBN: 9781915590497
Dimensions: 234 x 153 x 24 mm
---
MEDIA REVIEWS
'It's not just the wild success of the catastrophists that makes this book fascinating but the way their philosophy reversed many of the "rules" of investing.'
'A closely observed chronicle of the storm-chasing edgelords of finance and the critics with whom they clash … Even those unfamiliar with, or uninterested in, the oscillations of the stock market may find themselves gripped by Patterson's account.'
'In Chaos Kings, the indefatigable Scott Patterson has done it again: delivered a riveting account of Wall Street mavericks whose unconventional understanding of risk has netted them a fortune and us a fascinating account of how they did it. The unlikely partnership between Mark Spitznagel and Nassim Taleb has made them rich, saved their clients from financial calamity, and, under Patterson's deft pen, produced an epic page turner.'
'Scott Patterson's Chaos Kings is an extraordinary exploration of cutting-edge efforts to understand the manifold and interconnected risks slamming civilisation at an alarming rate. It's a critical read for anyone with an interest in what's coming next and how to prepare for it, financially and otherwise. Scott has an uncanny knack for diving into the fascinating convergence of technology and investing, so I'm always excited to see what he's discovering.'
'Fast paced like a thriller but, also, thought-provoking in its willingness to show us the range of possible catastrophes, Chaos Kings tracks the adventures of contrarian investors who, rather than hide from chaos and confusion, seek it out. Their reward in many cases: a fortune. This book teems with great stories as well as market insights that you won't get from conventional investors.'
'Financial markets covet stability; they don't like surprises. In our new age of crisis, Scott Patterson convincingly recounts how a unique type of trader has learned to embrace the disruptions and make a lot of money doing so. Combining risk theory, finance, and portraits of some of the most interesting billionaires of doom, Patterson takes us on a disturbing tour of what could come tumbling down. But he also provides a detailed road map showing average citizens how to steer past catastrophe. You'll be left wondering whether these Chaos Kings are brilliant, opportunistic, visionary, or even loathsome. In Patterson's lively account, you'll definitely find them fascinating.'
'The world is an increasingly unstable place, threatening to go off the rails at any time. This chaos is devastating to many, but a boon to a few who are cashing in on it. Read this engaging book to learn about who they are and how they do it.'
'We live in a world of pandemics, climate change, war, and unstable institutions. Scott Patterson's fascinating Chaos Kings is a provocative look at those placing big bets who believe they have tamed the financial risk whipped up by these unruly beasts. It holds perceptive insights for anyone who lives — or invests — in our modern uncertain world.'
'A captivating, important, and unsettling book. Chaos Kings takes a timely look at how to survive and prosper in an increasingly uncertain and unstable world of global warming, pandemics, and geopolitical danger.'
'A richly reported work that features a fascinating ensemble of quirky characters. Important reading for anyone interested in risk-taking now — and in the future.'
'Rock-star status is reserved for a clique who have made storm-chasing in stocks and bonds into something between an art and a science, and an extraordinarily lucrative one at that. They are the subject of Chaos Kings, a new book by Scott Patterson, who casts an engaging and accessible light on what makes these oddball savants tick, and how they make fortunes from disaster … Chaos Kings avoids making readers feel like they're out of their depth … The power of the competing egos at play and the urgency of their message on everything from pandemics to the climate to the health of your lifesavings carry the tale.'
'Wall Street Journal stalwart Patterson continues his explorations of high finance with a clutch of contrarian risk takers … Deft, accessible analysis and guidance. Complex economic and scientific theories lucidly rendered.'
'Wall Street Journal reporter Patterson (Dark Pools) delivers an illuminating investigation into those who profit from anticipating crises … [T]he author has a knack for translating complicated financial manoeuvres into easily comprehensible terms … Detailed yet accessible, this will appeal to fans of Michael Lewis's The Big Short.'
'Chaos Kings will provide the reader with plenty of food for thought — along with some sleepless nights.'
'The book highlights those who have made money while the world falls apart. But not just any money — this book talks about making billions while there is metaphorical, or literal blood on the streets … It's fascinating, a little sickening, and one heck of a yarn of a book. It is well worth the read and the learning that will come from it … Patterson's book is one of the best financial stories around. Highly recommended.'
Praise for Dark Pools:
'Richly reported … an invaluable piece of timely journalism that should be read by regulators and anyone with a cent in the stock market … You will never look at the opening bell in the same way.'
Praise for Dark Pools:
'Remarkable … even long-time participants in electronic markets will learn a lot from this book.'
Praise for The Quants:
'Fascinating and deeply disturbing … Patterson gives faces and personalities to the quants, making their saga accessible and intriguing … [he's] onto a big story that begs follow-up.'
Praise for The Quants:
'Scott Patterson has the ability to see things you and I don't notice. In The Quants he does an admirable job of debunking the myths of black box traders and provides a very entertaining narrative in the process.'
You may also be interested in...
×
Download the Waterstones App
Would you like to proceed to the App store to download the Waterstones App?
Reserve online, pay on collection


Thank you for your reservation
Your order is now being processed and we have sent a confirmation email to you at
When will my order be ready to collect?
Following the initial email, you will be contacted by the shop to confirm that your item is available for collection.
Call us on or send us an email at
Unfortunately there has been a problem with your order
Please try again or alternatively you can contact your chosen shop on or send us an email at