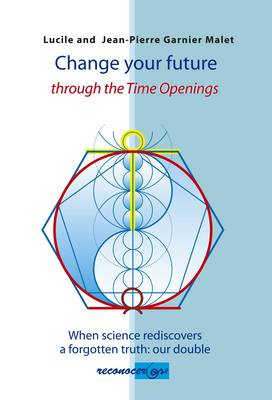 Hardback
222

Pages / Published: 15/09/2013
In 1966 Jean-Pierre Garnier Malet, a young student of physics, surprised the scientific community with the publication of an article for the Paris Academy of Sciences. He made an astonishing discovery related to the properties of time in 1988. His theory about the doubling of time, published between 1998 and 2006, has provided many scientific premises. This theory, also and more importantly, allows us to understand the mechanism of life, of our thoughts and to make the best possible use of our intuitions, instincts and foresight that this doubling makes available to us at each moment. Along with his wife, Lucile, Garnier Malet has found the best way to make use of this monumental energy which we are being offered during this end of doubling cycle, to obtain an ongoing balance within our daily lives. Through our lack of understanding, this end of time has put us in a tight spot. In addition to making some of us mistakenly consider this to be the end of the world, we have created, without being aware of it, all sorts of potentials for chaos. Reading this book, you will be able to understand how you can truly "change your future" and, most importantly, sooth our ailing planet. In this book we are in effect going to try to demonstrate the breadth of a revolutionary concept related to the past, the present and the future. Reading this book will imply a complete revision of your lifestyle. The use of it within your daily life will lead you to an easy re-disovery of your individual, physical and psychical balance as well as the balance pertaining to your family and professional life. It has been Ancient Greece which has led me to understand the importance and universality of this scientific discovery. From this additional virtue a simple lesson has stemmed which enables each and every one of us to resolve our dilemmas. Through easy and spectacular applications it has been possible to quickly demonstrate what I have stated above: regaining our lost balance, controlling the past and the future is as easy as getting ourselves into difficult and even impossible situations or making ourselves ill due to our own ignorance. The results have shown to us the phenomenal efficiency of this teaching which requires no specific knowledge of science. It is therefore through explanations and concrete examples that we will demonstrate to you the basic principals. This scientific discovery related to the doubling of time and space simply rescues from oblivion an ancient law. I would like to be able to communicate to you my surprise at finding out that Greek is the language of universal knowledge, being without a doubt very much older than other languages. In effect the doubling movement obliges the particles to separate into branches: there are twenty-seven principal branches. Each one of them forms a letter of the Greek alphabet. During my childhood, while studying with the Jesuits, we concentrated on the humanities. The teaching of dead languages was as important as the teaching of maths or physics. I attended a Jesuit high school and like all Hellenic scholars of that time, I was aware that the Greek alphabet contained 24 letters: starting with the alpha and ending with the omega. Imagine my surprise upon the discovery of three forgotten letters which encouraged me to push on with these surprising findings. I then understood the passage from an extremely small alpha to an enormous omega. The doubling theory in fact demands a change of scale: the horizon of one particle becomes the particle of a larger horizon. It then seemed to me that there was an evident link between the particle, a small alpha, and its horizon, a capital omega. Given that, according to my theory, the omega itself was a particle, a small omega within a larger horizon, a capital alpha. The small letters and the capital letters then took on crucial mathematical importance. This did not happen just by chance due to the fact that in ancient times Greek letters were also used for counting. This numeration permitted me to demonstrate that in reality it was linked to the simple quantification of the doubling movement. It was then easy to show that the link between the alpha (α = 1) and the omega (Ω = 800) was the rho (Ï = 100) and that consequentially, it was natural that the word Î©Ï Î± (Oura) mean, in its original Greek, the "division of time". Those who had constructed this language most certainly knew that there was a doubling of time due to the successive accelerations of its flow and that in order to live it was necessary to make use of a past, a present and a future, all at the same time. How are we able to apply this in our daily lives if not in the fact that in ancient times they knew more than we do now about using the future to live better? So why don't we try to re-discover this instruction manual, all the more so seeing that we are coming to the end of a doubling cycle of 25,920 years? The Plutonic Year, whose length of time is precisely given in the doubling theory and corresponds to the observation of the famous precedence of the equinoxes, was evidently well-known in other times. Why not consider that it had already been calculated in a thorough manner within the theory called from the alpha and the omega? So "the end, of a cycle of division, of time" we are currently living where we will see the how and the why, allows us to discover the past and the future which, up until the present, was hidden behind the screen of this division.
Publisher: Carolina Rosset Gomez
ISBN: 9788494016875
Number of pages: 222
Weight: 350 g
Dimensions: 235 x 150 mm
You may also be interested in...
Simply reserve online and pay at the counter when you collect. Available in shop from just two hours, subject to availability.
Thank you for your reservation
Your order is now being processed and we have sent a confirmation email to you at
When will my order be ready to collect?
Following the initial email, you will be contacted by the shop to confirm that your item is available for collection.
Call us on or send us an email at
Unfortunately there has been a problem with your order
Please try again or alternatively you can contact your chosen shop on or send us an email at