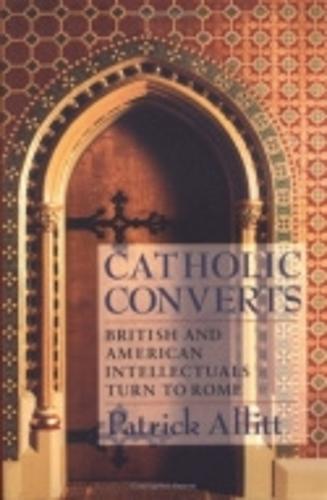 Catholic Converts: British and American Intellectuals Turn to Rome (Hardback)
Patrick Allitt
(author)
Hardback
360

Pages / Published: 27/06/1997
From the early nineteenth to the mid-twentieth century, an impressive group of English speaking intellectuals converted to Catholicism. Outspoken and gifted, they intended to show the fallacies of religious skeptics and place Catholicism, once again, at the center of western intellectual life. The lives of individual converts-such as John Henry Newman, G. K. Chesterton, Thomas Merton, and Dorothy Day-have been well documented, but Patrick Allitt has written the first account of converts' collective impact on Catholic intellectual life. His book is also the first to characterize the distinctive style of Catholicism they helped to create and the first to investigate the extensive contacts among Catholic convert writers in the United States and Britain.Allitt explains how, despite the Church's dogmatic style and hierarchical structure, converts working in the areas of history, science, literature, and philosophy maintained that Catholicism was intellectually liberating. British and American converts followed each other's progress closely, visiting each other and sending work back and forth across the Atlantic. The outcome of their labors was not what the converts had hoped. Although they influenced the Catholic Church for three or four generations, they were unable to restore it to the central place in Western intellectual life that it had enjoyed before the Reformation.
Publisher: Cornell University Press
ISBN: 9780801429965
Number of pages: 360
Weight: 624 g
Dimensions: 229 x 152 x 27 mm
---
MEDIA REVIEWS
"Allitt offers an informed evaluation of the converts' lives and works and situates them in the larger arenas of British and American cultural history.... He makes a convincing case. He offers concise examinations of issues in theology, philosophy, literature, and the social sciences."
-- Martin J. Burke * Journal of American History *
"Catholic Converts contributes to the current revisioning of scholarship concerning Catholic studies.... It achieves Allitt's goal of examining English-speaking converts and the worlds they created, enjoyed, and suffered. In addition to its ready use in Catholic studies, the book would serve appropriately in conversion studies when supplemented with some of the many fine works by Allitt's subjects. The history itself might be a failure, but Allitt's telling of it is quite the opposite."
-- Jeffrey Marlett * Journal of the American Academy of Religion *
"A generally well-informed study of intellectual converts to the Roman Catholic Church in the Anglo-American world, spanning the period from Newman to the Second Vatican Council.... Catholic Converts is a fascinating and well-written book which makes a strong case for the importance of converts in Roman Catholic intellectual life."
-- Geoffrey Rowell * Times Literary Supplement *
"A scholarly and stimulating history of the impact made by gifted thinkers who became Catholics on both sides of the Atlantic between 1825 and 1962, and of the problems they faced in their new Church and in society. Generations of penal legislation in Britain and in many parts of the American colonies had left Catholics an uneducated, suspect group. Allitt traces the fortunes of a rich variety of scholars and literary figures who 'went over to Rome,' often in the face of social and professional ostracism.... Allitt makes good use of the extensive scholarship available on many of these figures, adding his own incisive observations and showing how their work tried but failed to restore the cultural visibility that the Church had enjoyed in former centuries."
* Kirkus Reviews *
"Allitt's pages succeed in bringing the convert intellectuals to life."
* Catholic Historical Review *
"An extremely valuable contribution, it makes clear-for the first time-how completely converts dominated the intellectual life of British and American Catholicism.... Brisk and lively, eminently readable."
-- Philip Gleason, University of Notre Dame
"Catholic Converts succeeds admirably at showing the rich transatlantic religious culture that emerged after the early decades of the nineteenth century.... This clearly written, well-organized, and carefully documented overview of Catholic thinkers succeeds in providing a broad and necessary reminder that vibrant intellectual traditions can and do exist.... From the early theologians... through the twentieth-century converts... and event the media guru Marshall McLuhan-not to mention the dozens of other Catholic converts that crowd the pages of this generous intellectual history-the reiterated themes are resistance to progress, affection for the pleasures and pains of tradition, and deep suspicion about a troubled modernity arriving with increasing speed and on seemingly friction less rails."
-- James Emmett Ryan * New England Quarterly *
"Engaging.... Making a complicated 'big picture' seem obvious is the mark of an accomplished synthesist and storyteller; and Allitt, associate professor of history at Emory University, excels at drawing connections, charting trajectories of thought and behavior and discerning patterns embedded in huge chunks of historical material. Part of the delight in reading Catholic Converts lies in watching him skillfully weave together the insights and findings of a plethora of secondary works with carefully chose illustrations and quotations from the novels, treatises and memoirs of the converts themselves.... Catholic Converts reminds us... that a significant and influential company of modern thinkers, caught up in 'the quests for truth,' found Catholic traditions compelling and indeed irresistible. Eyes and ears wide open to the claims of its detractors, they freely chose the church as their intellectual home and them set about drawing its institutions ever closer, in practice, to the ideals for which they had sacrificed their old lives and livelihoods. It is a remarkable story, and Patrick Allitt has done it justice."
-- Scott Appleby * America *
"Exhaustively researched.... Allitt's book is a fine example of intellectual history. It is thoroughly researched and eminently readable. He has a genius for resurrecting little known, forgotten, obscure, minor figures and showing how important they were in their own time. He is a scholarly detective in searching out amusing anecdotes about the historical figures who are his subjects.... Every chapter of this book is a gem. Each is massively informed and extremely well-written."
* Cithara *
"Patrick Allitt argues persuasively that in the past even a small band of intellectual converts has had a decisive influence.... Allitt convinces us that converts, never more than 3 per cent of the Catholic population..., wielded tremendous influence."
* New Statesman *
"The century and a quarter before Vatican Council II saw quite a few American and British intellectuals enter the Roman Catholic Church. Through their writings, these converts, among them John Henry Newman, Dorothy Day, Thomas Merton, Christopher Dawson, and G. K. Chesterton, affected the life of the whole Catholic community and in fact often far outshone their born-Catholic contemporaries. While their stories have already been told individually, as well as by others, Allitt... considers them as a group. And what a diverse group then were: liberals and conservatives, contemplatives and activists, apologists, spiritual writers, historians, and literary figures all evaluated here in the context of the wider church and society. Written in a lively style, this is intellectual history at its best. Recommended for all general collections."
* Library Journal *
"This is a fascinating new study of the several influential British and American converts who entered the Roman Catholic Church in the period between the Oxford movement and the opening of Vatican II.... It is an exercise in synthetic history marked by insightful analyses and perceptive recognition of the themes and experiences that colored the lives and thought of Allitt's subjects.... With vision and nuance, Allitt weaves a convincing and cohesive narrative.... He is an insightful historian... and his book should stimulate valuable reflection on the important role that intellectuals fill in the Church, and the importance of the contributions of converts."
* Cistercian Studies Quarterly *
"This volume is the first comprehensive treatment of the impact of British and American converts on the intellectual life of Catholicism from the early 19th to the mid-20th century.... Allitt reviews the profound contributions of a wide variety of poets, artists, and intellectual converts-including such prominent figures as John Henry Newman, G. K. Chesterton, Isaac Hecker, Orestes Brownson, Evelyn Waugh, Dorothy Day, and Thomas Merton-who claimed that Catholicism was intellectually liberating despite its emphasis on tradition and its rejection of modernism. Elegantly written and well document, this volume represents an important contribution to Catholic studies.... Highly recommended."
* Choice *
"Until World War II, in both England and the United States, converts supplied the church's intellectual leadership. They were much better prepared educationally than the working-class immigrants who constituted the bulk of the faithful, and they were conversant with the surrounding non-Catholic culture. In Catholic Converts, Patrick Allitt... ushers a fascinating cast of these converts on and off his stage: major figures like John Henry Newman, Orestes Brownson, G. K. Chesterton, Graham Greene, Evelyn Waugh, Dorothy Day, Thomas Merton, and Marshall McLuhan, but also less well-known figures like Richard Simpson, a tireless critic of the temporal and spiritual claims made by the 19th-century papacy, and St. George Mivart, an expert in primate anatomy who criticized Darwin but argued his own form of evolution and was eventually excommunicated for his then-maverick views on everything from hell to church history."
* New York Times Book Review *
You may also be interested in...
Simply reserve online and pay at the counter when you collect. Available in shop from just two hours, subject to availability.
Thank you for your reservation
Your order is now being processed and we have sent a confirmation email to you at
When will my order be ready to collect?
Following the initial email, you will be contacted by the shop to confirm that your item is available for collection.
Call us on or send us an email at
Unfortunately there has been a problem with your order
Please try again or alternatively you can contact your chosen shop on or send us an email at