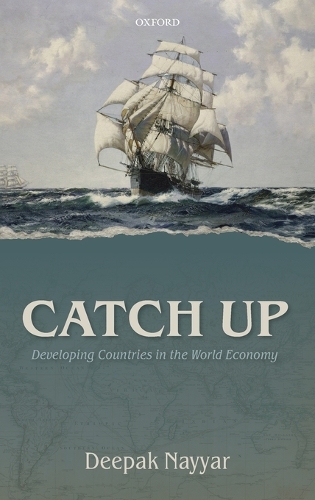 Catch Up: Developing Countries in the World Economy (Hardback)
Deepak Nayyar
(author)
Hardback
240

Pages / Published: 24/10/2013
Catch Up analyzes the evolution of developing countries in the world economy from a long-term historical perspective, from the onset of the second millennium but with a focus on the second half of the twentieth century and the first decade of the twenty-first century. It is perhaps among the first to address this theme on such a wide canvas that spans both time and space. In doing so, it highlights the dominance of what are now developing countries and it traces their decline and fall from 1820 to 1950. The six decades since 1950 have witnessed an increase in the share of developing countries not only in world population and world income, but also in international trade, international investment, industrial production, and manufactured exports which gathered momentum after 1980. This book explores the factors underlying this fall and rise, to discuss the on-going catch up in the world economy driven by industrialization and economic growth. Their impressive performance, disaggregated analysis shows, is characterized by uneven development. There is an exclusion of countries and people from the process. The catch up is concentrated in a few countries. Growth has often not been transformed into meaningful development that improves the wellbeing of people. Yet, the beginnings of a shift in the balance of power in the world economy are discernible. But developing countries can sustain this rise only if they can transform themselves into inclusive societies where economic growth, human development, and social progress move in tandem. Their past could then be a pointer to their future.
Publisher: Oxford University Press
ISBN: 9780199652983
Number of pages: 240
Weight: 510 g
Dimensions: 243 x 162 x 21 mm
---
MEDIA REVIEWS
Catch Up is an important contribution to world economic history and to development studies. It is provocative and illuminating at the same time, and should become essential reading for those interested in understanding the process of economic development in historical terms. * Kunal Sen, Pacific Affairs *
This book is a commendable addition, combing historical and economic analysis, to the current debate on the fast geopolitical changes and the development of a multipolar world. It emphasizes convincingly the need for human development and social change in the process of catch up and challenges the reader thereto. * Rolph van der Hoeven, Journal of Human Development and Capabilities *
Deepak Nayyar is that rare breed of economist who combines a sharp analytical mind with an appreciation of numbers and a clear understanding of how real economies function in a particular institutional and macroeconomic context. These qualities are on full display in this book, which examines some of the big economic trends that have shaped the world economy over the past two centuries. It is a fast and at times breathtaking ride across a broad expanse of economic history, which is sure to engage and stimulate economists, historians and geographers alike. * Richard Kozul-Wright, South Asia Economic Journal *
The book attempts to be simultaneously nation-centric, group of nations-centric and people-centric. It is packed with theory, policy and data, based on which several issues are analysed with broad sweep and outstanding depth. It is not only worth reading but worth possessing as a reference document to guide us in asking the right questions and in providing clues to possible answers, in the field of development economics and public policy * Dr. Y.V. Reddy, former Governor , Reserve Bank of India, Business Standard *
This book will be of interest to anyone interested in the evolution of the world economy. The focus on the role of developing countries in this process provides a new perspective on this important topic. Perhaps the most useful aspect of this book is that it integrates a long history of complex and multifaceted growth experiences across the developing world into a coherent and concise format, making it accessible to a wide audience. Scholars from across the social sciences, policy-makers, students and general readers will all find this book interesting and insightful. * Marianne Ward-Peradoza, EH.Net *
The book is truly a guide to policymakers in developing countries. Across the pages, he [Nayyar] has analysed many issues and given out many observations on the ongoing Development Debate. * K.Subramanian, The Hindu *
For far too long, the world economic history has been told almost exclusively from the point of view of the rich countries. Nayyars book tells it from the other side, tracing the fall and then the rise of Asia, particularly China and India, and other developing countries over centuries. It is an essential reading for anyone who wants to get a balanced understanding of the history of the world economy. The books narrative is literary and engaging, accessible to everyone, but its content is based on rigorous analyses. Its attention to detail is meticulous. Yet, it offers a breath-taking historical sweep. A masterpiece. * Ha-Joon Chang, University of Cambridge, author of Kicking Away the Ladder and 23 Things They Dont Tell You About Capitalism *
This book is a brilliant overview of the role of the developing countries in the world economy as it has evolved over the centuries, focusing first on the Great Divergence and Great Specialization from about 1820 to 1950, and then in much greater detail on the period from 1950 to the present. Nayyar skillfully blends a fascinating narrative of the "Catch Up" process with sharp analytical interpretation and incisive policy critiques to provide a unique assessment of this momentous process in global history and its possible future trajectory. It will be a major reference for both general readers interested in development and globalization as well as specialists in international trade, economic development and economic history, who will all appreciate the wider context into which this book will place their individual research. * Ronald Findlay, Professor of Economics, Columbia University, New York *
Deepak Nayyars ambitious and exciting book spans global economic developments over the last two centuries. He shows how the Great Divergence between North and South, resulting from the nineteenth century industrial revolution, was gradually reversed from 1950 as developing country growth rates accelerated. Although the catch-up is uneven across countries and between people, this perceptive and forward looking book offers the alluring prospect of a multi-polar world in the twenty-first century, with power and economic wealth far more evenly distributed across the globe. * Frances Stewart, Emeritus Professor of Development Economics, University of Oxford *
Almost unnoticed, we are in the midst of a Great Transformation?from a world in which a disproportionate part of global income accrued to Europe, the US, and a few other countries dotted around the world, to one in which billions of those in the rest are catching up: to a large extent, a restoration of the world as it was in 1820, when Asia had more than 50 per cent of the worlds GDP, before the industrial revolution and colonialism created the imbalanced world that we have come to take for granted. Nayyar analyzes lucidly the ongoing change and discusses forcefully the prospects for this great transformation, how it will be brought about, and what it will imply for the world order which will emerge. * Joseph Stiglitz, University Professor, Columbia University, New York, and Nobel Laureate in Economics *
Deepak Nayyars succinct and insightful analysis of development experience in the world economy ranges over wide swathes of time and space. Developing countries fell well behind the now industrialized world from the early 19th century until halfway through the 20th. Thereafter, a vanguard began to catch up. Nayyar discusses the reasons why in terms of international engagement, industrialization, and distribution. The key question for the 21st century is whether the rest of the developing world will follow the vanguard, or fall back? The book closes with an acute analysis of the possibilities for truly inclusive growth. * Lance Taylor, Arnhold Professor Emeritus, New School for Social Research, New York *
Beginning on a historical note, this book considers the world economy on the cusp of colonialism. The pre-eminence of Asia was then replaced by the advance of the West, often ascribed to its colonization of Asia, Africa and Latin America. The core of the book addresses the question of whether and how the developing world will catch up with the West, which makes a significant contribution to our understanding of the process. Deepak Nayyar's strikingly lucid, lively and insightful discussion of this question will stimulate thinking not only among economists and historians but also among other social scientists and concerned general readers. * Romila Thapar, Professor Emeritus, Jawaharlal Nehru University, New Delhi *
This comprehensive introduction to the big picture of historical patterns on economic growth is a valuable addition to the literature. * R. S. Szulga, Choice, *
This is an excellent book, highly recommended for anyone seeking a sure-handed introduction to the evolution of the North-South divide in econo mic development. * Vivek Chibber, EPW *
Catch Up is an important contribution to world economic history and to development studies. It is provocative and illuminating at the same time, and should become essential reading for those interested in understanding the process of economic development in historical terms. * Kunal Sen, Pacific Affairs *
Deepak Nayyars important study of the catch-up phenomenon builds on Amsdens message: that there are many nations on the rise ... Nayyar offers detailed data on structural shifts in industrial production and world trade * Sanjaya Baru, The Economics of Multipolarity *
readers interested in history, economics and politics of global growth process, this book is going to be a must-read. * Partha Ray, Decision *
You may also be interested in...
Simply reserve online and pay at the counter when you collect. Available in shop from just two hours, subject to availability.
Thank you for your reservation
Your order is now being processed and we have sent a confirmation email to you at
When will my order be ready to collect?
Following the initial email, you will be contacted by the shop to confirm that your item is available for collection.
Call us on or send us an email at
Unfortunately there has been a problem with your order
Please try again or alternatively you can contact your chosen shop on or send us an email at