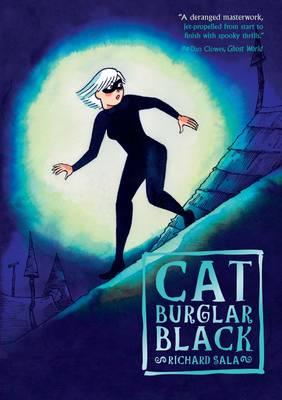 Paperback
128

Pages / Published: 04/09/2009
K. Westree: Teen Cat Burglar
When K. Westree arrivse at Bellsong Academy, she thinks she's left her cat-burgling past behind her. But K. soon discovers the school has a mystery of its own, a hidden treasure left behind by its founder, and she's the only one who has a hope of finding it. As she resumes her cat-burgling in an attempt to discover the school's secrets, K. begins to question if a normal life is really what she wants.
Publisher: Roaring Brook Press
ISBN: 9781596431447
Number of pages: 128
Weight: 309 g
Dimensions: 215 x 153 x 9 mm
---
MEDIA REVIEWS
"Sala's style is cheerfully over-the-top, and the well-constructed plot, which is big on girl-power, as well as the sharply drawn characters will pull the reader in." --The New York Times Book Review
"[A] high-quality caper comic." --Booklist
"The contrast between the hulking and misshapen adult nogoodniks in the cast and the four slim, leggy teens adds retro charm to a tale well stocked with menacing characters, mysterious voices, rococo hazards and atmospheric shadows." --Kirkus Reviews
"From its cinematic opening - a cliffhanger cutaway of a girl being chased by a wild boar - this noir comic sets up an inviting oddball mystery. K. Westree arrives at the remote Bellsong Academy for Girls to discover that the school isn't in session. Instead, a cruel headmistress is training the other three "students" to be thieves as part of some grand scheme, and K. has been tapped to join them. Sala's style is cheerfully over-the-top, and the well-constructed plot, which is big on girl-power, as well as the sharply drawn characters will pull the reader in. " --New York Times Book Review
"Sala, with his gothic expressionism charms intact, offers his first graphic novel for a YA audience. Katherine (who goes by K.) was raised in an orphanage by a mistress who indoctrinated the children in the arts of thievery. Now, she finds herself at a musty old boarding school run by a secret organization called "The Obtainers," dedicated to the finer points of cat burglary. Along with four other students, K. embarks on a high-wire series of art heists, but when the other girls start disappearing and a bit of light gets shed on the organization's darker secrets, she begins to reconsider her role. Sure, readers might hope for more substantial characterization or smoother plot development, but the spooky, tiptoeing atmosphere of Sala's art and the sneakily sinister undertones of the story are the real draws. This high-quality caper comic should appeal to readers dismayed by the shuttering of DC's teen girl-centric Minx imprint, but it will by no means be limited to them. Several unresolved elements hint at possible sequels." --Ian Chipman, Booklist
"Sala usually aims his pulpy gothics at older teens and adults, but here he tries for a younger audience. The art is far more finished than the sketchy plot. Trained since childhood by Fagin-esque Mother Claude to be a thief, teenage K. is dispatched to a supposed girls' school in a creepy mansion surrounded by dark woods and, along with a trio of fellow "students," breaks into three nearby houses to steal paintings that contain clues to a pirate treasure buried nearby. Filling in the back story requires so much explanation that swollen dialogue balloons nearly fill some of the cartoon panels, but the contrast between the hulking and misshapen adult nogoodniks in the cast and the four slim, leggy teens adds retro charm to a tale well stocked with menacing characters, mysterious voices, rococo hazards and atmospheric shadows. Expect sequels. (Graphic fiction. 10-12)" --Kirkus Reviews
"Sala's charming new graphic novel recalls a revamp of the Nancy Drew mysteries-produced under the hypnotic gaze of Edward Gorey. Silver-haired orphan K. is a prodigious young thief who struggles with the legacy and implications of her larcenous talent. Her enrollment in a peculiar young women's academy promises respite from her troubled upbringing, but soon reveals a direct link to her own mysterious past as her skills are pressed into service for an unknown goal. Sala meets the publisher's smaller, digest-sized format with an economical visual style, fleshed out with gemlike watercolors, brilliantly reproduced.
" --Publisher's Weekly
"Gr 5-9-K. arrives at a peculiar, isolated private school after having been raised as a pickpocket in an orphanage following the disappearance of her circus-acrobat-cum-cat-burglar father. It turns out that the only other three girls at the school are also thieves, and the instructors are part of a guild of criminals and were allies of K.'s dad-or so they hastily claim when pressed. The school is owned by her aunt, who is very ill, and the guild-"The Obtainers"-hope that the teen will help them discover lost treasure on the grounds that could pay for medical treatments and the restoration of the school. Nothing is what it seems, particularly the disappearances of K.'s classmates during heists to procure clues about the treasure. The artwork is a winning mixture of lovely and comically ugly. This dichotomy, shown in the visuals, is further evidenced in the dialogue, where the guild members are transparent and broad in their motivations and delivery, while the girls are given casual dialogue and a number of funny moments. The story is structured like a lighthearted cross between a fable and a horror film, but only ever teetering on the edge of horror without depicting it. This could have resulted in a mishmash, but Sala elegantly dances through the creepy and the sweet." --Benjamin Russell, Belmont High School, NH, School Library Journal
"Fifteen-year-old K arrives at Bellsong Academy expecting to be welcomed by her long-lost aunt. Instead she is greeted by member of The Obtainers, a secret organization of thieves. They have been watching K grow up, first in an orphanage where the headmistress trained the children to be pickpockets, and then in reform school, where K ended up after the orphanage was disbanded by the authorities. Now that they have K and three other girls in their clutches, The Obtainers are expecting K to use her skills to find the clues that will lead them to a treasure hidden beneath Bellong Academy. But when the other girls begin disappearing and The Obtainers story stops adding up, K takes steps to solve the mystery herself.
Cat Burglar Black has a style most often found in European comics. The pen and watercolor pictures are graceful and the occasional wordless pages are beautifully composed to convey K's tension or emotion.
The story reads like a Tintin/Oliver Twist hybrid and is mostly successful. That the girls do not instantly bond in friendship is refreshing and K's loner status and sense of isolation is believable. While the plot becomes convoluted at times, the bones of the story are solid and the characters, particularly the villains, are fun takes on the standard tropes. Some major threads are left dangling, so a sequel is sure to come.
Upper elementary and middle school readers will look forward to reading more about K and her adventures." --ICv2
"In this boisterous graphic novel crime caper, K., a white-haired teen raised to be a cat burglar, believes she's escaped that life forever when her aunt issues an invitation to join her at the secluded Bellsong Academy for Girls. But all is not as it seems. K.'s past--as one of many orphans corralled into thievery by the villainous Mother Claude--is closer to her present than she suspects. The other girls (all three of them) are secretive, if friendly, and possess unlikely skill sets that match her own, and her aunt is locked away with a mysterious illness. And the school? Turns out it's run by a criminal society known as The Obtainers, of which Mother Claude and, apparently, K.'s father were members. Soon K. is employing her high-wire larceny talents once more, pursuing a project for the Obtainers, while her classmates disappear one by one. Sala's nightscapes are deep-hued and creepy, in stark contrast to the jewel-toned outdoor scenes, and the zany backstories, tongue-in-cheek hints, and quick-moving plot make for an entertaining tale. The transparent shiftiness of his villains injects a little levity amidst all the dire Gothic undertones, while the bizarre cast of characters balances K.'s soul-searching as she tries to reconcile her moral leanings with the "rush" of stealing. The ending is abrupt, and the fates of the other girls are left too open (and most likely dismal) for the sunny, pat conclusion to ring true. Here's hoping this means that sequels are on the way." --Horn Book
"In this graphic novel, orphaned teen K. Westree has been brought up to a life of crime, but she has hope for better days ahead now that her aunt has summoned her to boarding school, Bellsong Academy for Girls. K. quickly realizes there's something amiss, though: only three other girls are in attendance, the faulty is a pretty creepy lot, and her aunt is bedridden and bandaged from head to toe. The other girls, all criminally trained like herself, take K. on a tour of the tenebrous premises, and the headmistress, the grossly misnamed Mrs. Turtledove, explains the mission for which they are being prepared: to break into three neighboring houses and steal family portraits that, together, will offer a clue to the whereabouts of a hidden treasure. The quartet, a sort of teenaged Charlie's Devils right down to their diverse hair colors, fulfills the mission, but at the price of losing one girl at each heist, leaving only K. to face the evil staff at the big climax, recover her real missing aunt, and hint at adventures yet to come. Girls who feel underserved by comic-book adventures will appreciate the strong female characters of the nasty, nice, and misguided ilk and the sleek black night-prowling garb and masks that keep the girls chic on their midnight encounters with man-eating fish, murderous statuary, and a notorious serial killer. Job One for K. now is to discover what happened to her missing schoolmates, so cue the theremin and stay tuned for episodes to come. " --BCCB
You may also be interested in...
Simply reserve online and pay at the counter when you collect. Available in shop from just two hours, subject to availability.
Thank you for your reservation
Your order is now being processed and we have sent a confirmation email to you at
When will my order be ready to collect?
Following the initial email, you will be contacted by the shop to confirm that your item is available for collection.
Call us on or send us an email at
Unfortunately there has been a problem with your order
Please try again or alternatively you can contact your chosen shop on or send us an email at